Beijing pick up and drop off at PEK airport
Ground transportation to Beijing Capital International Airport
Famous for being one of the world's busiest airports, Beijing Capital International Airport is a massive testament to human ingenuity, offering three large terminals that include a massive shopping mall and other unique services. Terminal 1 is a domestic terminal with two separate floors, arrivals handled on the lower level and departures along the upper. Terminal 2 handles both international and domestic flights across three floors, with departures located on Level 2 and Arrivals along Levels 1 & 3. Terminal 3 is the newest and largest terminal providing access for international and domestic flights across three floors, with arrivals and departures mixed along the upper levels. Inter-terminal transportation is offered in the form of driverless light rails as well as 24-hour shuttles. Ground transportation at the airport includes access to the Beijing Subway via the Airport Express Line accessible in Terminals 2 and 3, as well as 18 bus routes.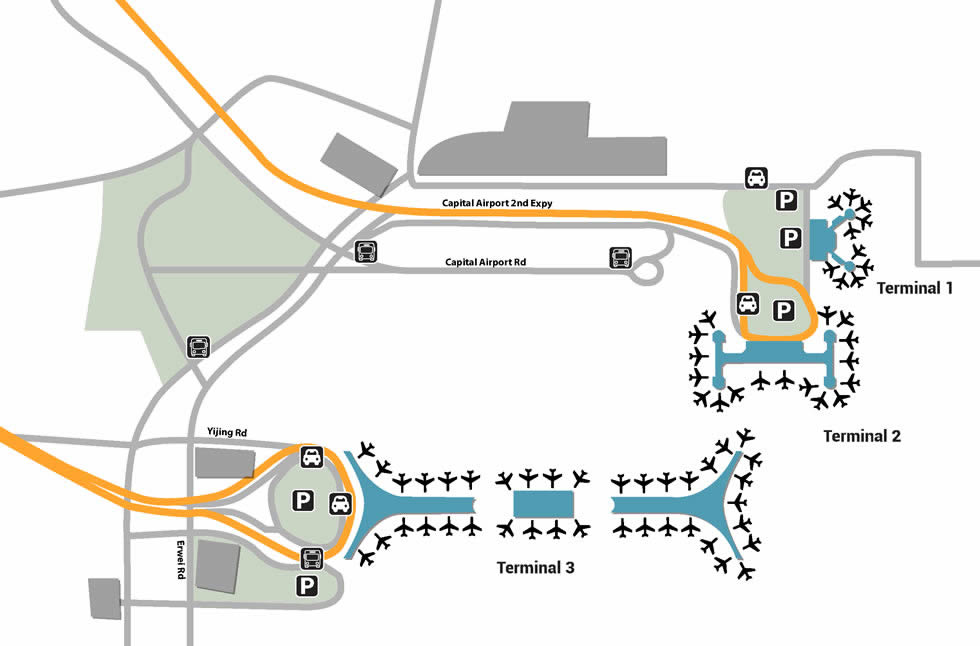 Parking
There are four main garages located throughout Beijing Capital Airport, each providing both short-term and long-term spaces as well as executive perks. Parking No. 1 is a garage located south of Terminal 1 and offering a few hundred spaces, while the much larger Parking No. 2 provides thousands of spaces across six floors adjacent to Terminal 2. Parking No. 3 is the same size as No. 2, but located on the south side of Terminal 3, while Parking No. 5 is a small lot that offers just 125 spaces south of Terminal 1. All garages and lots have available spaces for small and large vehicles, with rates changing when the vehicle has more than 19 seats. Special services are offered at the Passenger Service Center, including free wheelchairs, luggage trolley and escorts.
Services
Services at Beijing Capital Airport include a wide variety of simplicities that include money exchanges in each terminal, free Wi-Fi and luggage carts. Family services include children's play areas in each terminal as well as unique rest zones that include Terminal 2's Window Lounge and Terminal 3's Tulip Lounge. More business-savvy accommodations include nine VIP lounges, four hotels as well as showers perfect for freshening up before a big meeting. Other unique facilities include interactive relaxation ranging from daily performances by the Staff Art Troupe to fish feedings at two indoor gardens, not to mention access to Hilton Beijing Airport pool & fitness center via 24-hour shuttles that depart every 15 minutes.
Retail
Look forward to vast shopping experiences at Beijing Airport, with most of its expansive retail areas having some of the largest malls in the world beat. Grab specialty gift items at Airco Gift Store or Beijing Gift, also considering Asian-themed trinkets from Chinese Gold Store or Tibet Tang Card Store. Upscale fashion is also abundant at shops like Elle Homme, Ferragamo and Bvlgari, while more simple threads can be found at Nautical and Lacoste. Conveniences and in-flight necessities are also available at several Aircos as well as the expansive Duty Free Arrival Store. Other unique goodies include tea sets from Hua Xian Yuan Tea Shop, Chinese confections at Yu Shi Yuan and skin care products at Kiehl's.
Restaurants
Most of the eateries at Beijing International Airport are located in Terminal 3's 'Global Kitchen' food court, home to 70+ international chains and local favorites that offer a mixed bag of quick-serve delights and sit-down dining. Wake up to fresh eats at various cafes that include several Starbucks locations, Costa Coffee and Paris Baguette - other coffee-exclusive joints include UBC Coffee and Lei Cafe. Those looking for something quick have a wide variety fast food chains like KFC and McDonald's to choose from, not to mention takeaway eats from Thai Express or Grab & Fly. Chinese-based chains are also available via Ajisen Ramen and Crystal Jade, while dinner dishes can be found at Gourmet Noodle House as well as the trendy Urban Food Market and Comfort Garden. And don't forget to top it off with something sweet at Dairy Fairy!