Beijing Capital International PEK Airport Shuttle
About five miles northeast of Beijing's central business district, Beijing Capital International is a large facility renowned for its dragon shape and direct train access. Make things simple by considering other transportation options, including surrounding shuttles coming in and out of Ground Transportation. Spend the night somewhere along Airport Freight Transportation Road for a free lift to your terminal, avoiding the 1-star stays for a handful of low-cost luxury stays like Eastern Air Business Hotel and the on-site Capital Airport International.
Search for PEK airport rides
AirportShuttles.com response to COVID-19 concerns and important updates for customers with upcoming bookings.

Trusted service since 2003

Flight Delayed? We wait.

24/7 Customer Service


Beijing Airport Transportation

Make things extra simple by having a solid ride to move on, whether you're in need of a relaxed taxi to the China National Convention Center or a simple chartered bus big enough to show everyone Lama Temple. For newcomers looking to explore the region's diversity, save some time for a tour with a local personal driver, making inside scoops as easy as timely drop-offs. Get a feel for downtown's finest restaurants by having a stretched limousine to carry you across Chang'an Avenue, afterward utilizing the sleek ride for a quiet view of the Xidan district. For those who simply want to move at their own pace, book an intimate sedan to explore Beihai Park as long as you want, or reserve a larger SUV to bring the whole family to Happy Valley amusement park.

Located on the northeast side of China's massive capital, Beijing Capital International Airport is the most passenger-heavy airport in Asia, and 2nd in the world. Because of this, getting in and out can be a hectic experience. Tamper down the chaos with a private rental, choosing between sedans, SUVs, and vans, or going with a casual meet-and-greet service for ultimate convenience, choosing between a basic shared ride van or going with the ultimate convenience of a local personal driver.

Get through China's largest city with one of our transfer options, whether it's for busy work trips to the business district or family getaways to the ancient city. Maneuver through crowded streets with ease via simple meet-and-greet services, or look forward to views of the Great Wall with a casual private lift. Whatever the fast-paced city has in store, we've got you covered.

PEK Airport Transfers

Find other destinations that offer GO Airport Shuttle or search for other transportation providers at Beijing (PEK) airport.

Shuttle Locations

Looking for airport shuttle rides? Learn how you can get connected to the best shared ride van providers, sedans and private vans and view our airport transfer locations.
Beijing Airport Shuttle Service
Many passengers arriving at Beijing Capital International Airport use cabs to reach the city. The drivers will likely not understand English, so try having your destination written in Chinese. The Airport Express train runs between the airport and the city, with connections to other parts of Beijing. The Airport Shuttle Bus is a cheaper and widely preferred option. The service runs from the airport to the sedans and minivans from the airport every 10-20 minutes. Look forward to casual shuttle rides to and from the airport without the worry of getting lost, arriving to the bustling financial district with ease or a nearby hotel.
For more personalized and custom transport options, the following are highly rated and recommended for safety, reliability and efficiency. They provide limousines, luxury sedans and minivans from the airport to your hotel. Drivers also command some level of English and should be able to understand your destination. In most cases they will know your destination in advance from your booking.

Terminal 2 of PEK Airport connects to the Beijing Subway, which offers one-way trips that take about 15-20 minutes for downtown arrival. There are also a few bus lines just outside Terminal 1. Avoid having to wait for the next scheduled pick-up by scheduling your own ride ahead of time, booking a shuttle through either us for timely pick-ups and convenient bag-handling services.
Shared Van Ride
When it comes to quality transportation services, our shared van ride is your number one choice. Experience a difference by driving in our shared van ride. Beijing Capital International is one of the busiest airports in Asia. Let us pick you up from the airport and drive you around the city. For simple one-time lifts to your hotel, book a shared ride van, enjoying low-key arrivals to your temporary home, whether it's an hard-to-reach downtown locale like Kerry Hotel or a distant resort in the northern mountains like Yuansu Hotel.

Shared ride vans make a few stops here and there, but if you consider it an easy way to get a citywide tour, you can learn to love the pace.

Private Sedan
The Beihai Park is a perfect place for family visits, which includes a playground for kids with amazing restaurants. Our Private Sedan is readily available to drive you to this amusement destination. The Forbidden City is located about 15 miles from the airport. There is a lot of history to learn at this amusement palace. With rugged mountains in the northwest and lowly villages to the southeast, Beijing offers graceful peace just outside its bounds. See it all by getting a private sedan, looking forward to the hyper-real architecture of Tongzhou as much as the otherworldly terrain of Changping.

Want some room to yourself? Book a private sedan for an intimate way around town, bypassing fast-paced city vibes by riding your own wave.

Private SUV
Our Private SUV are now offering transportation services from the airport to the Palace Museum, an attractive historical buildings with impressive architecture. Did you know terminal 1 handles all the domestic flights? Learn more about this and other interesting facts about this airport by driving in our Private SUV. Carry up to six passengers without skipping a beat, booking a private SUV through us to take your time checking out the coolest family-friendly attractions, from the aquatic creatures at Beijing Aquarium to the 15th-century lookouts atop downtown's Temple of Heaven.

Families or moderately sized groups can do a lot with a private SUV, whether it be in search of calm outings to nearby forest parks or a work trip to big-time event centers.

Stretched Limousine
No trip in Beijing is complete without a visit to the Great Wall at Huanghuacheng. Our custom stretched limousine will offer you a comfortable ride to this destination. We have a stretched limousine to drive you to the Temple of Heaven to experience a spiritual healing. Make every corner you turn a stylish one by booking a stretched limousine from our area providers, showing up to fine dining eateries like King's Joy and Opera Bombana in matching looks, also considering an opulent night of entertainment at the National Center for the Performing Arts.

Stretched limousines were made for cities like Beijing. Cruise through the financial district with a ride that reflects the luxury, finding the best dining and entertainment at your chauffeur's grace.

Taxi Cab
Most tourists love to visit the Summer Palace (Yiheyuan) for a relaxing evening. Let our taxicab pick you up as agreed. We offers airport transportation services to the most interesting places in the city including Summer Palace, where Qing emperors used to hang out during summer. Popular for being the financial capital of the east, seeing a taxi in Beijing is like seeing a seagull at the beach. Reserve today to avoid heavy traffic tomorrow, arriving to either the Beijing International Convention Center or the China National Convention Center, both of which are located less than 1 mile apart.

Have your lift ready and waiting by baggage claim when you arrive, all by booking a taxi. With places to go and faces to see, this is the best choice for business travelers looking for efficient rides through a complex city grid.

Local Personal Drivers
We take pride in our highly skilled local drivers. We have value for your safety. This is why you need to let our drivers to take you around the city to the Mausoleum of Mao Zedong. Experience a safe and authentic ride with our highly certified local personal drivers to the Jingshan Park. Enjoy clear views of the city. One of the best ways to see a city is through the eyes of an insider. Follow the advice of someone who knows Beijing like the back of their hand with a local personal driver as your chauffeur, arriving to the coolest restaurants & shops while taking care of transportation along the way.

Take things slowly with a specially tailored trip through town, reserving a local personal driver for lessons on the local culture and recommended neighborhoods based on your tastes.

Private Van
The Lama Temple offers you're relaxing and spiritual moment. We have a private van to drop you off. Do not forget to take our private van to the Palace Museum for a unique outdoor experience. Make sure everyone gets where they need to be by booking a private van, perfect for groups exceeding a dozen. See expansive locales with all the freedom in the world, from the lakeside quietude of Summer Palace to the vast promenades and trails at Beijing Olympic Park.

The best choice for families or large groups of about a dozen, private vans can keep things moving at an especially steady flow. From ancient temples to spacious city parks, there's lots of group-friendly places to take your time.

Bus
If you a looking for class, then you are looking for our bus. Let us drive you to the Confucius Temple. The Great Wall at Mutianyu is a must visit. Let our bus pick you up and drive you to this wonderland. The best ride for taking care of over a dozen passengers, chartered buses know how to get the job done quick. Utilize the ride to see as many landmarks as possible, moving from the millennia-old ambiance of Beihai Park to the tranquil trails of Dong Xiao Kou Forest Park, all without asking what-ifs.

Idyllic for carrying a few dozen at a time, a bus is the perfect way to experience epic days, whether it's a foreign exchange field trip to the Great Wall or a Badminton team on their way to the finals.
Beijing Capital International is home to 3 terminals.
Terminal 1 (Domestic):
Level 1: taxi stands, currency exchange, and ground transportation.
Level 2: departures & arrivals, walkway to Terminal 2, and business center.
Level 3: N/A

Terminal 2 (Domestic & International):
Level 1: arrivals, baggage claim, taxi stands, ATMs, Oasis Lounge, and post office.
Level 2: departures, walkway to Terminal 1.
Level 3: arrivals, visa office, and VIP lounges.

Terminal 3 (Domestic & International):
Level B1: arrivals, baggage claim, parking, post office, and taxi stands.
Level 1: ground transportation, 24-hour free terminal shuttles.
Level 2: departures & arrivals, baggage claim, left luggage, ATMs, and VIP lounges.
Level 3: departures & arrivals, visa office.
Level 4: departures, ATMs, and business center.
PEK airport terminals
Get to your ride so you can get transferred to your destination in time for your big event or vacation.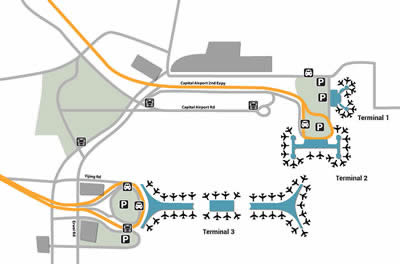 Shuttle transportation services take passengers to different destinations such as hotels and different places.

It is one main reason why getting airport shuttle service is highly recommended to travelers who want to acquire safe and comfortable travel experience in the country. There are airport hotels that offer airport shuttle service to passengers who booked hotel reservation to their hotel. In case you booked in a hotel with no airport shuttle service then you can buy tickets for airport shuttle service in the three terminals of the airport. For more details about getting airport shuttle service, feel free to visit.

In 2009 Beijing Capital International Airport was awarded the best airport award by Condé Nast Traveler Magazine. The airport is fully developed and well connected by different public transport systems, which include the airport express train, airport buses, taxi rides and so on to downtown Beijing and nearby cities.

Beijing Capital International Airport has more than seventy airlines connecting some two hundred cities globally. The airport consists of three terminals: Terminal 1 for domestic flights; Terminal 2 for International flights and flights to Taiwan, Hong Kong and Macau, and Terminal 3 which was built to accommodate athletes and visitors for the 2008 Olympics, and is currently the world's second largest terminal. The Airport Express Lane runs directly from the airport to Beijing.

The high level of service and facilities has helped attract more airlines to the airport. And this is in additional the near endless list of facilities, amenities and features that truly make this airport an art of design and engineering. It does mimic a small western city. The airport has an onsite hotel as well as plenty of International Airport is the world's second busiest airport. parking options.

It is situated 32 km northeast of Beijing's city capital. This airport is operated and owned by Beijing Capital International Airport Company Limited, which is a state-controlled company of Beijing government.

The airport code of Beijing Capital International Airport is PEK which is based from Peking which is the former Romanized name of the city. Over the past few years, Beijing Capital International Airport increased its traffic movements. In terms of passenger traffic, Beijing Capital International Airport is the world's second busiest airport. 

Beijing Capital International Airport is the home base of Air China, which is People's Republic of China flag carrier. It is an airline that flies to around a hundred and thirty destinations from Beijing. China Southern and Hainan also use this airport as their home or hub.

Located on the northeast side of downtown, Beijing Capital International Airport is a great way to introduce yourself to China's epic mega-city. Explore every inch of its sprawling tendrils by booking a shuttle through us, enjoying the convenience of one-time lifts to all-in-one locales, whether it's a riverside resort on the Chaobai or a 5-star stay downtown.

Know what region you're staying in before you book your shuttle, choosing between the busy trends of the Dongcheng neighborhood or strange mix of mountainscape & subway lines in the northern district of Changping. Other must-see parts of town include the western Shijingshan District, which offers access to the famous Western Hills, as well as the southern Daxing District, which offers quaint family-friendly attractions like the Beijing Wild Animal Park.

Once you're all booked and ready to go, keep important details of your shuttle reservation written down, printed out, and memorized. Do the same with personal documentation, scanning IDs, prescriptions, and passport information in case of an emergency. Another great thing to check with is your hotel, making sure they don't already offer a shuttle service so you can save a few bucks. As a last resort, you can also find help from one of many information desks scattered across the airport.

At a Glance
Beijing Capital International Airport is a hypermodern three-terminal, seven-floor building. Terminal 1 handles domestic flights, Terminal 2 handles flights throughout Asia and Terminal 3 handles international airlines. An impressive layout designed to look like a dragon, it is the sixth largest building on the planet, and the second-busiest airport. Asian-inspired artworks and calming ponds are located throughout the building. All signage offers English translation, and a kind staff is patient to help when needed. A strict security protocol takes fingerprint scans upon arrival and lighters are seized before entering the departures area. Located 16 miles northeast of downtown, ground transportation is imperative.

Meet-Up Locations & Ground Transportation
Each terminal has a great meet-up spot for those awaiting meet-and-greets. For Terminal 1, we recommend drivers wait by the Information Desk, located on the 1st Floor past baggage claim. For Terminal 2, we recommend the Information Desk on the 1st floor by the bathroom. We recommend two spots for Terminal 3: in Domestic Arrivals, drivers should wait by the Heading for Parking Terminal No. 3, located directly in front of baggage claim on the 2nd Floor. For International Arrivals, an Information Desk is located directly in front of baggage claim on the 2nd floor. Ground transportation consists of an intricate network of over a dozen airport shuttle bus lines, while the Express Train offers rapid transfers into town. The rail line picks up every 10 minutes and operates in each terminal from 6 AM – 10 PM. For late-night arrivals, we especially recommend booking a ride with us – choose from chauffeured limousines for tasteful elegance through town, or a local personal driver who can easily transform the trek into a fun tour.

PEK Hotels
Cordis Beijing Capital Airport Hotel is the only attached stay to the building. Located in Terminal 3, the 5-star choice is best for those in search of elegant convenience. Shuttle buses to the airport are free of charge, and spacious rooms come with chaise loungers and floor-to-ceiling views. Another upscale choice is the The Hilton Beijing Capital Airport. This option is located five minutes from Terminal 3 and offers a striking Asian-inspired ambiance. A more modest alternative is the Sino Swiss Hotel Beijing Airport. Budget friendly and stylish, this 3-star choice offers shuttles into downtown twice a day. It is only ten minutes from each terminal. And finally, the Capital Airport International Hotel is a good stay for domestic arrivals. The simple 4-star choice is just three minutes from Terminals 1 and 2. Though not attached to the airport, it is very close and offers an on-site Chinese restaurant. Customers have complained that their shuttle is not very reliable.

What's Near the Airport
A 13-minute drive south of Terminal 3, Tianzhu Countryside Golf Club is the perfect place to network without going too far. In addition to a spacious driving range, this ritzy club offers a savory restaurant in a club house as well as on-demand caddies. Located 20 minutes from Terminal 3, Shunyi New Town Binhe Forest Park sits along the Chaobai River, looking out at the connected Senxin Forest Park. An attached golf club and a few nearby noodle houses make this a great leisure spot during layovers. Another cool spot is 798 Art Zone. About 25 minutes from Terminal 3, this trendy art space is located in an old military factory in the Wangjing Residential District. It began as an extension of the Socialist Unification Plan between China and the Soviet Union. Since then, it has evolved several times, finally transforming to a present-day focal point of a surrounding art district. Lastly, the Great Wall of China is located an hour from the airport. Though this may sound far, it's worth the trip seeing as how it's one of the world's great wonders.

About Beijing Capital International Airport
Located 18 miles northeast of downtown, Beijing Capital International Airport is distant from the main pulse of the city, making nearby airport hotels great for starting the fun as soon as you land. Known for its eccentric lounges perfect for napping and ultra-modern GoSleep Pods, letting a layover pass is as easy as starting a timer. Choose between a variety of on-site stays as well, from the efficiency rooms at Hourly Hotel to the upscale Capital Airport International Hotel. Additional business stays can be found on Capital Airport Road, including GreenTree Inn, Lihao Express Hotel, and Beijing Sky House.

Another way to pass time at the airport is with the many on-site amenities ranging from shops to ornate gardens. Grab a bite to eat at any terminal, choosing between western delights like McDonald's and Starbucks as well as classic Chinese chains ranging from Ajisen Ramen to Gourmet Noodle House. Stores include duty-free shops, local souvenirs, and upscale fashion depots. Unwind without the blaring lights & music of the airport's mini-mall atmosphere for some tranquility at either of Terminal 3's gardens, each offering bright plants and small ponds where you can feed the fish any time of the night.

Those planning to book a hotel near the airport should look forward to the many nearby attractions, choosing between restaurants and parks along the Chaobai River as well as a handful of golf clubs just south of the airport near the Wenyu River. For something more laid back, walk over to the nearby Shunyi Park, home to lakeside trails and quaint lawns perfect for picnics, while the equally small Dragon Century Cultural Plaza offers close access to the Wu Mart shopping mall and quaint eateries along Yu'an Road. Don't forget the ever-looming option to take a subway downtown as well, arriving to the bright city lights any time of night.

Beijing Hotel Shuttles
You may be half way across the world, but you'll never be far from the home-style comfort offered by hotels at Beijing Capital International Airport and in nearby places. There are more than 30 hotels located in proximity to the airport, giving you plenty of options to pick.

Capital Airport Hotel Beijing is an on-site hotel. The establishment boasts many modern facilities and amenities for passengers looking to get a quick night and continue with their travel.

Holiday Inn Express is located just 7 km from the airport. The hotel offers daily buffet breakfast and other amenities like a restaurant, Wi-Fi and business services. Citic Hotel located just 5 km from the airport provides an airport shuttle, swimming pool and free breakfast. There's a gymnasium, hot tub, business center, tennis court as well as on-site restaurants.

Visiting Beijing is indeed a smart choice. Whether you are traveling to Beijing for personal or professional purposes, you are guaranteed that you will have some fun. Visiting Beijing whether you are single or not is easy since you can book an airport hotel that suits to your wants and needs.

There are several airport hotels near the hotel such as Hilton Beijing Capital Airport Hotel, Days Hotel Beijing New Exhibition Center, Ibis Beijing Capital Airport Hotel and Langham Place. You can reach these airport hotels by means of availing airport shuttle service. So, it is highly recommended that you choose airport hotel where you can stay so that you'll know which airport shuttle transportation service to avail.

Beijing Destinations
Find the coolest attractions at the heart of China's eclectic capital, starting with its most cherished treasures, from the cinematic steps that lead to the 15th-century Forbidden City to thousands of miles of stone that makes up the ancient Great Wall of China. Continue your tour of the city's ornate temples afterward, moving from the gorgeous lakefront views offered by Summer Palace to the towering views atop Temple of Heaven. Get a slice of history as well by visiting Tiananmen Square, an iconic public square dedicated to past leaders as well as the future of China.

Check out the region's natural landmarks once you've gotten your fill on the past, looking forward to gorgeous mountaintop views from Juyong Pass' historic 14th-century wall-bridge, afterward getting a distinct view from one of the many forested mountain escapes, whether it be the small Shu Hua Shan Scenic Area or the massive Mangshan National Forest Park. End the day with a walk through Silk Street, a popular strip of vendors offering the ultimate Beijing street experience, as much as the modern culture found at 798 Art Zone, home to a wide variety of local art exhibits and galleries, plus irresistible eateries.

Restaurants in Beijing
Do you want to eat local cuisine of Beijing? If yes then worry no more because you are guaranteed that you can satisfy your food cravings. You do not need to go far since there are several restaurants near the airport. Pamper yourself by means of dining at stunning restaurants near the airport. Cuisines and delicious food in Beijing is one main reason why most people love visiting this place.

Beijing is a stunning place that can offer a wide range of activities to travelers. You can wander in the city and shop local products, visiting stunning malls, club hopping, visiting museums and more. As long as you are in Beijing, you will never be lonely and bored because you can several activities in Beijing.

PEK Contact Information
Beijing Capital International Airport
Shunyi, Beijing, China
Airport Code: PEK