Trusted service since 2003

Flight Delayed? We wait.

24/7 Customer Service

Tocumen International PTY Airport Shuttle

Book reservations for airport shuttle, taxis, sedans and limousine service to and from the airport.

PTY Airport Transfers

Find other destinations that offer GO Airport Shuttle or search for other transportation providers at Panama City (PTY) airport.

Airport Ride Service

Looking for airport shuttle rides? Learn how you can get connected to the best shared ride van providers, sedans and private vans and view our airport transfer locations.
Panama City Airport Shuttle Service
The Panama Shuttle Service operates out of Tocumen International Airport and offers 4 different packages. The first goes to Panama City and the second to Colon province, on the Northside of Panama.
Shared Ride Van
See all that Panama City has to offer and see the world famous Panama Canal, one of mankind's most astounding engineering achievements. Get there as a group by booking one of our shared ride vans for the ride.
Private Van
Check out the Miraflores Locks Visitor Center if you have any questions or would like to see a must-see museum and excellent history lesson. Get there as a family with privacy and comfort by booking a private van for your trip.
Private Sedan
One of the most amazing parts of Panama City is the abundance of city tours including the Xplora Panama Day Tours and Panama Your Way Day Tours. Get to one today by reserving a private sedan.
Local Personal Drivers
If you want to discover something new and different reserve a local personal driver as your chauffeur. Get rides to locally coveted spots such as the Airbrook Mall or the Soberania National Park.
Private SUV
Take your family out to a trip to the beautiful and lush Metropolitan National Park, great for morning walks to get the day started.
Taxi Cab
Hitch a ride to the Aeropuerto Internacional de Tocument by booking one of our taxicabs. We'll help you out with your luggage as well as take you anywhere else you need to go.
Stretched Limousine
Show up to the beautiful San Jose Church in luxury by booking one of our stretch limousines as your transportation.
Bus
Visit the Multiplaza Panama for a fun shopping spree, where there's something fun for everyone. Get the whole group there by reserving a bus for the trip.
PTY airport terminals
Tocumen International Airport in Panama City, Panama is a busy airport teeming with passengers flying to and from destinations around the world. Find your way through with this terminal map.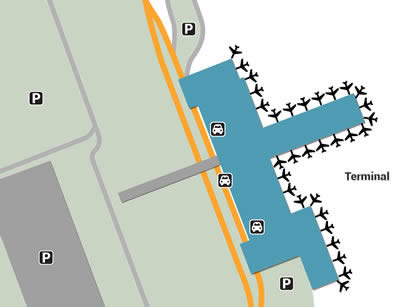 Panama City Airport Shuttles
Located 15 miles from Panama City in Tocumen, Panama is the Tocumen International Airport (PTY/MPTO). It is about a 30 minute drive from Panama City. On June 1, 1947, President Enrique A.

Panama Shuttle service offers short tours from the airport, as individuals await transfer flights, and special arrangements can always be made for transportation to other attractions.

Shuttle Services also operates from Tocumen International under Panama Travel Unlimited. They offer a variety of packages for both shuttle and taxi services. In addition, they offer other departures from Panama City as well as from Tocumen International Airport.

About Panama City Airport
Jimenez inaugurated the 1800 acre airport, located 126 feet above sea level. On the average, 6 million passengers utilized this airport in 2011. The facility itself began a major overhaul in 2006, in order to update and expand it. This consisted of three phases. The first phase addressed passenger terminal expansion, equipment, and renovation of the original terminal to accommodate its use as a cargo terminal.

 

Phase two was known as Muelle Norte. It began in 2009 and was completed in 2012 and fully operational by April of that year. The third phase known as Terminal Sur is currently under construction to be completed in 2017, increasing parking, terminals, and the diverting of the Tocumen River.

Tocumen International is the busiest and largest airport in Central America. The facility is one of the few that has two runaways and can accommodate some of the largest air traffic available today. It is the home port to Copa Airlines and serves a multitude of other airlines, as well. Additionally, it is a regional hub center for flights to European Countries, the Caribbean, North, South, and Central Americas.

Hotels near PTY
The Riande Aeropuerto Hotel, Casino & Resort is located in Panama City and offers a variety of on-site recreational activities. They have conference rooms equipped with current technology for the business traveler. For the family vacation they offer free stays for children 11 and under and feature a pool for children only, in a smoke free environment. This hotel is 1.5 miles from Tocumen National Airport.

Crowne Plaza Panama Airport is less than 0.5 mile from Panama City; on the south side near the Bay. They have many amenities both for recreation and business services. These hotels represent a small portion of the hotels located anywhere from 1.3 miles to 30 miles from Tocumen International Airport. They range anywhere from 1 star to a 4 star depending on the amenities needed by the individual or group.

PTY Contact Information
Tocumen International Airport
Avenida Domingo Díaz
Panama City, Panama
Airport Code: PTY