About ten miles from Norway's capital, Oslo Airport offers gorgeous access into a world of wonders, from the rustic charm of an old modern city to ominous mountains in the outskirts. With Gardermoen Station located right below the facility, an airport express train offers a quick and convenient way to get out of the busy facility and into the area's excitement. Because public transport is so popular in the region, hopping aboard a free hotel shuttle is a difficult perk to find, meaning you should either plan to do as the Romans on the subway or go solo with the independence of a private ride.
Search for OSL airport rides

Trusted service since 2003

Flight Delayed? We wait.

24/7 Customer Service

Oslo Airport Transportation

Reserve a sedan to see everything with a quiet perspective, getting from the waterside solitude of Akershus Fortress to the silent fields of Frogner Park at equal pacing, or utilize the space of a chartered bus to bring everyone along. Explore the millennia-old history area with a local personal driver to show you around, from the influence of the Norman Conquest to the odd-ball installations scattered across Vigeland Sculpture Park. Get a taxi driver to get you from point A to point B as fast as you can say 'Oslo' whether you're headed to an event at the Oslo Congress Center or asking for a drop-off near the coastal landmarks of Sentrum. Families traveling through the region should book an SUV for safe travels, arriving to awe-inspiring locales like the Viking Ship Museum, home to authentic 9th-century Viking ships as well as old burial artifacts.

OSL Airport Transfers

Find other destinations that offer GO Airport Shuttle or search for other transportation providers at Oslo (OSL) airport.

Airport Ride Service

Looking for airport shuttle rides? Learn how you can get connected to the best shared ride van providers, sedans and private vans and view our airport transfer locations.
Oslo Airport Shuttle Services
In Oslo Airport, there are available airport shuttle services. These companies provide easier, faster and cost effective in booking certain ground transportation from the main airport. Professional drivers are provided in which they will take every passenger to their desired destinations.

It can be from your neighborhood or even to the tourist attractions there is including the SAS Museum, Stall Garden and a lot more. These airport shuttle services are indeed helpful and convenient for every passenger or tourists coming to Oslo, Gardermoen. Oslo Airport, Gardermoen (OSL) is indeed an international airport complete with every single thing you need while you are traveling around the world.
Shared ride van
Discover amazing facts at the Eidsvoll 1814 Norwegian Center for Constitution. A shared ride van is often a good way of traveling here.

Private van
There are times when all you need is to travel in privacy to enjoy time at a place like SAS Museum. A private van is certain to solve all your travel needs.

Private sedan
Out on a honeymoon and need a location in which to enjoy your trip? Travel to exciting destinations like the Ullensaker Museum and the Trandumskogen War Memorial in our private sedan.

Local personal driver
For those who are landing or those who seek to catch a flight from the Oslo Airport, we have local personal drivers to cater for your every travel need. They are not only qualified and experienced but are also friendly and committed to treating you to a great time.

Private SUV
Want a fast travel during your trip to historic buildings and other exciting destinations f the region? Try a private SUV.

Taxi Cab
Available for both pickup as well as drop off, the taxicab is a great way of making it to places like Nannestad Ski Centre or the Flight Simulations Norway.

Stretched limousine
Make a grand entry to your favorite hotel by booking a stretched limousine.

Bus
We also offer the bus to cater for your travel needs to stunning places like Stallgarden and Ullensaker Museum.
OSL airport terminals
When you need to get to your driver with ease you can use our maps to make your way through the terminals at the airport.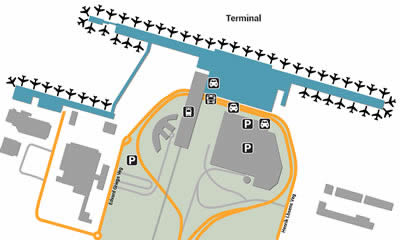 One of the largest airports in Norway is the Oslo Airport and this is basically situated at Gardermoen, Northern part of Oslo. This airport is known for direct routes for destinations both domestic and international and even manages more than 80 of charter destinations.
Furthermore, it is connected by train or Airport Express and even with local trains. For this international airport to provide convenience and comfort to millions of passengers arriving or leaving Oslo, it has seen to it that they are complete with facilities and amenities travelers can use and to provide more

worthwhile

stay. These specific facilities are as follows:

The Oslo Airport, Gardermoen (OSL) is equipped with parking spaces open 24 hours a day. The outdoor parking and parking garages are not far away from the terminal and is actually have a walking distance. Every 15 minutes, there are shuttle buses for the guests free of charge.

In the airport's arrival hall, the passengers are provided with tourist information services, wireless Internet access for free as well as computer stations that have Internet access. For shopping, this international airport has an array of nice choices of cafes, shops and even restaurants. Good ways of enjoying their short stay at the airport before going to different attractions there is in Gardermoen.

For the disabled individuals, the airport provides them wheelchair transfer, lifts and escalators bringing them more convenience. There are also toilets made special for them. Car parking and car rental are also part of the airport's other facilities.

Oslo Hotel Shuttles
Whenever you are in Gardermoen, there are a lot of hotel choices where you can stay. These are very convenient because these hotels are accessible and not far away from Oslo Airport. Some of these are the following:

Radisson Blu Hotel Dublin Airport, Oslo Gardermoen is known for providing direct access to the airport's terminals. It is basically linked with a finely covered walkway offering stylish accommodations to travelers. It is equipped with plush, spacious rooms with desirable amenities such as wireless Internet and mini bars. It also has restaurants serving international Scandinavian favorites. Some of the restaurants, which are within the area, include the After Gate, Toot's International, and Lobby Lounge.

Scandic Oslo Airport is a hotel equipped with beautiful, stylish rooms with wireless Internet. It also has a gym, two restaurants and a hotel bar.

Park Inn by Radisson Oslo Airport has up to 300 rooms with built-in wireless Internet for free as well as walls which are sound proof. They also offer dining options at RBG Bar and Grill featuring a wide range of delectable cuisines.