Oslo pick up and drop off at OSL airport
Ground transportation to Oslo Airport
Serving the capital of Norway, Oslo Airport, Gardermoen is one of the busiest airports in all the Nordic countries. With history that dates back to World War II alongside eco-friendly fixtures perfect for feeling modern, the diverse facility welcomes passengers with an artistic terminal. The terminal is home to several piers designated for domestic and international flights – Gates A, B and C in the west & north piers are used for domestic flights, while Gates D and E in the east & north piers are used for international flights. Ground transportation includes rail connections via the attached Oslo Airport Station, which includes downtown stops via the Gardermoen Line and Flytoget Airport Express as well as residential drop-offs courtesy of Norwegian State Railways' commuter trains.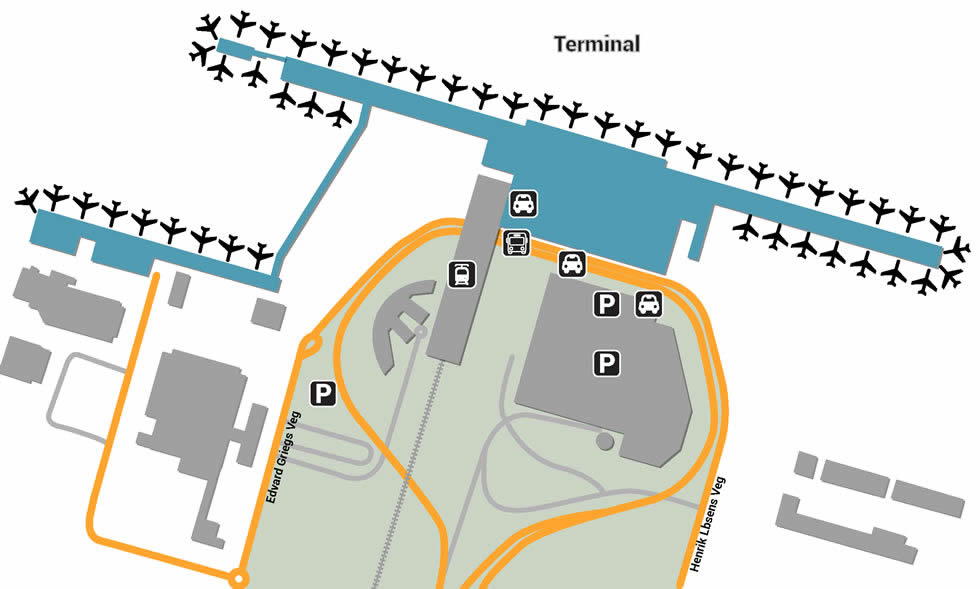 Parking
There are at least a dozen park zones that include indoor garages and outdoor lots perfect for either short-term or long-term stays. There are five short-term areas, the closest being the indoor Short-Term Garage adjacent to the terminal. P10 is also indoor and provides easy walking-distance to the terminal, while P0 and P11 offer about the same access behind P10. Next door to P11 is P1, which offers lower rates at the expense of a 500-meter walk to the terminal. Keep going south for even lower prices, choosing between six outdoor lots labeled P2 – P7, with exceptionally low rates found at Lots P4 – P7. Additional parking services include a Park & Go lot for quick drop-offs as well as VIP spots for OnePark passengers in P10, not to mention shuttles for long-term park zones P2 – P7.
Services
Services at Oslo Airport are varied and include predictable accommodations like ATMs and currency exchanges as well as a good balance of entertainment and relaxation. Family services include expansive children's play zones as well as cozy parenting areas that include breastfeeding rooms and living room-style lounges – free strollers are also available just past security. Friendly perks are offered to business travelers in the form of free Wi-Fi throughout the terminal as well as complimentary desks in the airport's designated 'Work Zone', which is located between Gates 44 and 46. Other unique services include spa treatments at Lakkbar as well as an interfaith chapel across from Gate A4.
Retail
Home to 20+ retailers that include various last-minute conveniences as well as upscale fashion brands, getting the right gift at Oslo Airport is especially easy if you've got the mind. Pick up the right looks for the right price by shopping trendy but affordable at either Æra Dame or Æra Mann, also considering name-brand handbags and jewelry from Travel Value Fashion. Freshen up even more either by getting a haircut at Cutters or with a gleaming timepiece from Jewelry & Watches. Be sure to pick up a unique gift on your way out as well, choosing between fun patterns & shapes at Ting or Norwegian souvenirs & toys from Way Nor. Other unique shops include conveniences at both 7-Eleven and Narvesen as well as specially-preserved fish at Fine Food Salmon House.
Restaurants
Home to over two dozen eateries that include savory Norway-inspired eats as well as international flavors, Oslo Airport's many food dining options offer a great way to make delays pass quick. Enjoy handmade pastries & coffee at either Caffè Ritazza or W.B. Samson in the morning, also considering berryful drinks at Joe & the Juice. Lunch options vary from seafood favorites like Fiskeriet and Fiskebaren to various sandwich shops that include the specialty baguettes of Northland and the organic deli ingredients of Haven. And for dinner, choose between Asian favorites at either Two Tigers or Wagamama, also considering signature Norway dishes from either Bølgen og Moi Food Garage or Havsalt.