New York LaGuardia LGA Airport Shuttle
When planning your next trip to New York City, don't forget to book reservations for any of our airport shuttle rides and get to any downtown destination such as your hotel or the Jacob K. Javits Convention Center for a trade show quickly and without a hassle. You can also get a fast pick up in a local taxi or sedan so that you have a non-stop ride. Or, if you want to really go all out then booking a private ride in a limousine might be your best option which has a local driver who will service your trip to and from LGA airport. No matter what, your trip to the City That Never Sleeps is sure to be jam-packed with things to do and see, so be sure to plan ahead to make it as smooth as possible.
Search for LGA airport rides

Trusted service since 2003

Flight Delayed? We wait.

24/7 Customer Service

New York City Airport Transportation

There are several quality services that provide transportation to and from the airport. For airport shuttles or private vans you can choose from many providers which are ready to take you to your destination in New York as you arrive at the airport with timely cost effective service. 

LGA Shuttle Transfers

When you arrive at New York LaGuardia International airport look for the AirportShuttles.com Zumu to make your way to your final destination in the city. AirportShuttles.com makes it simple for you to spot your ride and get on with your trip.

Airport Pick Up

Depending on where you are going from the airport, Go Airport Shuttle has an option for you. You can decide between GO Airport Shuttle Connecticut or GO Airlink NYC GO Delaware if you are going out of state. If you need an airport transfer in the city Express GO State Shuttle GO Winston Transportation Group can help you.
New York Airport Shuttle Service
LGA airport has many ways to get to the downtown New York area. From private vans and car services such as town cars you can save many different ways.
LGA Pickup and Drop Off
There are many shuttle services that offer convenient pickup locations around the airport.


When you arrive at LaGuardia airport you can go to pick up your checked bags. From here you will need to look for the Ground Transportation Desk, which are situated right next to the baggage claim areas.

Shared Ride Van
LaGuardia airport offers a whole variety of options when it comes to shared ride van service. Some of the providers you can book your reservation with are GO Airlink NYC or AirportShuttles.com.

Private Sedan
For a quiet and relaxing ride from the airport non-stop to your destination a private sedan ride is just the ticket.

Local Personal Drivers
When you want the luxury of a private car without the price tag hiring a local personal driver may be a good option for you. You can book yours with companies like Wingz.

Private SUV
If you have to get your small group of 3 to 4 passengers from LGA to Queens or the Bronx a private SUV service is a good option for you.

Taxi Cab
If you are looking to catch a cab making your reservation before you get there can help you avoid the hassle of having to wait for one. Book your taxi to SoHo or Greenwich Village to avoid all stress.

Stretched Limousine
For a special occasion or if you just want to pamper yourself hiring a stretched limousine for your next airport ride is easier than you think. Some of the companies in this area include GroundLink or Limo Star NY.

Chartered Bus
When your large group is going to see the sites of New York City such as the Statue of Liberty or the Empire State Building chartering a bus can get you where you need to go with ease.
LGA airport terminals
Find what you are looking for as you make your way through the terminals at Laguardia airport.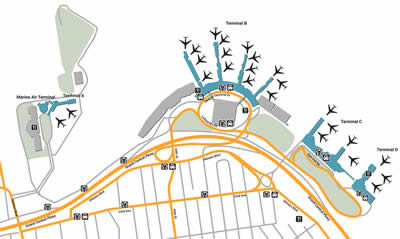 New York City Airport Shuttles

LGA airport has GO Airlink NYC and AirportShuttles.com New York shared ride services for the New York City area including sedan and limo transfers for travelers needing a more private ride to and from the airport.

You can find many shuttle services at LaGuardia Airport. Select services from companies such as Eastern Car Service, ETS Airport Shuttle and Zumu. If you'd rather take a taxicab there are always several on hand just waiting to take you where you need to go although booking your cab in advance can save you lots of time and headache. As most locals can tell you, finding a cab in NYC can be difficult.

You can be dropped off from the airport to anywhere in the city at very competitive rates including nearby New York surrounding neighborhoods. If you are a college student looking for competitive rates for airport rides for New York University then our transfers can help you save getting to and from the campus.

New York City Hotel Shuttles
You have many choices when it comes to hotels in New York City. Here are just a few with the highest online ratings in nearby areas. In Flushing there are quality hotels such as The One Boutique Hotel and Hyatt Place Flushing. If you are in the East Elmhurst it offers Courtyard by Marriott LaGuardia and Airway Inn at LaGuardia or if you are in Corona it has some good choices such as SpringHill Suites and Holiday Inn, which are among the top rated.

These are only a small sample of the available hotels in the LaGuardia area. There are many more ranking from five stars all the way down to two star or even overnight motels if you prefer.

New York City Destinations
When you are sightseeing in New York you can find the best locations to visit through the New York Tourism Bureau. From the Statue of Liberty to the downtown nightlife you can find the information you need to know more about the area.
I Love New York

About LaGuardia Airport
New York LaGuardia Airport is located in Queens County on Long Island that has quick access for many shuttle transfer to many city destinations. So if you are tourists visiting the area for the first time LGA is a great airport to start your adventure in the amazing city. LaGuardia airport conveniently located near the upper part of New York City's area of Queens so you can easily book an airport ride that will not cost you a lot.

Set in Flushing Bay including Bowery Bay this airport offers spectacular views. Combined with JFK International including Newark Liberty International it forms one of the biggest airports in the U.S. and is second worldwide for passenger traffic. It is one of the busiest airports in the country and serves as a focal point for many airlines. If you have a group whether it is small or large you can find easy airport transportation to Jacob K. Javits Convention Center for those needing rides for their group.

LGA Contact Information
New York LaGuardia Airport
New York, NY 11371
Airport Code: LGA