New Delhi Indira Gandhi DEL Airport Shuttle
As the chief gateway of New Delhi, Indira Gandhi International offers instant access to a modern express train as well as a relaxing Air Force Museum perfect for passing the time. Look forward to the beauty of the area by making sure you've got a solid ride to show you the way, whether it's a casual shuttle courtesy of the on-site, Airport Hotel, or private rental perfect for getting around whenever you want. Keep in mind other options, from sedans to meet-and-greet services, all by following where your heart wants to go.
Search for DEL airport rides

Trusted service since 2003

Flight Delayed? We wait.

24/7 Customer Service

Indira Gandhi Airport Transportation

As India's capital, New Delhi offers a lot of ornate things to see, from street-side markets to family-friendly parks. Reserve a sedan to make your trip intimate, whether you're looking forward to an afternoon at the imperial palace of Red Fort or a walk through the unique landscaping of Lodhi Garden. Make things more comfortable with a bigger ride, choosing between SUVs for a tour across North India or a chartered bus big enough to bring large parties to the just-as-expansive Akshardham Hindu Temple. If you're a business traveler simply looking to make the most out of the evening, as much as your trip to the NDMC Convention Centre, get a swift drop-off with a handy taxi. You can also things slow at the leisure of a stretched limousine, utilizing the steady persuasions of the eateries around Windsor Place.

DEL Airport Transfers

Find other destinations that offer GO Airport Shuttle or search for other transportation providers at New Delhi (DEL) airport.

Airport Ride Service

Looking for airport shuttle rides? Learn how you can get connected to the best shared ride van providers, sedans and private vans and view our airport transfer locations.
New Delhi Airport Shuttle Service
The following shuttle services have been evaluated and highly rated for safety. GO Airport Shuttle and AirportShuttles.com provide world-class vans and shuttle services to different destinations within Phnom Penh.
Shared Ride
Spectacular sightseeing places like the Lotus Temple, hiring a shared van service and enjoy the ISKCON Hare Krishna Temple and discounts can be applied on this service of ground transportation.

Private Van
An enjoyable door-to-door service is our private van transport. You do not have to worry if you get lost in the ruins of the Hauz Khas complex or if you lost time admiring the impressive Lodi Gardens; a private van is waiting for you and your group to pick you up and drop you off to any other tourist site.

Private Sedan
We offer our private sedan service to take you anywhere in New Delhi. You might want to experience a comfortable ride for airport transports and make easily your way in this crowded city.

Local Personal Drivers
Another truthful transport service is to hire personal local drivers when you want to explore the restaurants in Paharganj and have some tasty Indian food like "Kulle Chaat".

Private SUV
Our private SUV drivers are always dependable and on time, you can hire this service when exploring the Spice Market or Dilli Haat or for airport transfers upon arrival and departure.

Taxi Cab
Taxi cabs can be hired for airport transportation or when visiting Jama Masjid, the largest Islamic mosque in the city, and the Gandhi Memorial.

Stretched Limousine
You must be at Nizamuddin Dargah before sunset, book our high-class limousine service and be there on time; enjoy the royal ride.

Bus
If you want a getaway to a less crowded place but still want to see more temples, mosques, and churches; you can hire our bus service to take you to Nizamuddin Dargah and you can use our discounts for small and big groups.
DEL airport terminals
Our terminal maps can make it easier for travelers to get around the airport.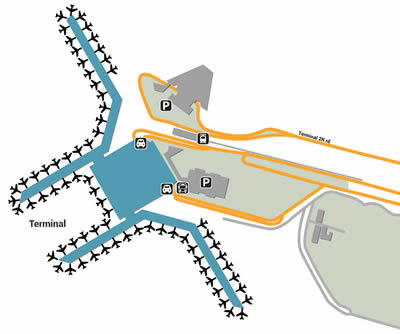 New Delhi Airport Shuttles

You can reserve a hotel in New Delhi or you can make discount airport transportation reservations. New Delhi Airport also called Indira Gandhi International Airport is the primary hub in India's capital city, New Delhi. 

Namaste India Tours provides shuttle services from the airport to different parts of New Delhi. Drivers speak English and they will wait for you with a placard bearing your name. Resorthoppa Shuttle Service provides luxury private cars and vans to your preferred destination.

Reputable taxis are Meru Cabs, Mega Cabs and Easy Cabs. These can be found just outside the Arrivals Hall. Air-conditioned buses and trains run between the airport and the city.

Chhatrapati Shivaji International Airport Shuttles
Located at the heart of downtown Mumbai, Shivaji International is a large facility known for its vast amenities, on-site art gallery and incredibly modern design. Home to a slew of Ground Transport options at BOM airport ranging from BEST buses to the city as well as a railway station heading toward the Harbour Line, it's more easy than not to find your way out of the facility. Make things even easier by booking a shuttle from a nearby hotel, whether it's courtesy of the upscale Orchid Hotel or the low-key Hotel Jayshree. Get around with a bit more freedom by booking a private ride, making the most of each moment with all the time you need.

Shivaji International Transportation
Reserve a sedan to take advantage of just how close to Sanjay Gandhi National Park you are, exploring the vast terrain you can only witness with your own eyes. For families looking to explore the fun side of the city, reserve a large SUV or chartered bus to bring everyone along, getting to world-famous theme parks ranging from KidZania to Snow World Mumbai with all the ease in the world. Business travelers needing to get in and out of the epic-sized Bombay Convention Centre should consider a taxi, especially with how much traffic fills the streets afterward. Indulge in the region's upscale side by getting a stretched limousine to enjoy it, heading to the Cuffe Parade neighborhood for eateries along the Back Bay as well as the neighboring business district of Fort.

Hotels near DEL 
Eaton Smart Hotel is situated on-site within the facility. The hotel makes up for unpleasant layovers experienced by weary passengers. It has everything needed for passengers to continue the journey in a calm fashion. The establishment is divided into two wings with rooms on both ends providing comfort for domestic and international passengers.

Other off site hotels are located in proximity to the airport, and they offer a comfortable stay. Among notable brands is the famous Taj Mahal Hotel, which surpasses expectations; Shervani New Delhi, Le Meridien New Delhi and La Sagrita are other equally befitting hotels are conveniently located within minutes from the airport.

Your Travel Guide To New Delhi Airport
The airport is situated 12 miles from the city and the airport code is (DEL). The facility is the largest and busiest in all of India, and it was named after Indira Gandhi India's former prime minister.

New Delhi Airport serves approximately 30 million passengers annually, and it has undergone recent renovations with the new Terminal 3 operating in 2010. The once crowded and dirty terminal has a plethora and dining and shopping opportunities for travelers as well as friendly staff members who will assist in finding transport to the city or make gate transfers.

DEL has many flights to different destinations both locally and globally, with popular destinations like Beijing, Singapore, London, Rome, Paris, Tokyo and Chicago as well as other destinations to all parts of the Asian continent. A number of low-cost carriers also ply their route from New Delhi Airport. The airport serves as a hub for ten Indian carriers, including Air India and Jet Airways.

Transfer shuttles connect terminal 1 and 3, and these shuttles make their runs every 20 minutes. Domestic carriers like Jet Airways, Kingfisher and Indian Airlines use the International Terminal, and for this it's advisable to cross check with your carrier before transferring terminals. All three terminals have parking lots. DEL is situated at New Delhi Airport, DL 110037.