Nashville International BNA Airport Shuttle
Tucked away in Nashville's quiet southeast side, Nashville International Airport is in an easygoing area perfect for bumpy landings. Offering live music and local art that remedies the fast-moving atmosphere, the facility is easy to make your way through, even easier if you've got a shuttle waiting on the other side. Get out of dodge by staying in a hotel that offers welcoming arms, whether it's the shuttle courtesy of Sheraton Music City Hotel or the low-cost class with equal perks at Radisson Hotel Nashville Airport next-door. Keep in mind other options as well, from intimate limousines to speedee taxis, 'cause Nashville's got you covered.
Search for BNA airport rides

Trusted service since 2003

Flight Delayed? We wait.

24/7 Customer Service

Nashville Airport Transportation

Explore the wonders of 'Music City' by having a solid set of wheels to show you around town, whether it's a private van perfect for taking the whole family to Nashville Zoo or a quiet sedan that makes Stones River Bend Park an easy trip to look forward to. If you're heading to Nashville Convention Center on business but still want the convenience of an airport hotel, get dropped off with a taxi, or take things a little further by getting the handiness of a local personal driver, which doubles as a concierge on-the-go. Enjoy the tradition of live venues in absolute class, especially if you're arriving to Ryman Auditorium's historic Grand Ole Opry, often referred to as the 'Mother Church of Country Music,' which requires the 'Mother of All Rides' in the form of a limousine.

BNA Shuttle Transfers

Nashville AirportShuttles.com is a top notch airport transportation service featuring its world famous Zumu. As one of the most well known providers of airport transportation and they offer shared ride and private vans as well as private car service and more.

Airport Pick Up

GO Airport Shuttle provides high quality service because their operators are all locally operated companies.
Nashville Airport Shuttle Service
If you're looking to book BNA airport rides a shared ride van can be ideal for most travelers unless you prefer a private shuttle or SUV without sharing the transfer with others.
Shared Ride Van
Visit the pride of Nashville – the Grand Ole Opry stage at the Ryman auditorium in our cheap but quality Shared Ride Vans for hire to transport you wherever you like.

Private Van
Best in the business door-to-door private van service, providing highly dependable rides in Nashville from your doorstep to your destination.

Private Sedan
If you are a country music fan, you have to visit the Country Music Hall of Fame in Nashville. Hire our luxurious sedans to get you there.

Local Personal Drivers
Call to get pickup and drop, ground transport, airport transfers and door-to-door service without any hassle. Our professional drivers are at hand with extensive local knowledge.

Private SUV
Be it the Belle Meade Plantation or the Parthenon, our private SUVs transport you anywhere you want to go, at the best prices and in best time.

Taxi Cab
Need to get to the football game of time? Don't want to miss even a single second? Book taxis for hire with best drivers to ride you to the Nissan stadium – home of the Tennessee Tigers.

Stretched Limousine
Style and panache are the two words that best describe our limousines. Hire one at incredible prices and travel the streets of Nashville in style.

Chartered Bus
Airport transfers and sightseeing, we cover all. Book our fast and reliable shuttle service to reach tourist places in Nashville like The Hermitage and Nashville Zoo at Grassmere or the Adventure Science Center.
BNA airport terminals
Whether you're in Nashville for business or pleasure, you can make sure that your flight goes smoothly by using an airport map to get you to your flight on time.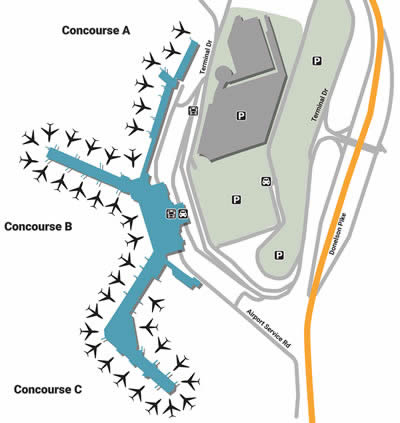 Nashville Airport Shuttles
BNA airport transportation is available from shared ride shuttle buses and private cars. Nashville International Airport offers a host of taxis plus limousines for your airport transfer needs. 

You can have up to 3 passengers for Zumu Sedan Service provided by AirportShuttles.com or search for GroundLink, Driving Nashville and Sedan On Demand for all inclusive vans and sedans. In addition you can rent a car while you are at the airport as there are rental car places on the first three levels. You can also check out the offsite locations that are near the facility.

If you are going to downtown Nashville or to the Opryland hotel when you add additional passengers it can help reduce the rate when they are accompanying the original passenger to the same destination. If luxury is more your style, you can catch a limo to get to your destination. There are also hotel and motel shuttles to get you to your lodging destination or buses and shuttles to get around Tennessee.

Nashville Hotel Shuttles
If you are fortunate enough to have an overnight stay or longer in Nashville there is plenty of Nashville hotel transportation you can ride on to get you to your accommodation. Doubletree Suites by Hilton is near the airport so is the Drury Inn and Suite and the Embassy Suites which all have shuttle service from the BNA airport. If you are hoping for a stay near Opryland you can stay at the Gaylord Opryland Resort and Convention Center and enjoy a quiet night with the family. Shuttle transfers for the family or groups may be best with private vans, which can accommodate more passengers needing to get between destinations.

About Nashville Airport
Nashville International Airport, also known as BNA airport is located in the city of Nashville in Tennessee or common name Music City is where the popular attraction Country Music's Opryland resides. The airport is true to form and everyone that visits Nashville their first impression is to reflect on just how much of an impact the arts have made on the city. The Tennessee Arts Commission has exhibitions such as the Arts at the airport that they supply along with the Metropolitan Nashville Airport Authority. The airport also features live music on its stages for decades with several bands that perform throughout the year.

Things to do in Nashville
No trip to Nashville is complete without a trip through Nashville as locals would say and suggest starting your day at the Hillsboro Village for breakfast at Fido. Check out some of the rich history of Nashville by eating where singers and songwriters have visited for years by visiting The Row. The Row is alive with excitement with its live music and relaxing in outdoor patio with friends and family close to downtown. 

If you come to experience Nashville at it's finest and want to have a memorable experience there are a few places you can't miss. There is fun for every member of the family at the Adventure Science Center this place is an interactive learning experience for all. If you want to cool off and have some water park fun and visit Wave Country. No visit is complete when you come to Nashville unless you visit the Grand Ole Opry, which was discovered in the early 1900's and has featured country, bluegrass and others since its inception.

The most interesting part of Nashville is that it is the birthplace of Country Music, which has many great attractions such as Country Music Hall of Fame, the General Jackson Showboat and the Grand Ole Opry.

BNA Contact Information
Nashville International Airport
1 Terminal Drive
Nashville, TN 37214
Airport Code: BNA
Visitor transport to downtown Nashville

When you think of Nashville you can be sure that Grand Ole Opry House and the Parthenon are at the top of the list. Travelers can visit some of the area's best attractions during their stay close to downtown.