Nashville pick up and drop off at BNA airport
Ground transportation to Nashville International Airport
Discover the various ways you can make your way through Nashville International Airport from the terminals to exiting the airport. Located about three miles from downtown, Nashville International Airport offers an easy window into one of the greatest live-music capitals of the south. Enjoy interesting amenities and down-home cooking from the convenience of your terminal, enjoying the scenery whether you decide to step outside or not.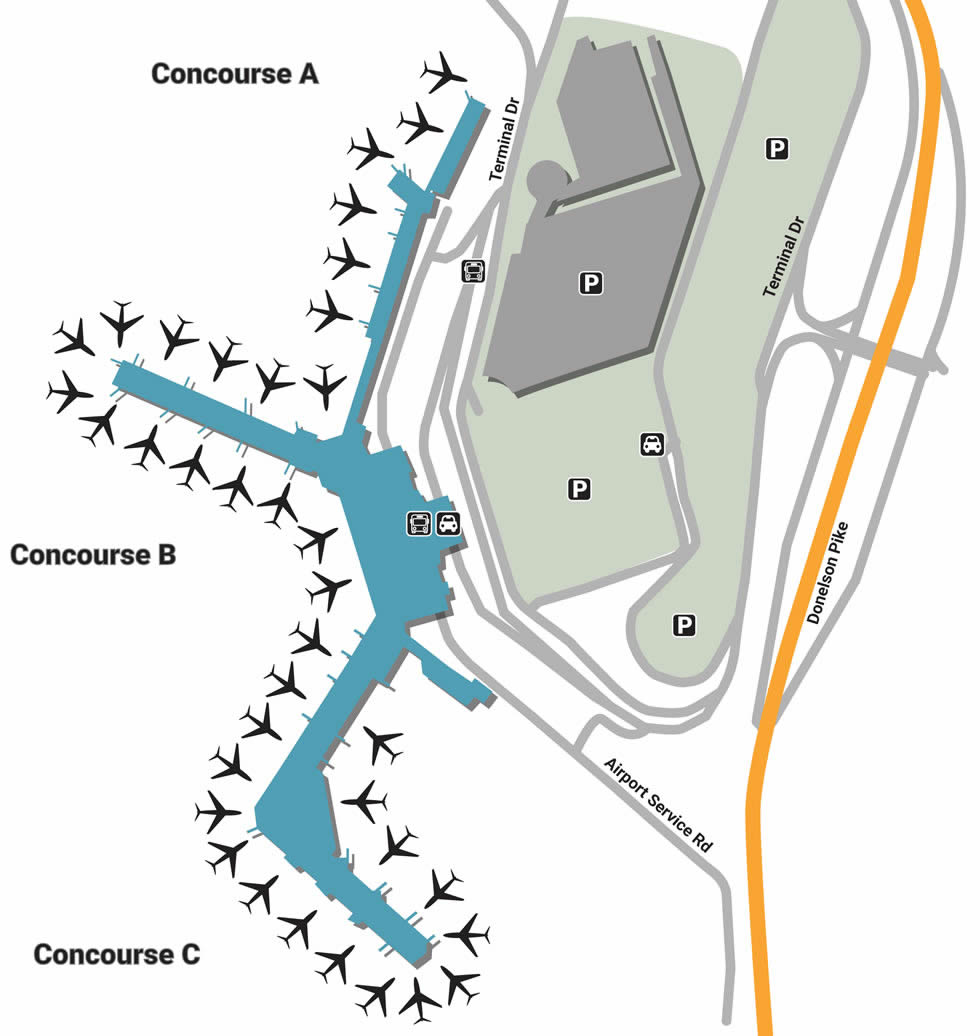 Parking
If you're the type of person that likes to save every potential dollar, do so by having a parking plan, whether it be the nearby Short-Term Parking Lot, located directly across from Arrivals, or Long-Term Lot A, which is connected to Short-Term. Go the cheapest route by choosing either Long-Term Lot B or the Economy Lot, and be sure to check the space availability through the TransLoc App, available on iTunes and Android Marketplace. There are also two free Cell Phone Lots, one on Donelson Pike & I-40 and the other just south of the Economy Lot.
Services
Nashville International provides a slew of one-of-a-kind services to guests, the most unique being the gift of music. Every Spring, the facility lights up the fairgrounds with bright oriental dragons in celebration of China Lights, not to mention bringing live music to each terminal through 700 performers a year. There are also imperative necessities like TTY telephones and accessible ramps, not to mention expected services like two separate Shoe Shines and Nursing Rooms for mothers.
Retail
Whether you need something or simply feel like you need something, the local and international shops should suffice. Pick up a fashionable new headband or pair of shades from Accessories Place (Gate B6), or enjoy a luxurious snack from Godiva across the way. If you're stuck in Terminal C, pick up a specialty souvenir from Discover Nashville (C11) or get something for your little one at Fly Babies in the same area. While you're there, exemplify your love of leather and rock & roll by browsing the Harley Davidson jackets at Boswell's Music City (C16).
Restaurants
Make sure your stress doesn't seep out the sides by satisfying your hunger while you wait. Let hours fly by at Blue Coast Burrito (C14), a local fresh-mex restaurant known for its homemade guacamole. Have a rockin' cup of Kijiji Coffee at Gibson Café (C20), a guitar-themed memorabilia shop that filters every grind the Nashville way.  You can't leave the city without trying some of Neely's Bar-B-Que (B4), but eating a fresh bowl of Matzo Ball soup from the local Noshville Delicatessen (A/B Rotunda) is just as worth sitting down for. If all you need to make your meal perfect is a slice of entertainment, be sure to sit down at Tootsie's Orchid Lounge (C7) for the locally-nominated, 'Best Country Bar'.