Munich International MUC Airport Shuttle
A half hour northeast of downtown, Munich Airport is a modern facility home to an own metro station and bright atrium lobby perfect for visitors to take in the beauty of Bavaria's capital. As one of Europe's busiest facilities, getting through the region can be difficult without a little guidance - ask the visitor center for directions if you get lost on your way to Ground Transportation, afterward utilizing the help of city and hotel shuttles as soon as you have your bags. The closest stays are Novotel Muenchen Airport and Hilton Munich, both of which are located on-site, but keep in mind the option to get your own private ride to set you free.
Search for MUC airport rides

Trusted service since 2003

Flight Delayed? We wait.

24/7 Customer Service

Munich Airport Transportation

Get to know the beauty of the region by having a solid sedan to see everything that matters, whether it's the blooming fields at English Garden or an exciting game in the Olympiaturm arena. For history buffs looking to get a slice of 18th-century backdrop, reserve a local personal driver to show you the ropes, seeing old palaces and historic clock towers by the hand of someone who knows. Another smart decision for lovers of old is a simple taxi drop-off to the ornate district of Altstadt, or for business travelers, a direct ride to the International Congress Center of Munich. Keep things running extra smooth by going for a luxury ride instead, reserving a chauffeur and limousine meet-and-greet for a night of classic German opulence.

MUC Airport Transfers

Find other destinations that offer GO Airport Shuttle or search for other transportation providers at Munich (MUC) airport.

Shuttle Locations

Looking for airport shuttle rides? Learn how you can get connected to the best shared ride van providers, sedans and private vans and view our airport transfer locations.
Munich Airport Shuttle Service
There is ample parking in many lots are the airport. Each terminal has long and short-term parking and both upper level and belowground long and short-term parking. If you want to get around town quickly then you can book a ride with Lufthansa Express Bus which offers transportation service from München Central Station to Muenchen Franz-Josef Strauss Airport.
Shared Ride Van
You can book our shared van service to go to the fairy tale castle of Neuschwanstein at the Bavarian Alps. Ask for the group discounts and combo-tours that this transport has to offer.

Private Van
Munich is place to many outstanding castles and indescribable gardens. Our private van can take you for sightseeing at Marienplatz, the Pinathekon and Karlsplatz. This ground transportation is also available for airport transfers with door-to-door service upon arrival and departure.

Private Sedan
You want to spend the day in a relaxed and lazy manner, then hire our private sedan service and start relaxing with the comfort ride to the Bavarian Beer Garden.

Local Personal Drivers
Our local personal drivers can take you to taste the best beer at Germany's oldest beer houses and breweries.

Private SUV
Our private SUV drivers can be asked for daily pickup and drop off wherever you might be. Enjoy your shopping at Viktualienmarkt.

Taxi Cab
A popular place for beers is at Hofbräuhaus, the best-known beer hall in the world. Rely on our taxicab service ready to be there for you at no time.

Stretched Limousine
The Munich Residenz is a not to be missed cultural site. You can get to enjoy a concert with classical masterpieces and eat at Franziskaner a der Oper, the oldest beer restaurant in Munich. This classy tour can be even more charming by hiring our private limousine service with a high-class driver.

Chartered Bus
You might want to get involved with the past life of the prisoners in Germany. Our bus service can take you the Dachau Concentration Camp.
MUC airport terminals
Experience the ease of boarding your airport transfer by using our easy to use terminal maps.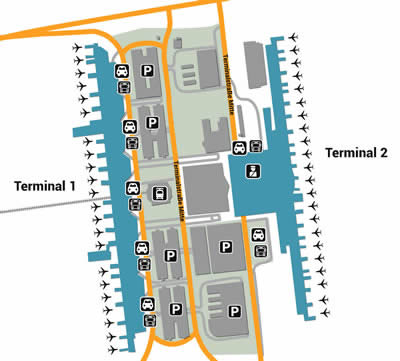 Munich Airport Shuttles

You can reserve a hotel shuttle in Munich before you start your trip so you can get to your room quickly and spend more time touring this popular town in Germany.

Underground is recommended for those with extended stays. Short term includes up to a week, while long term goes up to thirty days at a time. For those who need longer stays, the vacation lot is located farthest from the terminal but offers the lowest fares.

Avis, Enterprise, Hertz, National and Euro-car are the available rental car companies. The rental agency is located in the central connecting area of the terminals. Pickup of rental cars is in the lot between the two terminals.

Taxi Zentrale Freising is the contracted taxi company. All taxi drivers are obliged to take passengers to destinations within certain mileage further than predetermined zones are not obligatory and are at each driver's discretion. The airport asks that you only use airports in the taxi rank for your safety.

The S-Bahn is the local railway system. Lines S-1 and S-8 are connected to the heart of the city and a one-way trip runs about 45 minutes. MVV Bus is the local public transit system that takes passengers to Freising, where they can connect with trains, cabs and livery services.

Flying In Style With Munich International Airport
Munich International Airport (also known as Franz Josef Strauss International Airport) is located roughly fifteen miles outside of the capital city of Bavaria, Germany. It is one of the three busiest airports in Germany and holds the title as being one of the top ten busiest airports in all of Europe. The airport spans more than 1000 acres of land, and holds three main terminals. The terminals see more than 35 million passengers annually on more than thirty-five airlines, including Delta and JetBlue Airways Airlines. It is also home to Air Dolomiti, the largest foreign cargo carrier of Germany. There are two terminals, each with a main runway, and both terminals are fully capable for emergency services, including landings of an Airbus A-380.

MUC Airport Terminals
Like most other airports, Munich International Airport offers free wireless Internet. Comfort stations are spacious, clean and well maintained. There are many gift shops, including Capi Electronics, Esprit Home and Candles, and Lloyds. Airbrau is a wonderful little bakery (get a free slice of cake with a €25 purchase!) There is also a subway. Newspaper stands are located throughout each terminal. There is a small bank in the connecting section of the terminal and it does offer some currency exchanges. There are also plenty of duty free shops available. Munich International Airport is located on the A 92 Munich-Deggendorf Autobahn and uses flight code MUC.

Hotels near MUC
Kempinski Hotel Airport Munich, located less than four miles from the airport, is one of the finest hotels in the area. It offers reasonable rates, a fitness area, and shuttle services to the airport. For those who need more budget friendly accommodations, NH München Airport offers an average nightly stay for $65 USD, offers breakfast, turndown service and shuttling to the airport.

MUC Contact Information
Munich Airport
Nordallee 25, 85356 München, Germany
Airport Code: MUC