Munich pick up and drop off at MUC airport
Ground transportation to Munich International Airport
Munich Airport is the second-busiest in Germany, offering two separate terminals that include shopping malls, food courts and attached lodging. Munich Airport has several terminals for passengers to use such as Terminal 1 which offers two above-ground levels with Level 4 being street level as well as check-in for arrivals. Level 3 offers Automatic People Movers connecting to Concourses A - E. The much larger Terminal 2 is home to three above-ground levels, with Level 3 being ground level as well as check-in for arrivals. Check-in is also located on Level 4, while departures is located across both Levels 4 and 5. Gates K and L are located on the north ends of Levels 4 and 5 and is considered a special area of Terminal 2 called Terminal 2 Satellite.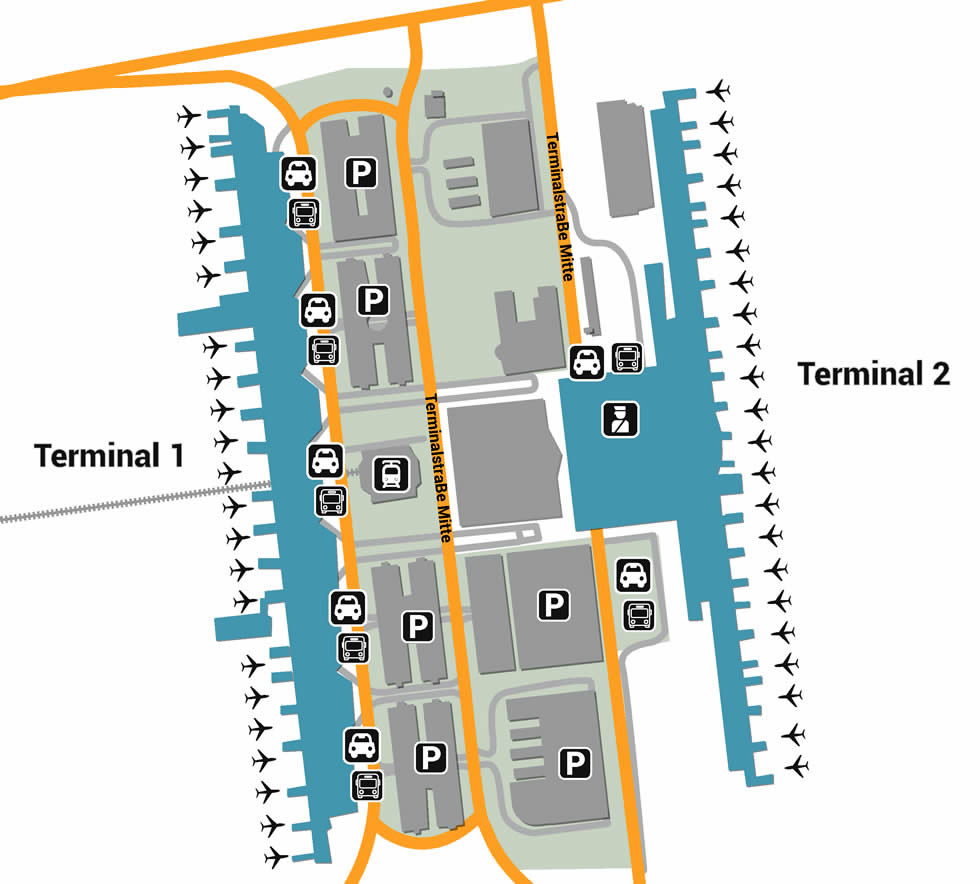 Parking
Munich Airport is home to five parking garages and six underground parking areas. P41, P80 and P81 offer long-term spots west of the facility, while all the rest offer short-term spots located between Terminals 1 and 2. Car Park P20 offers a premium parking service that includes valet, parking garage transfers and detailed car washes. If you spend at least 20 Euros in the airport, you'll receive free parking in Car Park P20. Those in need of additional ground transportation should head to the Munich Airport Center (MAC) along Level 3 of Terminal 1, home to various modes of ground transportation that include a bus station, taxi stands and car rental kiosks, not to mention easy access to the Munich S-Bahn underground train connecting to downtown.
Services
In addition to basic services like free Wi-Fi, shoe shines and car rental kiosks, Munich Airport also offers various unique facilities. Get where you need to be with complimentary inter-terminal lifts, afterward relaxing through observation deck views at the new satellite terminal (T2). Various lodging options also make things comfy, with upscale suites at Hilton Munich Airport and hourly rates at Napcabs providing all the convenience business travelers could need. Additional business perks include five lounges to choose from, as well as innovative recreation areas specially designed with ergonomic furniture and mood lighting. The airport is also host to various tours, which include a look at the daily firefighting regiments of the airport via Airport Tour: Fire Brigade and the increasingly popular A380 Tour, which offers a look at the immense Airbus A380 Airplane.
Retail
Home to over 80 retail stores and growing, Munich Airport's shopping scene offers a wide variety of souvenirs, fashion and convenient basics. Most of the shops are located in the central Munich Airport Center, a multi-level complex that connects the two terminals with various forms of entertainment ranging from upscale shops to low-key eats. Terminal 1 is home to another shopping mall called Central Area Z (Zentralbereich), while Terminal 2 offers various shops in its new Terminal 2 Satellite extension (Gates K and L). Spend time sifting through luxury goods at Aigner, Bally or Bottega Veneta, also considering a variety of upmarket fashion choices from Ralph Lauren, Salvatore Ferragamo or COACH. Those looking to add some color should take advantage of the couture cosmetics and skin treatments offered by Palmers, Rituals and Kiehl's as well, or just get the bare necessities from either MyDutyFree or Travel Value.
Restaurants
Get your food at Level 3's Muenchen Airport Center, a massive shopping plaza home to a full-sized grocery store as well as 50+ restaurants ranging from simple to upscale. Spend the morning at various cafés that include the family-friendly menu at Maredo Grill & Café Lounge and the festive ambiance of Alfredo Bar & Biergarten, or go for a scenic sit-down at Cloud 7, which offers breezy balconies and epic views of the runway. Try international dishes for something more worldly, trying Italian from Amo or Asian from Mangostin Airport, also considering on a tour of local flavors at The Flave of Munich. And for those in search of the airport's most elegant scenery, indulge in the upscale ritz of either Selmans Restaurant & Bar or Sissi & Franz, finally grabbing dessert from the irresistible Brioche Doree.