| | | |
| --- | --- | --- |
| | Search for BAH airport rides | |


Flight Delayed? We wait.

Free Cancellation on 99% of rides

24/7 Customer Service

Muharraq Airport Transportation
Located north of the capital city of Manama, Bahrain International Airport offers instant views of the Persian Gulf as well as easy access to a booming economy that's put the small island-nation on the map for centuries. Get through less than 300 square miles of lush terrain juxtaposed with infamous desert heat, all at the ease of following your own schedule, whether it's with the help of a private rental, from sedans to SUVs, or through convenient meet-and-greet reservations, from taxis to stretched limousines.

BAH Transportation
Without any significant high-speed light rail or train system set in place, ground transportation at BAH Airport is limited to bus lines along Airport Avenue and pre-paid taxis outside baggage claim. Make your trip into town especially comfy by reserving a personal shuttle instead, reserving through either local sedan or taxi cab providers for custom drop-offs and timely pick-ups, not to mention plenty of space to stretch your legs and enjoy the view along the way.

Shared Ride Van
Perfect for one-time-only rides to hotels or resorts, shared ride vans take the cake in simplicity. Book with area shuttle companies to get around with ease, arriving to the scenic sands of Dragon Hotel & Resort behind the airport or delving into the 5-star ambiance of Sheraton Bahrain Hotel in downtown Manama.

Private Van
Take care of up to a dozen passengers by reserving a private van from local shuttle companies, enjoying fun field trips to expansive locales, whether it's the classic ambiance at Royal Camel Farm or the local art & culture showcased at the Bahrain National Museum.

Private Sedan
Those looking forward to intimacy and seclusion should do so with a private sedan from area providers, enjoying quiet lookouts from Prince Khalifa Bin Salman Park while looking forward to a memorable dinner along the north island shores of The Lagoon Park.

Local Personal Drivers
Find a corner of Bahrain only the locals can teach you by booking a local personal driver as your chauffeur, uncovering the best hidden nooks across the isle, from waterside cafes on the outskirts to quiet fishing spots across countless bays, docks, and beaches.

Private SUV
Families in search of a special moment should find it with a private SUV, carrying up to six passengers across family-friendly attractions, from the fun water slides at The Lost Paradise of Dilmun to three levels of stores, restaurants, and luxury services at City Centre Bahrain. Contact local shuttle providers to make it happen, leaving nothing to chance.

Taxi Cab
Whether it's downtown's Bahrain International Convention Centre or a blend of work & play at The Grove Hotel & Conference Centre just north of the airport, a taxi can make the difference between getting lost or finding just what you need, not to mention reliable 24-hour lifts that make forgetting time easy.

Stretched Limousine
A small island filled with hidden elegance, booking a stretched limousine to find Manama's hidden gems is idea. Book with area transportation companies for a chauffeur the moment you land, grabbing a bite at Maki in the Bahrain World Trade Center, afterward falling into the bright lights and grand architecture of Bahrain National Theater.

Chartered Bus
Get a chartered bus to get over a dozen passengers from point A to point B, taking in expansive landmarks at the ease of hopping aboard, from the astounding 16th-century history behind Bahrain Fort to the modern art and relaxation at La Fontaine Centre for Contemporary Art & Spa.

BAH Airport Terminals
A single-terminal airport with two levels, Bahrain International Airport offers a wide array of services and amenities, plus perks for international fliers.
- Level 1: arrivals & departures, check-in, security, baggage claim, luggage carts, banks, ATMs, currency exchange, car rental services, shops, restaurants, smoking room, prayer room, medical services, VIP lounge, escalators/elevators to level 2, and a post office.
- Level 2: arrivals & departures, security, VIP lounge, immigration, information desk, restaurants, escalators/elevators to level 1, and bars.

BAH airport terminals
Making your way around the airport can be better when you take our helpful terminal maps.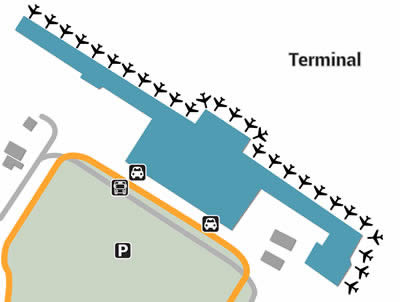 view map: BAH shuttles from terminals
Muharraq Airport Shuttles
With close access to beachside resorts as well as a variety of busy Manama neighborhoods, Bahrain International makes getting where you need to be a cinch, even easier if you've got a shuttle. Get a glimpse of the in-between through either local sedan or taxi providers, having your bags taken care of while looking forward to total relaxation.

Make sure your shuttle drops you off in a cool neighborhood before booking, choosing between the professional vibe of The Diplomatic Area, encompassed within the Central Business District on the north side, or the waterside nightlife of Al Hoora, located just east of that. For an oasis outside the city and super close to the airport, go with Galali instead, a small tourist region covered in artificial islands and unreal lookouts showcasing the Persian Gulf, while the hidden shores of Sitra offer unmatched beauty in the form of a small island-village just off the coast of southeast Manama.

Make sure your shuttle pick-up stays easy-going by keeping track of your reservations, either by printing out your confirmation email or by jotting down important notes in a travel journal, from emergency contact numbers to important check-in times. Keep extra scans of your personal ID and prescriptions in both digitally and physical form as well, finally making sure that all times and bookings are scheduled accordingly.

About Bahrain International Airport
Just 7.5 miles (12 km) from the capital, Bahrain International is known for its easy convenience to Muharraq, the island's northern-most city. For total isolation, book a room north of the airport along the artificial sands of Amwaj Islands, choosing between the scenic beach access of Dragon Hotel & Resort or the unbeatable 5-star amenities courtesy of ART Rotana Hotel & Resort. For equal access to the airport and Manama, keep close to the Shaikh Hamad Causeway, the most popular options being Novotel Bahrain Al Dana Resort and the lavish waterfall pools of Elite Resort & Spa.Bahrain International also offers on-site fun for everyone, from solo business travelers to big families. Most food & shopping opportunities are on level 1, including western eats at McDonald's, Starbucks, Papa John's, and Dairy Queen, while duty-free shops, electronics, and handicrafts are sold across both floors. Sit-down eats include Romano's Macaroni Grill (Level 1), SkyBar (Level 2), and Irish Lounge (Level 2), with VIP lounges offering exclusive perks in 5 separate locations across both floors.

Those staying close to the airport should get to know the beauty of what surrounds the facility, from the waterside trails and idyllic sunsets at Dohat Arad Park to the many shops and eateries sprawled across Seef Mall Muharraq. For a slice of history, visit Arad Fort, a famous 15th-century artifact known to light up the night sky past dusk, or enjoy Bahrain's most modern attraction, the artificial Amwaj Islands, located north of the airport and offering expertly sculpted beaches, parks, and cafes.

Manama Destinations
A timeless scenery with a modern skyline, Manama serves as a unique corner of the Middle East, one that offers stately capital lawns and scenic museums, not to mention unique island cuisine sure to inspire. Start your exploration of the region's sights & sounds with a tour across the architecture of Bab Al Bahrain, a historic building that doubles as the entrance to the city's famous Manama Souq (Manama Market), an old bazaar offering the best of the best in terms of souvenirs and street food. Delve into local adornment afterward by walking through the stoic Al Fateh Grand Mosque, a cherished holy site that brings thousands at once, while the waterfront views of Bahrain National Museum create a gorgeous scenery to tell the tale of the island's past defeats, victories, and accomplishments.

Located on the north end of Bahrain, Manama is also home to some of the island's most important fortresses, from the 16th-century hallways of Qal'at al-Bahrain to the even older Arad Fort, known to light up by the sea at night. Kick back in a busy park at dusk to watch the sunset of a lifetime afterward, hanging out at Marina Beach Garden Park for a combination of shopping and family-friendly carnival rides. Other family locales include the thrilling rides & live performances at Adhari Theme Park, plus the wild water slides at the massive Wahooo! Waterpark. Before leaving, try a bite at the area's most visited restaurant, Bushido Restaurant & Lounge, a renowned sushi hotspot located next-door to the Ritz Carlton inside an authentic pagoda.

Lounges at Bahrain Airport
There are several lounges throughout Bahrain Airport across both levels of the airport.

Level 1:
- Marhaba Lounge: No information available.
- Dilmun Lounge: Perks include free Wi-Fi, buffet, open bar, family room with toys & games, baby changing stations, TVs, washrooms, showers, comfy seating, conference facilities, and fax machines, plus disability services and flight information monitors.
- Hala Bahrain Lower Lounge: Perks include free Wi-Fi, drinks, reading material, telephones, TVs, and fax machines, plus disability access and flight information monitors.

Level 2:
- Marhaba Lounge: No information available.
- Gulf Air Lounge: Perks include free Wi-Fi, prayer rooms, quiet room, conference facilities, family room with toys & games, food, drinks, and TVs, plus disability services and flight information monitors.
- Hala Bahrain Arrivals Lounge: Perks include free Wi-Fi, prayer mats, reading material, drinks, and TVs, plus disability access and flight information monitors.