Moscow Domodedovo International DME Airport Shuttle
Located beyond the outskirts of southeast Moscow, Domodedovo Airport is a whopping 26 miles from downtown, making it an easy but difficult place to get out of. Home to convenient access to an on-site express train that takes you to downtown's historic Paveletsky Station as well as a handful of local eateries, the facility is a helpful one to be lost in. Make transportation the least of your worries by reserving a shuttle to take care of the stress, either by booking at a nearby hotel like Aerotel Domodedovo or with a private lift that fits your personality.
Search for DME airport rides

Trusted service since 2003

Flight Delayed? We wait.

24/7 Customer Service

Moscow Airport Transportation

Look forward to the beauty of tomorrow by knowing what's ahead, something easy to do with a ride you can count on. Reserve a sedan to see Losiny Ostrov National Park in total intimacy, or head to Gorky Park for a day of 18th-century gardens and amusement park rides. Book an SUV to bring everyone along, taking a journey across the historic churches and palaces scattered from Red Square to Tsaritsyno Park. Business travelers looking to enjoy the Expo Center on the west side should get there at the ease of a taxi, avoiding traffic and parking in one-fell-swoop. If you'd like to take your time getting there instead of focusing on the next thing, get a stretched limousine or local personal driver for the luxury of seeing it all at the pace of a chariot.

DME Airport Transfers

Find other destinations that offer GO Airport Shuttle or search for other transportation providers at Moscow (DME) airport.

Shuttle Locations

Looking for airport shuttle rides? Learn how you can get connected to the best shared ride van providers, sedans and private vans and view our airport transfer locations.
Moscow Airport Shuttle Service
Different transport options are available from DME to downtown Moscow and other surrounding areas.
Private Sedan
The State of Tretyakov Gallery includes a wide collection of beautiful artwork from local artists. Take our private sedan and have a look at these amazing artworks.

Private SUV
We have always aimed at ensuring customer excellence, which is why we are happy to introduce our Private SUV. Enjoy an authentic ride to historic sites such as Red Square

Stretched Limousine
Royalty is defined with our stretched limousine. We offer personalized services that aim at understanding every single need of our customers while your driver takes you to the Tsarytsino Open Air History and Architectural Museum.

Taxi Cab
Moscow Kremlin is a must see. Our taxicab will pick you up at your doorstep and drop you off.

Local Personal Drivers
Moscow Metro includes attractive architectural buildings. Our local personal drivers will drive you around the city for a relaxing evening.

Shared Van Ride
Spend some quality outdoor time by taking our shared van ride to the Armoury. It includes a museum where you can learn the history of the city.

Private Van
Your privacy is your safety. Take a private van to the Diamond Fund and take a look at the amazing jewels.

Bus
The best way to visit Kremlin Walls and Towers is by taking our bus.
DME airport terminals
If you will be traveling to Russia, there's a good chance you'll be flying into or out of Moscow Domodedovo Airport. This airport, located in the capital city of Moscow, doesn't need to be difficult to get around in. The terminal map below will help you find your way around.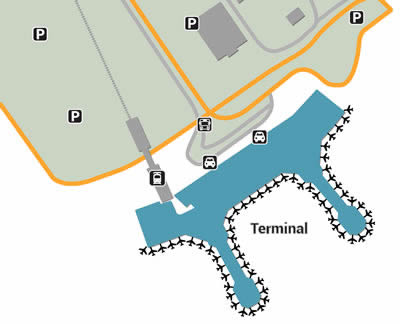 Moscow Domodedovo International Airport is the largest, fastest growing and main airport in Russia.

Taxicabs as well as share taxis are available just outside the arrival halls. Common operators are Formula Taxi, Gorodskoe Taxi and MV Motors. Car rental is also available as well as Aeroexpress Trains that serve the DME-Moscow route on a scheduled basis. Carmel Shuttle, Go Shuttle and AirportShuttles.com are good providers for vehicles such as limousines, luxury sedans and mini vans to different hotels and parts of the city.

It is one of the two airports that serve greater Moscow, with the other being Sheremetyevo. In 2013 DME airport was rated as one of Eastern Europe's top airports for the fourth time. Moscow International Airport is located some 42 km from the city of Moscow and can be accessed from the city by rail and speedway.

DME handles an estimated 30 million passengers per year and ranks as the only airport in Russia certified to handle the Airbus A380. The airport serves both domestic and international carriers with direct and connecting flights to different points of the world.

Restaurants, shops and cafes are located in Trade Center at the airport's 2nd floor as well more shops, bars and restaurants. Email, phone and postal facilities are available as well as wire transfer and currency changing facilities. DME also has a DVD movie theatre.

Moscow Hotel Shuttles
Airhotel Domodedovo is located just half a kilometer from their airport. The hotel has a complimentary shuttle bus between the hotel and airport. It makes an ideal and convenient place to stay over when transiting at Domodedovo.

Ramada Moscow Domodedovo is another upscale hotel located in proximity to Domodedovo International Airport. This hotel provides comfortable accommodation as well as complimentary Wi-Fi. The hotel is ideal for passengers looking to rest after long flights and also contains a conference center for those visiting Moscow.

DME Contact Information
Domodedovo International Airport
Domodedovsky District
Moscow Oblast, Russia
Airport Code: DME