Malta pick up and drop off at MLA airport
Ground transportation to Malta International Airport
Located south of the capital city of Valletta, Malta International Airport is the only airport that services the Maltese Islands. A popular tourist hub during peak vacation seasons, the facility is constantly expanding through modern amenities and services across a three-level terminal that handles arrivals on ground level, departures on Level 2 and various retailers & eateries on Level 3. Enjoy unique VIP lounges fit for for business travelers as well as family-friendly entertainment perfect for relaxing, all while looking forward to island breezes at the heart of the Mediterranean Sea. Ground transportation includes express bus lines operated by Malta Public Transport as well as car rental services & taxiways along ground level.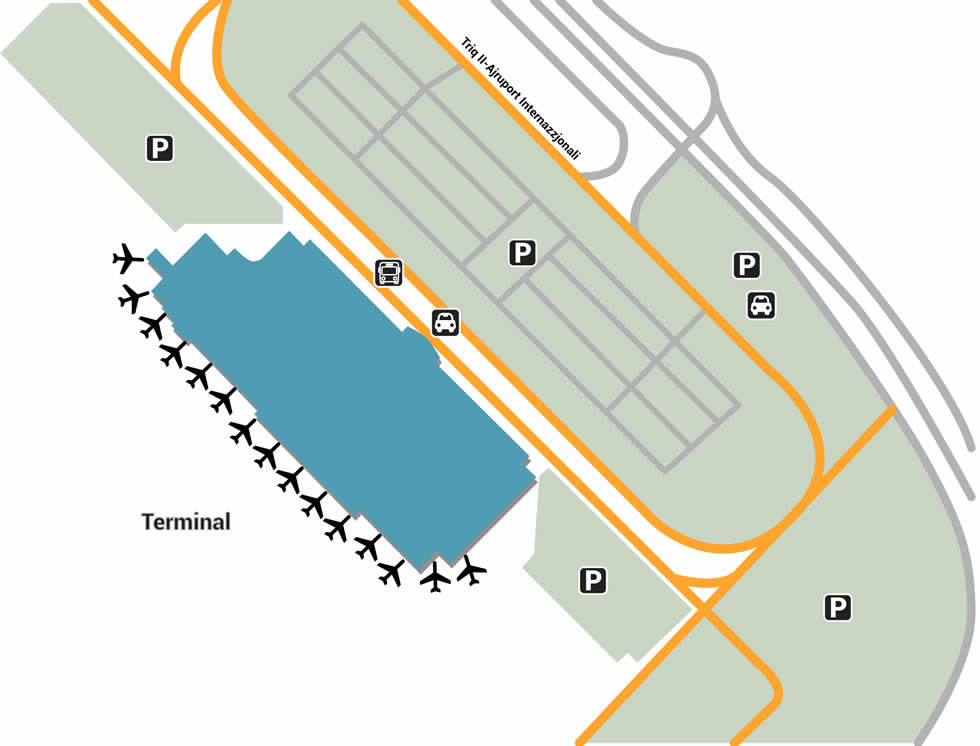 Parking
There are nine main areas to park at Malta Airport, which provide both short-term and long-term options. Those wanting to stay as close to the terminal as possible should park at either of two Reserved Car Parks located on each side of the building. Runner-up options can be found at the Main Car Park, which is the largest parking area on the property adjacent to the terminal's entrance. The rest of the options are located on the east side of the building, which include select spots at Car Parks 1 - 3 as well as the large SkyParks Underground Car Park, not to mention easy access to a gas station through the McDonald's Car Park. On the west side of the terminal is the Rental Car Park, which is where car rentals should be dropped off. Other parking services include easy access to trolley bays and shuttles to the terminal.
Services
There are various services at Malta Airport, which range from basic accommodations to specialty perks for business passengers, families and the disabled. Financial services come in the form of various ATMs and currency exchanges, while helpful facilities for disabled passengers include ramps, loaner wheelchairs and an on-site pharmacy. Executive perks are also diverse and include free Wi-Fi to, two VIP lounges and conference facilities at the SkyParks Business Center. Families looking to relax can do so at the spacious Parenting Room, fully stocked with couches and changing tables, while a McDonald's play area offers exercise near the SkyParks Business Center. Other unique services include a 24-hour observation deck on Level 3 as well as a game room that offers relaxation through billiards, air hockey and arcade machines.
Retail
Enjoy a wide variety of retailers while looking forward to high-soaring adventures, choosing between relaxed fashion or unique local brands & handicrafts. Luxury clothing includes menswear at Hugo Boss as well as name-brand looks from Hebe, while casual accessories are available at both Claire's and Bling. And for those interested in a solid read, look forward to cool books at either Headlines Books & Stationery or Agenda Bookshop, also considering tech accessories & gadgets at Matrix. And if you're in need of any last-minute conveniences before boarding your flight, pick up what you need at either of the two on-site WHSmiths as well as duty-free goods at Dufy.
Restaurants
Grab a bite to eat from over a dozen restaurants, cafes and bars perfect for passing the time, from early-morning eats at COSTA Coffee to relaxed fast food options that include Burger King, McDonald's and KFC. Trendier lunch options include healthy blends at Dr. Juice Eating Place as well as the classic American menu at Hard Rock Cafe, while popular dinner options range from the stylish plates at Relish to seafood delicacies at Cleland and Souchet Wine Cafe. Other unique bar/restaurant combos include hefty bites at Bert's Kitchen as well as the filling brews of Fat Harry's Pub, not to mention worldly options like Japanese at Zen Sushi to Go and Italian from Vecchia Napoli.