Milwaukee International MKE Airport Shuttle
Milwaukee, Wisconsin is home to attractions such as Veteran's Park and the Milwaukee Art Museum as well as the Frontier Airlines Center. This iconic city is a great place to visit whether it's for business or pleasure. To kick your trip off to a great start, make sure to reserve your airport transfer before you leave for your flight. You can book an airport limousine or a shared ride shuttle. For larger groups you can even charter a bus or minibus to get you and your crew to your destination. Make your trip into or out of General Mitchell International Airport a little easier by reserving your ride ahead of time.
Search for MKE airport rides

Trusted service since 2003

Flight Delayed? We wait.

24/7 Customer Service

Milwaukee Airport Transportation

Offering an on-site flight museum and a handful of children's play areas, General Mitchell International is more relaxing than most airports, and with its convenient location just two miles south of downtown, you'll hardly need it. Book a shuttle to get you out of the facility with ease, utilizing either a local hotel shuttle or private ride for a simple trip. If you need something that is more cost effective, then a shared ride van is perfect for you. It will allow you to ride with other passengers to and from the MKE airport. Private vans are another alternative airport rides, which can pick up larger groups to take them to the hotel or to the convention center.

MKE Shuttle Transfers

AirportShuttles.com proudly offers service at the Milwaukee International Airport. Their Zumu service allows you to book private sedan service or a professionally driven SUV. You'll enjoy being able to relax on the way to your hotel.

Airport Pick Up

GO Airport Shuttle offers service at the MKE Airport through their local provider, GO Riteway Transportation Group. When you book with Go Riteway your trip can be as easy as stepping off the plane and walking right up to their booth to check in for your shuttle ride.
Milwaukee Airport Shuttle Service
Take an MKE airport shuttle ride to downtown Milwaukee and get there faster with affordable rates. You can find various rides such as sedans and town cars for a more private and quiet rides to the airport.
Shared Ride Van
We provide door-to-door service for you to book and shared rides to cut down on traveling costs while you are going to the Brewers' game at the Miller Park.

Private Van
Quality professional drivers handling private van service with local guide to keep you hooked while you enjoy the rides around the streets of Milwaukee.

Private Sedan
Carry your lifestyle with you wherever you go – offering high-end sedans at competitive prices so you get a bang for your buck. Destinations include Pabst Theater and Potawatomi Casino.

Local Personal Drivers
Visit the world-renowned Milwaukee Public Museum or Discovery World with the help of local personal drivers just one phone call away.

Private SUV
Quick and reliable airport transfers with drivers available at any point of time to ride you to your hotel or residence in Milwaukee without hassle.

Taxi Cab
Are you a motor enthusiast? Visit the famous Harley-Davidson museum in Milwaukee and get there in no time with our hired taxicabs.

Stretched Limousine
Looking for a luxury airport ride? We can get you there with a luxury limo ride at MKE airport and comfortable atmosphere to transfer you to destinations such as Pabst Mansion or the Eagles Club.

Chartered Bus
Travelers can book reliable shuttle service for areas near Milwaukee City Hall or the Milwaukee County Zoo for when you need to take the kids out for a school trip or for a field trip in the Cream City of Wisconsin.
MKE airport terminals
Make your trip out of Milwaukee's General Mitchell International Airport a success by checking out our airport terminal map.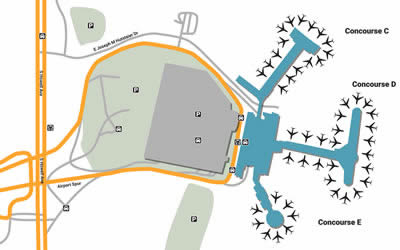 Milwaukee Airport Shuttles
With MKE airport service you can book GroundLink and Royal Limousine's private sedan transfers or even private SUVs with Chaffee Limousine Service Incorporated to get you to downtown Milwaukee or popular hotels.

Stay close to downtown while earning airport freebies at Courtyard by Marriott Milwaukee Airport, home to low rate shuttles and casual 3-star digs just as accommodating as Hyatt Place Milwaukee Airport, located right across the street from the facility. Look forward to historic downtown buildings alongside grandiose views of Lake Michigan by making sure you've got a ride to see it all, booking either a private sedan for intimate exploration through Horicon Marsh State Wildlife Area, or an SUV to bring the whole family along for the drive. If you'd rather have local help you where you are going, book a local personal driver to guide you the way, whether it's where to eat in the Lower East Side or unfolding the story behind the historic third ward. For business travelers heading to the massive Frontier Airlines Center, arrive at total ease by getting a regular limousine that bypasses traffic in the form of a smooth drop-off.

Getting around Milwaukee is important as it can be a busy city and having a private driver familiar with the roads can make the start of your vacation or business trip easier. With so many variations of vehicles to choose from finding one that is best for you comes down to convenience and dollars. Shared ride vans are among the most affordable while private cars can be a little higher but give you one on one attention when you arrive at the airport.

Milwaukee Hotel Shuttles
From the familiar Hilton, Hyatt and Marriott to the Historic remodeled new hotels in Milwaukee near downtown Milwaukee has the world at its best with great access to shuttle rides whether it is by taxi or limo buses. Downtown Milwaukee boasts to have somewhere for every type of traveler, whether you want to stay in a historic building transformed into a new exciting hotel, a charming inn or a luxury boutique you have access to it all in downtown Milwaukee and the Frontier Airlines Center with cheap shuttle rides to take you throughout the city.

About Milwaukee Airport
Milwaukee International Airport is also known as Chicago's third airport due to its close proximity of the cities. Generally people will take the railway from Chicago to Wisconsin, which leads to the airport, this is a popular trend due to the easy flow. Milwaukee International Airport, also known as MKE, is located in (Milwaukee County) Milwaukee, Wisconsin and is named after General Billy Mitchell. Billy Mitchell is often regarded as the "father" of the Air Force.

Things to Do in Milwaukee
Just minutes from downtown you can enjoy going to Potawatomi Hotel & Casino. If a Brew tour is more your style, you can visit a host of breweries in Milwaukee like Sprecher, Milwaukee Brewing and MillerCoors. If you are looking for a not so traditional brewery experience visit the Pedal Tavern, the bicycle-powered pub tour where you can create your own stops or have a guided assistance show you around. Overall, Milwaukee is a happening city, with plenty of museums and the city is very into the Arts. The city is also very well known for its museum for natural history and human history.

Milwaukee has a vibe that sets them apart with its diverse culture and vibrant art scene. Lovingly nickname Brewtown for its brewing traditions Milwaukee is also the home of a host of street festivals all year long. It also services the University of Wisconsin Milwaukee and the University of Wisconsin students looking for rides to and from the airport.

MKE Contact Information
Milwaukee General Mitchell International Airport
5300 South Howell Avenue
Milwaukee, Wisconsin 53207
Airport Code: MKE
Milwaukee trip guides for rides

Milwaukee is known for breweries and basketball but they're much more to this city on Lake Michigan. Find out why you should visit Milwaukee on your next trip.