Melbourne MEL Airport Shuttle
Located on the quiet north side, Melbourne Airport is the main gateway for entering the capital of the Australian state of Victoria as well as a friendly place to be greeted by the region's culture. Home to live entertainment and a slew of modern facilities, the facility offers easy access to a lot of transportation, from the Skybus AirportShuttles.com offering rides to the nearby Southern Cross Station to metro city buses taking you to the heart of downtown. Make things simple by getting a free lift from a nearby hotel stay, choosing between friendly low-rises like Airport Tourist Village to on-site convenience of PARKROYAL Melbourne Airport, or go with a private rental to really see the outback.
Search for MEL airport rides

Trusted service since 2003

Flight Delayed? We wait.

24/7 Customer Service

Melbourne Airport Transportation

Find a memory that's good to remember by keeping yourself in mind first. Whether you're a family looking for an SUV to get to the Victorian-era Melbourne Zoo or a business traveler looking forward to an event at the Melbourne Exhibition Centre via taxi, you'll be glad you stopped to think. Reserve a local personal driver to get inside tips on where to hang, from the ornate beauty of Luna Park Melbourne to the scenic to-dos at St. Kilda Pier. Those looking to indulge in Melbourne's opulent side should reserve a stretched limousine to make the most out of each fleeting moment, from the fine-dining along Collins Street to the art deco single-screen at The Astor Theatre.

MEL Airport Transfers

Find other destinations that offer GO Airport Shuttle or search for other transportation providers at Melbourne (MEL) airport.

Shuttle Locations

Looking for airport shuttle rides? Learn how you can get connected to the best shared ride van providers, sedans and private vans and view our airport transfer locations.
Melbourne Airport Shuttle Service
The following shuttle services have been evaluated and highly rated for safety. GO Airport Shuttle and AirportShuttles.com provide world-class vans and shuttle services to your destination of choice.
Shared Ride Van
Have you always wanted to get to the Great Ocean Road in Melbourne? Share a ride in one of our vans and make this wish come true at a minimal cost.
Private Van
How tempting does arriving in a private van at the Shrine of Remembrance, St. Patrick's Cathedral or the Royal Exhibition Building sounds to you? Our chauffeurs are ready to serve you anytime.
Private Sedan
Our door-to-door services are just what you need during your stay in Melbourne. Ensure your transportation to and from the airport, as well as from one visiting site to another in a private Sedan.
Local Personal Drivers
Trustworthy, responsible and knowledgeable, these are just some of the qualities of our local personal drivers. This service is a great alternative for your transportation in the exciting city of Melbourne.
Private SUV
Are you truly into sports and cannot miss getting to the Docklands Stadium and the Rod Laver Arena? Hire a private SUV and take the transportation facet of your mind.
Taxi Cab
Pick up the phone and dial one of our taxicab drivers, they will pick you up and drop you off wherever you want to.
Stretched Limousine
Get into one of our world-class limos and receive the royal treatment you deserve during your stay in Melbourne.
Bus
Supposing you are in need of transportation for you and the many friends you brought with you in Melbourne, you should look up and book our shuttle services.
MEL airport terminals
Use our terminal map to get around MEL airport and board your vehicle with ease.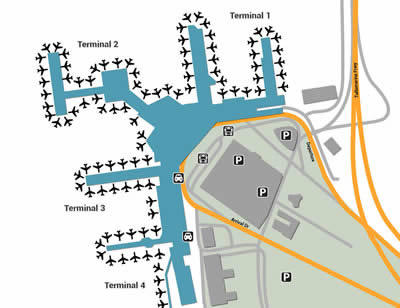 Melbourne MEL Airport Shuttles

You can reserve a shuttles to hotels in Melbourne or you can make discount Melbourne Airport transportation reservations before your trip.

Skybus is the main airport shuttle service, which provides free services to most hotels near the airport. The service operates 24 hours a day, and you can check with your hotel or the help desk to know about schedules.

There are many providers who offer discounted taxi fares to people who choose to share taxi rides. It may be a good way to meet and get to know fellow travelers at discounted rates. Private taxis are available just outside the Arrival Halls on all terminals. MEL is located at Drive, Victoria 3045 AU.

About Melbourne Airport
Melbourne Airport is Australia's second busiest hub in terms of passenger travel after the capital Sydney and it is situated approximately 13 miles from Melbourne's city center. The airport code is (MEL). In 2007, the Airports International Council Quality Survey rated it among the world's top five airports. The International terminal, Terminal 2 recently underwent major developments to minimize passenger congestion making it a very efficient establishment.

MEL is ideally situated near the Tullamarine Freeway, hence the former name Tullamarine Airport and it handles well over 30 million passengers annually, five million of which are international travelers. The airport is recognized for its outstanding facilities and its ability to cater for over 180,000 aircraft movements within its facility. It also received the IATA Eagle Award, which was presented in honor of the successful upgrades undertaken towards the Commonwealth Games in 2006.

Melbourne Airport serves more than 30 International airlines including United Airlines, Continental, Singapore, British Airways and Air France all with connections to hundreds of worldwide destinations. The airport is large enough to cater for the Boeing 747-8 and the Airbus A380.

Hotels near MEL
Parkroyal Melbourne Airport Hotel is situated within the airport premises, and it can be accessed from the terminal using the sky bridge. The hotel offers the ideal location for leisure and business travelers alike. It boasts scores of features and amenities to keep travelers calm and relaxed. Rooms are spacious and the venue is ideal for meetings and conferences.

Holiday Inn Melbourne Airport is another exceptional piece of accommodation situated just 2 minutes' drive from the airport. Its location is ideal for layover passengers catching their connecting flights the next morning. The establishment boasts stylish amenities, a relaxed atmosphere, and amazing value for money and modern facilities. Restaurants serve global cuisines and bars good refreshments—there's an Arrival/Departure screen to keep an eye on your flight status. Ciloms Airport Lodge is another lovely establishment 5 minutes from the airport as well as Quality Hotel Melbourne Airport just 6 minutes away.