Melbourne pick up and drop off at MEL airport
Ground transportation to Melbourne 'Tullamarine' Airport
As the second-busiest airport in Australia, the modern Melbourne Airport provides endless relaxation across four terminals. Terminals 1 - 3 are all connected, with Terminal 1 offering a domestic terminal that mainly services Qantas Airlines, Terminal 2 handling all international flights as well as a few domestic airlines and Terminal 3 providing a small building used by Virgin Australia. Each terminal provides two levels, with arrivals on ground level and departures on the upper. Terminal 4 is a separate two-level building that handles domestic budget flights – the two—level design is home to arrivals on ground level and departures on the upper. Ground transportation includes express buses into downtown via Skybus AirportShuttles.coms as well as a few Metropolitan routes that include Routes 478, 479 and 482.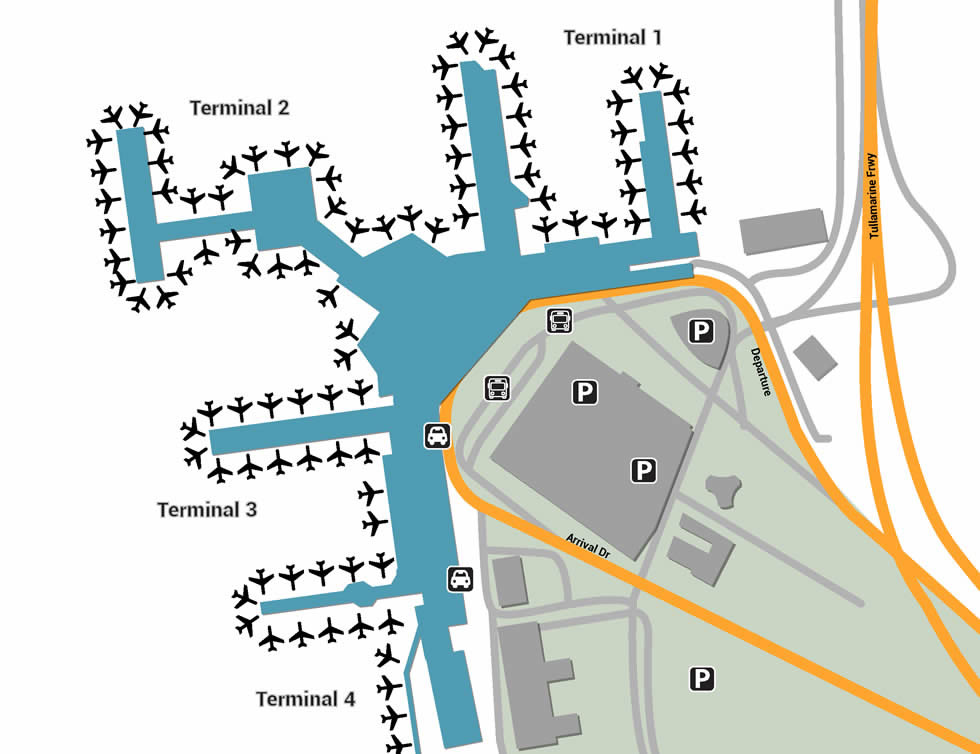 Parking
Melbourne Airport offers five car parks that provide short-term, long-term and executive parking. The cheapest spots can be found in the Value Car Parks area, which include holiday-friendly spaces at Value Car Park as well as the popular Value Short Stay, which offers the first 4 hours for $10 – both lots provide 24-hour shuttles that depart from the terminals every 10 minutes. More available long-term spots are located in the massive Long-Term Lot, which provides uncovered spots from Terminal 4 to the edge of Mercer Drive as well as 24-hour shuttles that depart every 5 minutes. For easiest access ot your flight, choose either of the At Terminal Car Parks two six-level garages, one attached to Terminal 4 and another attached to Terminals 1, 2 and 3. Additional perks include premium and valet services at both At Terminal Car Parks as well as customer service intercoms– for more questions, contact the Melbourne Airport Parking Office at +61 39297 1318.
Services
The airport offers various facilities and services that range from the simple to the thoughtful – look forward to free perks that include complimentary Wi-Fi in all terminals as well as a prayer room in Terminals 2 and 3. Tourism services include an International Student Welcome Desk, a Chinese Information Center and Travelers Aid, while executive accommodations include rentable conference facilities and buffets at at least dozen VIP lounges, a 16-hole golf course at Melbourne Airport Golf Club and four airport hotels walking-distance to the terminals. Family services include baby changing facilities as well as children's play areas, plus a friendly Pet Hotel that leaves the furry member of the family in good hands. Other unique services include automated massage chairs, hot showers and a Chaplaincy office ready for religious support.
Retail
Enjoy the various retail opportunities throughout each terminal, most of which are located in Terminal 2's expensive shopping mall. Upscale clothing includes the Swiss designs of Bally, British threads from Burberry and unique Italian at Furla, not to mention humbler wardrobes ranging from the Australian denim of Country Road to the timeless shirts & coats at Mr. Simple. Those more interested in specialty gifts or souvenirs should sift through the oddities of Melbourne & Beyond, Australian Way or Australian Produce Store, while more family-friendly options include fun games and toys at Kidzone as well as colorful sweets from World of Chocolate. For basic necessities before your flight, shop at various convenience stores like WHSmith or Tech2Go.
Restaurants
Settle your stomach by choosing from various cafés, restaurants and lounges throughout each terminal departures level. Sit down for a unique breakfast at Gloria Jean's or Gian Carlo, or pass through with the speedy service of places like Go! Convenience and Quikfix. Lunch spots are just as varied, ranging from classic Asian at Billie Chu and Baxa as well as hearty healthy servings from Little Sumo and Chop Salads. Unique eateries include Sixpence Pies, home to classic Australian comfort food with a modern twist, and the artisan touch added to each meal at Brunetti. Those looking for something familiar will have various fast food chains readily available, including Hungry Jack's, McDonald's and Subway, while more upscale experiences await at Hightide Lounge and Crown Lager Bar.