Orlando pick up and drop off at MCO airport
Ground transportation to Orlando International Airport
Once you leave the Main Terminal at
Orlando International Airport
you will enter the Airside Terminal which you can find an array of amenities such as places to eat, stores to shop at and areas for communication and work areas. As the theme park capital of the world, Orlando is one of the biggest vacation spots for families,
booking reservations for shuttle rides to MCO airport
important and is the second busiest in Florida. Whether you're exploring the Magic Kingdom or visiting your grandparents in the midst of their retirement, enjoy the sunshine state the way it was meant to be; with a smile and a good time, something that can easily be done with the airport's helpful amenities and friendly store owners.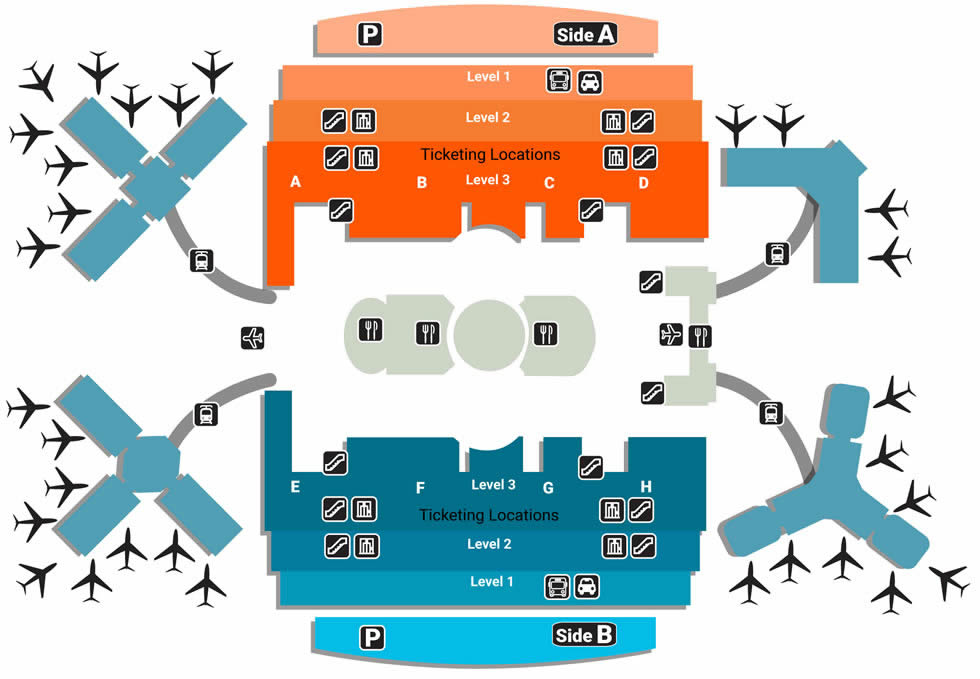 Parking
With winding roads that span across the water, Orlando's a beautiful place to drive. Make sure your car is ready by keeping it stationed at the airport on your return, utilizing the Terminal Garage or Lot, both of which are located beside Terminals A and B. If you're picking someone up,  park at the North or South Cell Phone Lot. The North lot is free while the South offers a 2 hour grace period before charging. Long-term travelers looking to leave their cars for extended periods should look into dropping off at either the South or North Park Place Lots, located at the junction of Jeff Fuqua Blvd. & Cargo Road.
Services
With simple pleasures that make time fly by, the airport's services are more than accommodating. Enjoy free Wi-Fi throughout the facility as well as guest services desks, located at every terminal. For disabled passengers, contact the airline in advance, allowing free access to a wheelchair and close parking. There's also a USO Welcome Center with its own military-exclusive lounged on the A-Side of the Main Terminal, Level 1, as well as an interfaith chapel past the west security checkpoint.
Retail
Whether you're in need of a snack to kick up your energy or a simple product to keep up with your beauty rituals, Orlando International's range of retail's got you covered. If you're in need of extra luggage, visit Bags 4 Travel, located at the Main Terminal's South Walk strip. Look good before you board by getting a hand-made combs at Bayside Brush, located at Gates 70-99 area, or grab a luxe accessory for a low rate at the condensed Bijoux Terner, located at the Airside 1, Gates 1-50 shopping strip.
Restaurants
Nothing satisfies stress more than appeasement of hunger. Grab sweets at the delectable Green Leaf's Bananas (Airside, Gates 100-129), home to fresh salads and iconic banana smoothies. For a heartfelt lunch, enjoy the homey setting of Brioche Doree (Gates 1-29 Food Court), or the freshly-grown food at either Camden Food Co. (Gates 40 & 50). Go for some comfort food when you arrive by enjoying the upscale cuisine at Cask & Larder, located adjacent to Green Leaf's Bananas.