Madrid MAD Airport Shuttle
Cornered on the northeast side of town, the Adolfo Suarez Madrid-Barajas Airport is an easy place to get out of if you've got the right transportation. Do so with a shuttle, getting out with a free lift courteous of nearby airports like Hotel Barajas Plaza and Hostal Viky, both of which are less than 1,000 feet from the main terminal. Consider other transportation options to see even more, whether it's a relaxed meet-and-greet service perfect for getting to the central business district or a simple drop-off at the heart of Salamanca's 'Golden Mile'.
Search for MAD airport rides

Trusted service since 2003

Flight Delayed? We wait.

24/7 Customer Service

Madrid Airport Transportation

Get to know all there is to do in the region by keeping an open mind, something especially easy when you can leave at any time. Book an SUV to take the whole family on a cruise through historic landmarks and museums, from the iconic Monument to Alfonso XII at the heart of El Retiro Park to the massive National Archeological Museum in the district of Salamanca. Follow the sounds of beautiful street music in Moratalaz by getting there as a group, whether you're a bachelorette party in need of a stretched limousine or super-sized family looking for a chartered bus. Professionals trying to make it to the Arte Canal Exhibition Center for a convention, arrive on-time and without the hassle of traffic with a taxi, enjoying on-site art exhibits and historic architecture with total ease.

MAD Airport Transfers

Find other destinations that offer GO Airport Shuttle or search for other transportation providers at Madrid (MAD) airport.

Shuttle Locations

Looking for airport shuttle rides? Learn how you can get connected to the best shared ride van providers, sedans and private vans and view our airport transfer locations.
Madrid Airport Shuttle Service
Are provided by MAD Shuttle services their vehicles are well maintained passenger comfort is the number one goal for this shuttle service. They provide well-educated drivers who speak both Spanish and English and provide a wealth of local information.
Shared Ride Van
Our shared ride van services are available for booking, should you wish to lower your holiday costs in Madrid.
Private Van
How does visiting the Royal Palace of Madrid, Palacio de Cibeles or Templo de Debod sound like? You can choose the private van as a means of transportation.
Private Sedan
Art lovers will feel like in paradise while being in Madrid. With numerous art galleries and museums, this city will make you wonder at the magnificent skillfulness of the local and international artists. Hire a private Sedan and get from one gallery to another. 
Local Personal Drivers
Are up for a stroll in one of Madrid's wonderful parks such as the Parque Lineal Del Manzanares or maybe Dehesa de la Villa Park? Hire a local personal driver and they will ensure you get fast and safely to your desired destination.
Private SUV
Enjoy the perks of being transported with a private SUV and get to see all of the places you want in Madrid.
Taxi Cab
Do you want to get to the Observatorio Astronómico de Madrid? Call one of our taxicab drivers and you'll be there in no time.
Stretched Limousine
Loaded with pubs and clubs, with an incredible diverse musical culture, places for dancing and partying, Madrid is the perfect city for a nightlife lover. Explore them like royalty in one of the stretched limousines we can put at your disposal.
Bus
Are you about to start your holiday in Madrid in the companionship of your family and friends? Investigate our special mini bus offers and receive the discounts for large group transportation.
MAD airport terminals
You can find your driver for meet and greet transfers in terminals at Madrid airport.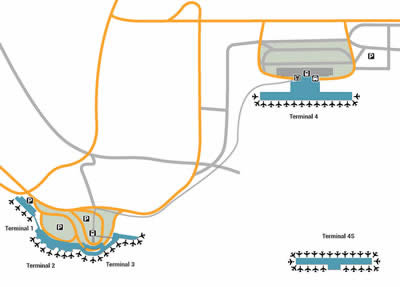 Madrid Airport Shuttles

You can reserve a hotel in Madrid or you can make discount airport transportation reservations.

With moderately priced and dependable services, MAD Shuttle also offers private cars with drivers which the shuttles to connect the various terminals at Avda de la Hispanidad w/n Madrid Spain, 28042.

Hotels near MAD Airport
There are over 20 five star hotels located around the airport, many of them offer the "Park, sleep, and ride" service now popular with some travelers who do not want to miss a flight. The Hotels, such as Hotel NH Villa de Coslada, Pullman Madrid Hotel, and the Hotel Novotel Madrid Puente de La Paz are just a few of the hotels that provide customers with everything they need to enjoy their stay in Madrid.

Your Travel Guide to Madrid
Madrid-Barajas Spain International Airport is in the beautiful warm and sunny area of Spain offering many types of vacation and business spots for your traveling needs.

Madrid-Barajas airport is the fourth largest international airport in Europe. The airport has four terminals to service passengers and cargo from all over the world. The airport has served 49 million passengers. The airport provides connecting services to passengers from all over Europe and the United States with connecting flights to Central and South America. It is the busiest airport in Spain, located 8 miles or 13 kilometers from downtown Madrid.

Passengers arriving or departing can have a meal in one of the many restaurants or lounges in each of the terminals. Those passengers who like to shop can find many stores to buy gifts or personal items. For those passengers, who wish to sample traditional Spanish cuisine, or even McDonald's offerings are both delicious and many. Passengers can shop in traditional Spanish stores or the more famous designer stores. Whatever your pleasure you will find it at the Madrid-Barajas Airport.

About MAD Airport
The Madrid-Barajas Airport offers many services to travelers for passengers who have limited mobility and wheelchair can be ordered 48 hours before arrival and it will be waiting for your arrival. For those passengers with sight or hearing difficulties can have their flight information sent to their mobile phones. Wireless services are also available for passengers to search the web or check emails.

For those passengers traveling with children there is a playground and daycare facilities where you can bathe your children and put them down for a nap, while you relax or shop. An ATM, Pharmacy, chapel and medical clinic can also be found in the Madrid-Barajas Airport. Immigration and custom services are also available.

MAD Contact Information
Adolfo Suárez Madrid–Barajas Airport
Av de la Hispanidad, s/n, 28042 Madrid, Spain
Airport Code: MAD