Adolfo Suárez Madrid-Barajas pick up and drop off at MAD airport
Ground transportation to Madrid-Barajas Airport
As the country's busiest airport and the largest by size in all of Europe, the massive Adolfo Suárez Madrid–Barajas Airport provides everything a passenger could need and more. The facility is home to five terminals distinguished as Terminals 1-4, while the fifth is simply referred to as 'Terminal 4S'. Terminals 1-3 provide three floors labeled Floors 0-2, while the larger Terminals 4 and 4S provide three above-ground levels and two underground levels. Inter-terminal transportation is provided by a driverless people mover as well as Bus 200, which drops off at all arrivals areas. General ground transportation includes two rail stations in Terminals 2 & 4 that provide downtown connections via the Madrid Metro (Line 8) as well as an additional Cercanías Line exclusive to Terminal 4.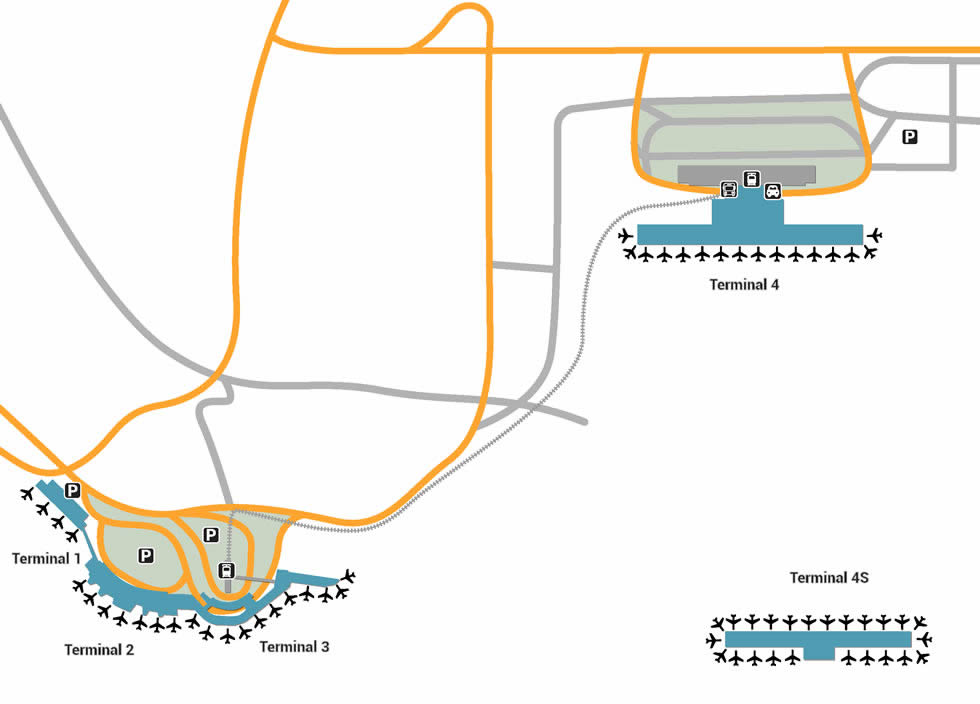 Parking
The airport offers seven main parking areas, each providing access to short-term as well as long-term parking for each terminal. P1 provides outdoor parking adjacent to Terminal 1, while P2 is a seven-floor garage that is equidistant to Terminals 2-3. P4 offers the closest access to Terminal 4 through a four-level garage and connected walkway. Parking areas P1-P4 all follow the same parking rates, which are best for short-term stays less than 4 days. For speedy drop-offs, stay at the Express Lot near Terminal 2, or get the best deal in the Long-Term Lot, which is located furthest from all the terminals and provides free 24-hour shuttles. Additional services include a VIP Car Park, handicap accessibility and motorcycle spots in all parking areas.
Services
Various services are available at Madrid Airport, from simple financial accommodations that include various ATMs and currency exchanges to thoughtful disability help in the form of free guidance services and wheelchairs. Family services include various expansive playgrounds as well as nurseries in both Terminals 2 & 4. And for business travelers looking to make their trip simple, unwind with free Wifi at the business center in Terminal 4, also considering six VIP lounges as well as the couple-dozen nap quarters at Air Rooms, which provide complimentary showers and slippers. Other unique services include a couple chapels in Terminals 1 & 2 as well as three pharmacies, one of which is 24 hours. For additional help, seek out one of 18 SkyCap Information Desks, or look forward to several virtual hostesses available at every check-in/boarding area.
Retail
If there's one way to kick back in Madrid, it's through the age-old act of shopping. Grab something fashionable from various boutiques that include Hugo Boss, Longchamp and Michael Kors. There are also various accessory shops sponsored by DUFRY Store, including cosmetics from Collection and handbags from Boutique. Pick something up for the kids as well, choosing between handful of colorful shops that include LOL's specialty toys and Tutti Frutti's combination of candy and dolls. Those looking for a great gift have access to a wide variety of souvenir shops that include Spanish-themed crafts at Thinking Madrid and soccer goods at Real Madrid. Any other last-minute necessities can be picked up at convenience shops like Relay and WHSmith, while confectionery & specialty food products can be found at either Esenza by Sha or Sibarium.
Restaurants
Enjoy a bite to eat while you wait, looking forward to fresh-baked goods at morning cafés like Café Pans, Capriccio Coffee and Espression Lavazza as well as brunch spots that include sandwiches from PAUL and fresh ingredients at La Place. Other lunch options include a handful of fast food restaurants like Burger King, Starbucks and McDonald's as well as specialty takeaway snacks and drinks from Deli & Cia and TakeAway. Business travelers who just landed as the evening winds down should look forward to various hip eateries ranging from Gastro Hub's bar-side eats to Urban Grill's festive ambiance, not to mention other unique restaurants that include charcoal-grilled meats at Pepito Grillo and the upscale French bistro ambiance of La Mary Restaurant.