Trusted service since 2003

Flight Delayed? We wait.

24/7 Customer Service

Portela Lisbon International LIS Airport Shuttle

Book reservations for airport shuttle, taxis, sedans and limousine service to and from the airport.

LIS Airport Transfers

Find other destinations that offer GO Airport Shuttle or search for other transportation providers at Lisbon (LIS) airport.

Airport Ride Service

Looking for airport shuttle rides? Learn how you can get connected to the best shared ride van providers, sedans and private vans and view our airport transfer locations.
Lisbon Airport Shuttle Service
The city is built on seven hills, but the walking is not too difficult if your hotel is in the city center. 
Shared Ride Van
Book or rather hire our personal private vans well skilled drivers who have Lisbon at their fingertips. Benefit from transport to places like Barreiro, Pontiha as well as Sobedra all these places are in the city of Lisbon.

Private Van
Competent drivers for hire, prepared for you on arrival and pickup from any locality and conscious of all the best attractions in Lisbon like Oceanario de Lisboa, Acquario Vasco Da Gama as well as National Tile Museum.

Private Sedan
Pamper yourself throughout courtesy of our elegant sedans for hire for airport transfers as well as ground transportation to the best locations in Lisbon.

Local Personal Drivers
You can dial our ever ready experienced drivers who can pickup and drop at place of your convince. They are well conversant with any city in Lisbon.

Private SUV
Our well trained SUV drivers will comfortably drive you to your convenient place in Lisbon.

Taxi Cub
Do not hesitate to hire our classy cabs that grant door-to-door service. They are as well prepared to transport you to places of your interests for instance the famous National Tile Museum.

Stretched Limousine
Our stretched Limos are well known in Lisbon for offering quality and classic services they mainly offer airport transportation as well as airport transfers. Experience these services to your satisfaction.

Bus
If tour Lisbon with your family and friends worry no more as we have classic buses that will drive around Lisbon and later offer airport transportation when you need to departure.
LIS airport terminals
When you are needing to depart a terminal you can use our maps to help guide you there.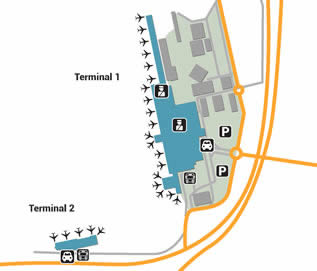 Lisbon Airport Shuttles

You can reserve a hotel in Lisbon or you can make discount airport transportation reservations.

The city operates a bus and a tram that travel around Lisbon and surrounding areas. In order to ride the bus, you must have a reloadable card. Riding a bike is also a great idea; Lisbon has been working to improve bike lanes to keep riders out of harms-way. You can even get bikes delivered to your hotel if you decide to rent one. Just like bikes scooters are a very popular way to get around, they are low cost and require less man-power than a bike does. Renting a car is one option that no one would recommend that has been to Lisbon; unless you like sitting in traffic jams and don't mind the high priced parking.

Take a 10-minute ferry ride to Cacilhas. There are a few sites in Cacilhas to keep you busy for a while. The lighthouse, Church of Our Lady of Good Success Bom Sucesso , and if you visit on November 1st you can take part in the annual celebration of the Patroness. Don't forget to see the Cristo Rei. Have lunch at O Farol a seafood restaurant with fresh fish and seafood direct from the sea.

Lisbon Airport Hotels
In the city center area Mercy Hotel, Hotel Avenida Palace, and Lapa Palace all provide a four or five star stay. Pestana Palace has a luxury spa and beautiful garden. Outside the city center there are many hostels that offer an inexpensive stay, som offer WiFi and breakfast or dinner.

About Lisbon Airport

Lisbon Portela Airport (Aeroporto de Lisboa) abbreviated LIS is located in the capital of Portugal Lisbon and takes the rest of its name from the neighboring parish of Portela. The airport serves about 16 million passengers each year. Lisbon itself has a population of more than 500,000; it also ranks number 11 in terms of urban population in the European Union. Lisbon's affluence in entertainment, media, arts, and tourism makes it globally recognized.

Things to know about LIS
Of course, the official language there is Portuguese; however, you will find people that speak enough English to hold a basic conversation with. Spanish is easily understood by most.

The Lisboa Ask Me Center or the visitor center, located PÇ do Comercio; they will happily provide advice, brochure, and maps. There are also Ask Me kiosks around the Rossio district and the airport manned by a live person. The staff are multilingual and can help you with just about any question you have about Lisbon.

Since Lisbon is close to the ocean you can expect the weather to change at any moment; so have an umbrella handy and a jacket or even an overcoat near.

Thing to Do in Lisbon
Take a ride on the many Funiculars that have been classified as National Monuments of Lisbon. A funicular is a railroad that travels by a cable up the side of hill or mountain. You'll get an almost aerial view of the city. There are many museums, parks and gardens. Make sure to visit the Oceanarium it's one of the largest of its kind. The Zoo, Jardim Zoologico, it has a variety of exotic animals including sea-lions and dolphins. When the night falls there are many clubs and discos with DJ's and occasional concerts. Lux/Fragil is popular and Hot Clube de Portugal has a booming Jazz scene. If you want to get out on the sea you can charter a yacht for the day.