Trusted service since 2003

Flight Delayed? We wait.

24/7 Customer Service

Jorge Chávez International LIM Airport Shuttle

Book reservations for airport shuttle, taxis, sedans and limousine service to and from the airport.

LIM Airport Transfers

Find other destinations that offer GO Airport Shuttle or search for other transportation providers at Lima (LIM) airport.

Airport Ride Service

Looking for airport shuttle rides? Learn how you can get connected to the best shared ride van providers, sedans and private vans and view our airport transfer locations.
Lima Airport Shuttle Service
There are two companies who offer shuttle services at the airport Peruvian Shuttle Service offer clean and well maintained vehicles and offer private and shared shuttles. You are met by the driver carrying your name on a sign. The drivers speak two languages and are dependable and reliable. The shuttles services provide a safe and secure ride to your destination.
Shared Ride Van
Hire a shared ride van with Peru's finest. Easily ride throughout the city and see sights such as the Magic Water Circuit near the town center.
Private Van
With larger groups, it's no trouble to find space in one of our private vans. Book one today and see places like the Museo Larco.
Private Sedan
Ride in one of our private sedans and see places like the Miraflores Boardwalk with the lighthouse. It makes for a perfect afternoon or evening date.
Local Personal Drivers
See things through a local person's perspective by hiring one for a driver. Check out sites like Barranco, a great spot by the waterfront.
Private SUV
Book a Private SUV and take it to the Parque De La Reserva, a great park enjoyed by many Peruvians.
Taxi Cab
Hire a taxi and take it around the town. Go from art centers like the Artesanias Las Pallas back to your hotel with ease.
Stretched Limousine
Use a limousine to explore the city of Lima in style. Take your one and only out for a night of magic. See the Marcahuasi or go hand gliding.
Bus
Book a bus tour for a bigger crowd and go to places like Caral, where you can spend the day surrounded by nature's beauty.
LIM airport terminals
Jorge Chávez International Airport is your gateway to beautiful Lima, Peru. This airport terminal map of LIM airport will help to guide you through with ease so that you can enjoy your trip.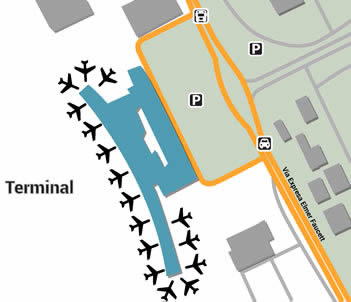 Jorge Chavez International Airport in Lima, Peru has the airport code is LIM. The Airport staff is proud to announce that we have been voted the Best Airport in South America four years in a row.

About Lima Airport
We have been voted the Best airport staff for three years in a row and have the best Lounge for two years in a row. So with that we offer you our best in customer service, if you require anything please ask one of our travel guides and they will be happy to help you. The current temperature is 69 degrees, and cloudy.

Those of you who are making a connection to travel on please check with departures to check on your flight information. The airport is located 16 km north west of Lima. There are 19 Food and beverage located in the terminal. We have fast food shops like 365 Deli and McDonalds. A restaurant such as Pikeo is a great place to eat. You can find snack shops like Mr. Pretzels, Dunkin donuts and of course we have a Starbucks.

For our passengers with disabilities we have elevators and restrooms, if you need wheel chair assistance please let you stewardess know before you land. There are also services for vision impaired and those with speech problems.

The terminal has a bank, ATMs are scattered throughout the airport. There are duty free shops and designer shops, a bookstore, post office and medical center a massage shop and spa.

The airport is located 11 km from the Historic Center of Peru. There you can find museums and experience the past of Peru. There are plenty of things that you can find to do during your visit to Lima. Enjoy your stay and we will see you on your return to the Airport.

Hotels near BZE
Casta Del Sol Ramada is located on the airport across from the terminal; it has a lot of features to recommend it has a beauty salon, a conference center, an indoor pool, spa, 24 hour restaurant, and a gymnasium.

The Manhattan Inn is a budget hotel with free WIFI and an Internet café, a bar and restaurant. Pay Purix Hostel is for the traveler who is backpacking offer a barbeque and kitchen facilities and a game room.

BZE Contact Information
Jorge Chávez International Airport
s/n Av Elmer Faucett
Callao, Peru
Airport Code: LIM