Jorge Chávez pick up and drop off at LIM airport
Ground transportation to Jorge Chávez International Airport
Servicing Peru's capital city of Lima, Jorge Chávez International Airport provides both domestic and international flights across a single terminal that has been awarded Best Airport in South America by Skytrax for its unique design & amenities. The Main Terminal is home to two floors, with arrivals along the lower level and departures along the upper. Having undergone several expansions, the airport is home to a wide variety of unique perks that include an on-site shopping mall and lodging. Ground transportation includes car rental services and taxiways along the arrivals level as well as trips to the city via the Airport Express Lima shuttle buses.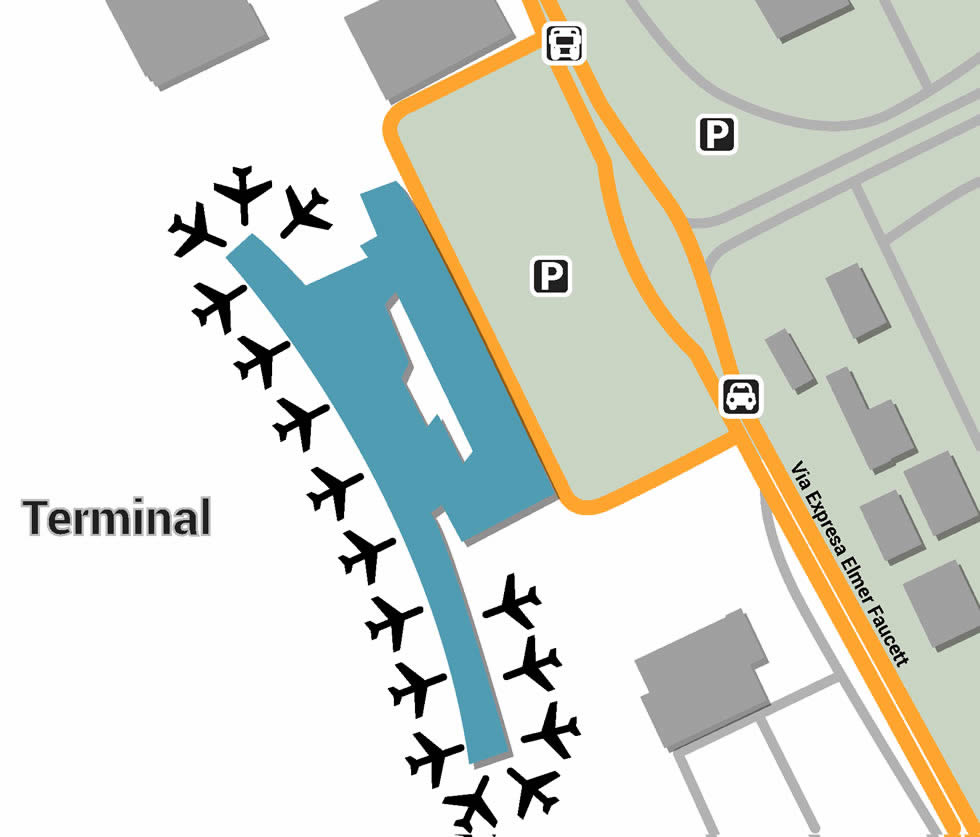 Parking
The airport's single-terminal design is mirrored by its single parking lot located directly in front of the Main Terminal. Most of the spots in the lot are used for short-term parking, with rates depending on size of vehicle. Long-term parking is available in a designated area to the right of the parking lot's entryway. Other parking services include handicapped availability and the first 15 minutes free of charge. Peruvian cash is recommended for payment, so be sure to stop by the currency exchange if you're flying international.
Services
Services at Lima Airport include a wide variety of expected perks alongside specialty conveniences for business travelers and families alike. Simple accommodations like ATMs, information desks and currency exchanges are located throughout the building as well as various disabled services that include rentable wheelchairs and 24-hour medical assistance. Business-friendly perks are also available, including three VIP lounges and an on-site hotel, not to mention cell phone rentals available 24-hours a day. For families, relax through various shops at the attached Peru Plaza Shopping Center or look forward to good eats at the food court along the upper level. Other unique services include a chapel on the upper level, a shoe shine along the lower level and manicures & massages from Spa Express.
Retail
Have fun with everything Lima Airport has to offer, starting with its many shopping opportunities that range from quaint local vendors to expansive fashion boutiques, most of which are attached to the Peru Plaza Shopping Center. Pick up specialty souvenirs from either Britt Shop Peru or Travel Market, also considering thoughtful plush toys & greeting cards from Detallitos. Those more interested in the airport's fashion scene should take advantage of upscale looks from Montblanc and Hugo Boss as well as fine silks courtesy of Huerta & Goisichke. Other necessities can be picked up at a few convenience stores that include Travel Go and X-Plora Books, while unique confectionaries are offered at República del Cacao.
Restaurants
A great way to unwind after a long flight is through the many café, restaurants and bars located in the upper level food court. Enjoy breakfast and lunch options from Caffé Lindo, also considering a variety of 24-hour joints that include the relaxed cafeteria-style eats of Hamka to the posh Peruvian dishes at Paprika. There are also various fast food restaurants that include Dunkin' Donuts, McDonald's and Papa John's, not to mention sweets and drinks from either Starbucks or Pinkberry. Those more interested in takeaway should zoom by To Go for pre-made meals, also considering the sandwiches & desserts at 365 Deli.