Heathrowpick up and drop off at LHR airport
Ground transportation to London Heathrow Airport
Famous for being the second busiest airport in the world, London's Heathrow Airport is a massive facility that offers four separate terminals; Terminals 2, 3, 4 and 5. Designed by Spanish architect Luis Vidal, Terminal 2 replaced Terminal 1 with four levels and two underground walkways, plus a satellite pier and large shopping mall. Terminals 3 and 4 are home to three levels and one underground walkway, with T3 offering a modern pedestrian plaza and T4 home to two on-site hotels. Terminal 5's large structure includes four levels and three underground levels, as well as exclusive access to the ULTra Rapid Transit Pods.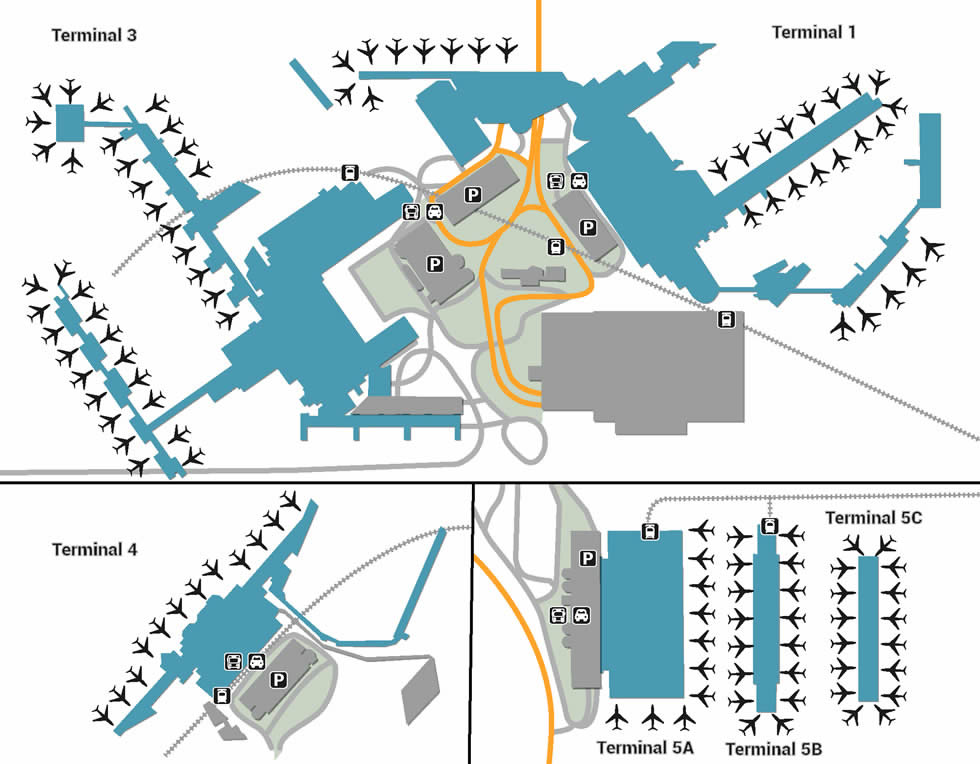 Parking
Heathrow Airport offers easy access to short and long-stay parking lots across each terminal. Terminal 2 is home a short-stay lot on Level 1 as well as valet services on Level 5. Terminal 3 offers a short-stay lot and valet on Level 0, plus additional services on Level 1. Terminal 4 offers a short-stay lot on Level 0 and valet drop-off on Level 2, while Terminal 5 provides short-stay parking and all services on Level 3. Long-term parking for all terminals can be found on East Perimeter Road, Southern Perimeter Road and Northern Perimeter Road. Inter-terminal transportation is available at the Free Travel Zone, which includes the Heathrow Express trains, London Buses routes 482 and 490 (T4 to T5) and the ULTra Rapid Transit Pods (T5 to Business Parking).
Services
Get basic needs from ATMs, currency exchanges and cellphone rental stands at each terminal, also enjoying unique perks like complimentary rides to your departure gate via the Heathrow Buggy. On-site lodging is also available via two upscale hotels and an hourly cube rental, while business-friendly perks include 15 VIP lounges, from the stylish Regus Business Lounges to the luxury of Aspire Lounge and Spa, as well as free Wi-Fi and various conference rooms. Family-Friendly perks include several Stay & Play areas at the departures level of each terminal and a quiet Family Lounge - the airport is also home to the Kids Eat Free meal deal, which provides free food from several restaurants to kids. Relax at uniquely designed spectator areas last, one of the most popular being Terminal 4's View Heathrow observation deck, which provides binoculars and touch-screen control of the runway.
Retail
Heathrow Airport is home to 100+ shops and growing, most of which are located in Terminals 2 and 5. Beautify yourself from various accessory and cosmetic shops like Chanel, Jo Malone and MAC Cosmetics, or take the kids to various toy shops that include Glorious Britain, Hamley's and The Harry Potter Shop. There are also dozens of high-end fashion stores that include the Italian designs of Armani and the famous French bags of Saint Laurent, not to mention always-fashionable textures at Prada. For those in search of a world-class gift, choose from various confectionaries that include gourmet chocolates at Caviar House & Prunier and award-winning sweets from L'Orchidee Macarons & Cakes, while eclectic gifts from Fortnum & Mason, T5 Gallery and Harrods offer something special for every age.
Restaurants
Whether it's for breakfast, lunch or dinner, a sit-down at Heathrow Airport's food court is the perfect way to de-stress. Enjoy renowned breakfast with fresh brews either at Ca'puccino or Heston's The Perfectionists' Café, also considering an early lunch at various Euro scenes that include London's Pride and Huxley's Restaurant & Bar. And for those who see the benefit in speed over quality, enjoy on-the-go grub from quick-serve joints like Wetherspoon Express, Starbucks and Pret A Manger. You can also escape the buzz with immersive dining experiences, from the upscale menu at Caviar House Oyster Bar to the two-floor pub scene of The Flying Chariot, not to mention the famous celeb-chef menu at Gordon Ramsay Plane Food. Wash it all down with a special dessert afterward, the best option being the gourmet meringues and pastries from Carluccio's.