Gatwick pick up and drop off at LGW airport
Ground transportation to Gatwick Airport
Known for being one of the world's busiest airports, Gatwick Airport is a small but impactful facility that provides a multitude of services as well as relaxing amenities perfect for doing the most with your time. The airport structure is broken into two terminals; the South Terminal and the North Terminal. The South Terminal is home to three levels, while the North Terminal is home to two levels. The terminals aren't connected, through a driverless people mover provides transfers from one building to the other – additional ground transportation includes rides to downtown London via the Gatwick Airport Railway Station's Brighton Main Line as well as the Gatwick Express. National Express also provide coaches and shuttles to Heathrow Airport as well as other nearby cities & towns.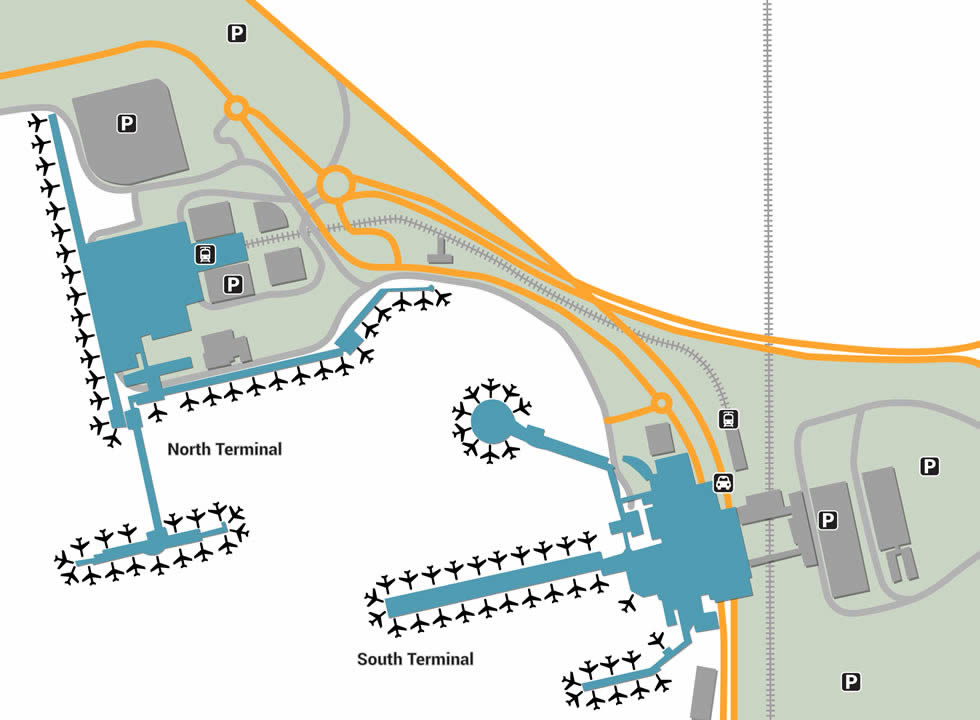 Parking
Parking at Gatwick Airport includes short-term and long-term spaces as well as premium services for business travelers. There are four short-term areas to park, the closest to the North Terminal being Car Park 5 and the closest to the South Terminal being Car Parks 1, 2 and 3. Long-stay parking is taken care of at the Long Stay Car Park, which is located a bit further from the terminals and provides shuttle buses that depart every 12 minutes. Those searching for ultimate convenience should take advantage of Premium Short Stay Parking, which provides the closest access to the terminal as well as the option for valet. Additional services include the Park & Earn program, which allows qualifying flyers to earn money while they're away by renting out their vehicle to others – owners of the vehicle receive 60% of the rental fee.
Services
Gatwick Airport is home to a diverse pallet of services that range from expected help to delightful surprises. Basic accommodations are available in the form of ATMs, rentable luggage trolleys and currency exchanges as well as unique services like 24-hour prayer rooms and art from local artists that includes a mosaic of the Queen composed off 5,000+ images of English citizens. Family-friendly facilities are also available through free strollers and designated parenting rooms that come with changing tables & nursing chairs - there is also children's play areas dubbed 'Kid's Zones' in both terminals. Business perks include eight VIP lounges, six on-site hotels that include overnight & hourly rates and free Wi-Fi throughout both terminals.
Retail
Unwind after you land by doing a bit of shopping, whether it's for leisure or necessity. Fashion choices include executive menswear from Hugo Boss as well as colorful handbags at Cath Kidston, not to mention classic summer looks from Lacoste and Ray Ban. Other unique fashion includes English-based fashion lines like Next and Reiss as well as Tokyo-inspired street threads from Superdry. Those in need of last-minute flight supplies can pick up at either WHSmith or World Duty Free, while specialty souvenirs come in the form of English-brewed drinks at World of Whiskies as well as Swedish-design gifts from Kikki.K. And don't forget to pick up something for the kids at Hamleys!
Restaurants
Food is located along the upper levels of both terminals as well as within on-site hotels. Relax with a wide variety, choosing between early-morning eats from a few cafés like Caffé Nero and COSTA Coffee, or considering a more unique breakfast from either Jamie's Bakery or Jamie's Coffee Lounge. Popular lunch spots include the colorful pop-themed ambiance of Giraffe as well as contemporary twists on classic meals at Jamie's Diner. There are also a few award-winning pubs and restaurants provided by on-site hotels that include Wetherspoon chains like The Flying Horse, The Beehive and The Red Lion as well as The London Bar, which is Gatwick Airport's own staple eatery known for sweeping views of the tarmac.