Trusted service since 2003

Flight Delayed? We wait.

24/7 Customer Service

Fukuoka FUK Airport Shuttle

Book reservations for airport shuttle, taxis, sedans and limousine service to and from the airport.

FUK Airport Transfers

Find other destinations that offer GO Airport Shuttle or search for other transportation providers at Kyushu (FUK) airport.

Airport Ride Service

Looking for airport shuttle rides? Learn how you can get connected to the best shared ride van providers, sedans and private vans and view our airport transfer locations.
Kyushu Airport Shuttle Service
Fukuoka Airport provides free bus shuttle service to the majority of the local area.
Private Sedan
Fukuoka Yafuoku!Dome is the largest sports arena in the city. Watch your favorite soccer match at this venue. There are live concerts that take place here occasionally. You do not want to miss.
Private SUV
The Kushinda Shrine offers you a peaceful mind and a spiritual nourishment at the same time. We have a readily available Private SUV to drive you there. Enjoy a peace of mind.
Stretched Limousine
Do you wish to enjoy a lasting shopping experience? Tenjin Underground city offers more than just a unique shopping experience. Let our custom limousine drive you safely.
Taxi Cab
The Umi no nakamichi Seaside Park offers a beautiful view of the sea. It is also recommended for couple bikes. Our reliable taxicab will drop you off as scheduled and pick you up in the end.
Local Personal Drivers
We worry about your safety and this is why we offer you the best local personal drivers to show you around the city. Enjoy magnificent views of the city at the Fukuoka Tower.
Shared Van Ride
You have not yet experienced the beauty of this city before you take our shared van ride to the Nokoshima Island. It includes amazing green fields to walk through.
Private Van
If you love bicycle trips, our private van can drop you off at the Shikanoshima. Enjoy a view of the fascinating islands.
Bus
Maizuru Park is one of the most toured parks in the city. There is a lot to learn here about nature. Our Bus will pick you up in the end.
FUK airport terminals
Fukuoka Airport is one of the busiest airports in Japan, and in the world. Trying to navigate this bustling travel hub can seem like a huge task. Let us make it simpler for you with this map of FUK's terminals.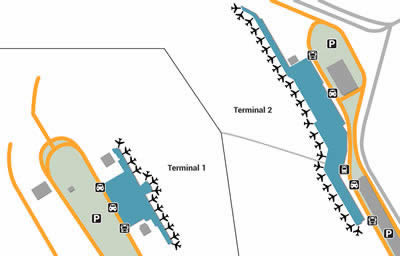 The subway has a terminal adjacent to the airport. The majority of the better hotels also provide shuttle service to and from the airport including the Hotel Nikko Fukuoka, the Hotel Cabinas Fukuoka, and The Grand Hyatt Fukuoka.

A jet ferry is available at the airport for travelers destined for Korea. Car rental is provided by Toyota Rent, Nissan Car Rental Solutions, Nippon Rent-A-Car, Yamae Rent Corporation, and Lee Auto Japan in the terminal. The Fukuoka Taxi Association provides all taxi service at the airport. Fees are different for different roads and also depend on if you are leaving the airport or going to it.

Fukuoka Airport is located in the northwestern corner of the island of Kyushu about 1.3 miles from the city of Hakata Station. The single airstrip has a long military and commercial history. The airport is considered to be one of the most convenient airports for arrival and departures in Japan.

About Kyushu Airport
The airport served over 17 million passengers in 2013. The airport has reached the allowable limit of flights and expansion plans have been considered including relocation to a man-made island in the bay adjacent to the present location. The number of flights and passengers has not been considered to have affected the superior service the airport prides itself on.

The majority of air traffic into Fukuoka Airport comes from Japan, China, and Asia. Delta Air Lines has a daily route from Honolulu, Hawaii. United Airlines has a connection that goes though Guam.

The airport provides the utmost in service including currency exchange that can be done in person or by ATM. Free wireless Internet is provided throughout the facility. The airport also provides a pharmacy, dental clinic, massage facilities, and an internal medicine clinic. The airport is very child friendly with numerous changing facilities, play areas, and free stroller service. Local and non-Japanese food is available in a multitude of formats.

The airport is considered to be a major jumping off point for Tokyo but the city offers has a large service economy and unique tourist attractions. The city boasts one of the tallest Ferris wheels in the world, a thriving judo competition, numerous parks, and is the location of two of Japan's most famous historic festivals.

Hotels near FUK
The Grand Hyatt Fukuoka and the Hotel Nikko Fukuoka are the most frequently recommended five star hotels in Fukuoka for service, location, and the variety of amenities that cater to Japanese, Asian, and Western tastes.

The Hotel Cabinas Fukuoka, Hotel Nikko Fukuoka, and the Hotel Hokke Club are frequently recommended for business travelers. Fukuoka Airport is located at 778-1 Shimousui in Hakata Ward Fukuoka in Fukuoka Prefecture Japan.

FUK Contact Information
Fukuoka Airport
778-1 Shimousui, Hakata Ward
Fukuoka, Fukuoka Prefecture 812-0003, Japan
Airport Code: FUK