Fukuoka pick up and drop off at FUK airport
Ground transportation to Fukuoka Airport
As the chief airport for Japan's island of Kyushu, Fukuoka Airport is one of the country's busiest airports – an impressive feat for having only one runway! The facility is home to two terminals; the Domestic Terminal and the International Terminal. The Domestic Terminal is home to five floors, which includes one underground level and four above-ground levels, while Terminal 2 provides four above-ground levels. Several amenities are available throughout each terminal including observation decks, museums and indoor shopping malls. An inter-terminal shuttle transfers passengers from one terminal to the other every 5-8 minutes. Ground transportation includes connected access to the Fukuoka City Subway in the Domestic Terminal as well as express buses that pick up at both terminals – car rental services & taxiways are also available along the arrivals level.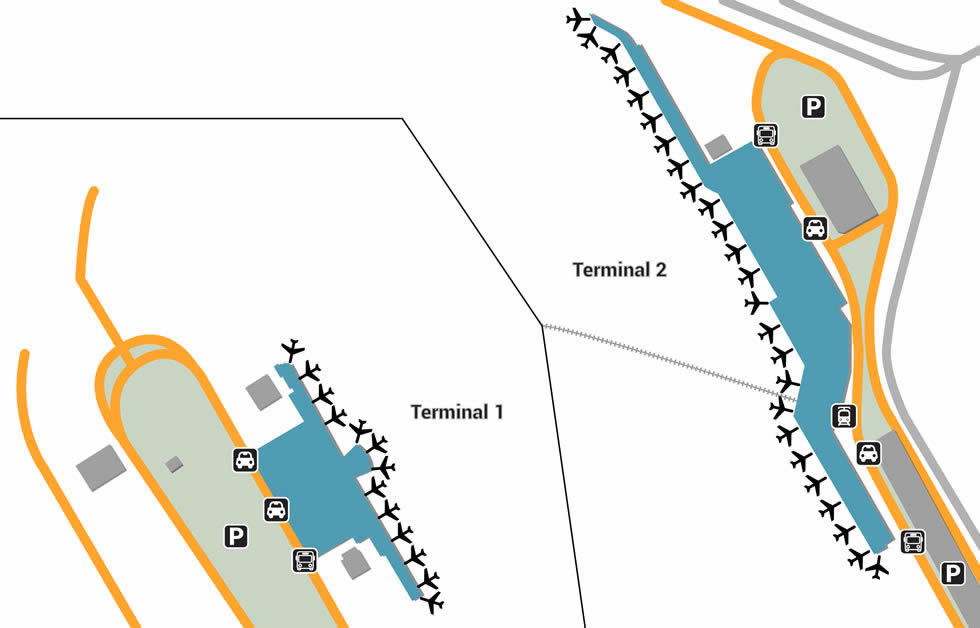 Parking
There are two main parking areas at Fukuoka Airport; the Domestic Terminal Car Park and the International Terminal Car Park - over 1,700 spaces are divvied between the two terminals; 837 spaces to the domestic area and 897 to international. Each car park is adjacent to its respective terminal. Hourly rates are the same for both parking areas, though long-term rates are much lower in the international parking area. Additional parking perks include discounts for disabled passengers as well as lax rules that lets motorcycles park in vehicle spaces. If you have any inquiries, contact the Airport Support Organization at +81 92-611-4200.
Services
Various services span the many floors of Fukuoka Airport two terminals, whether it be simple perks that go a long way or luxury amenities perfect for passing the time. Financial services are available in the form of dozens of ATMs & currency exchanges as well as kiosks selling travelers insurance. For families looking to unwind, three VIP lounges are available across both terminals, as are on-site napping rooms at Relaxing Lounge TIME. And for families looking to keep relaxed, look forward to various nursing rooms in both terminals as well as rentable baby strollers at an information desk. Another great feature of the airport is its four observation decks, accessible via the top floors of each terminal and a couple of third-floor restaurants.
Retail
A great way to pass the time while you wait at Fukuoka Airport is through its many boutique shops & retailers located throughout the facility, most of which are located in the Domestic Terminal. Enjoy convenience goods from either 7-Eleven or SORA Shop, also considering an array of gift shops that include folk-crafts from both Hakata Doll and Iwamasa as well as local confections courtesy of IWATAYA. More modest shops are available in the International Terminal, including in-flight necessities at Red Horse as well as specialty gifts at Fukuoka Tamaya – medical goods are also available at Makino Pharmacy, while high-end jewelry can be found at ASAHI.
Restaurants
Re-fuel amidst long delays or quick transfers by getting a meal that matches the break. Those in the Domestic Terminal have a huge range of options that include breakfast from either WING II or Parlor Senka. Lunch options include western-style dishes at Royal as well as Blue Sky Restaurant, while Asian delicacies range from Chinese at Chuka Saihan to Japanese from Fugetsu. Also available are various ramen & sushi shops that include Otowa-Sushi and Tonkotsu Ramen Yatai. The International Terminal is home to fewer options that include western-style food from two additional Royals as well as Japanese dishes at both SORA Café and Gion-tei –tasty noodles are also available at Fugetsu Men-dokoro.