Trusted service since 2003

Flight Delayed? We wait.

24/7 Customer Service

Noi Bai Hanoi International HAN Airport Shuttle

Book reservations for airport shuttle, taxis, sedans and limousine service to and from the airport.

HAN Airport Transfers

Find other destinations that offer GO Airport Shuttle or search for other transportation providers at Hanoi (HAN) airport.

Airport Ride Service

Looking for airport shuttle rides? Learn how you can get connected to the best shared ride van providers, sedans and private vans and view our airport transfer locations.
Hanoi Airport Shuttle Service
From the airport there are taxis into the city. A 10 minute ride into the city will cost approximately VND 30,000 ($1.40 USD).
Shared Ride Van
Booking our shared van service can save up on your traveling costs, while enjoying sightseeing many beautiful places like Ho Chi Minh's final resting place or Vietnam's first university and the Literature Temple.

Private Van
You can gather your family and/or friends to take a trip in our private van transport, offering pickup and drop off at different places in the Legendary Hanoi City.

Private Sedan
You can book before arrival and enjoy till departure our luxury sedan. A high-class transport with high-class drivers, making any destination classy, visits the Hoa Lo Prison, the highest security prison in all Indochina.

Local Personal Drivers
Hire our local personal drivers with an extensive knowledge of all the major attractions in the city, able to take you to the Ngoc Son Temple.

Private SUV
Our private SUVs can transport you and pick you up anywhere on time. When taking your tour in Hanoi, make a stop at the Soviet-style Ba Dinh Square.

Taxi Cab
We offer high quality taxicab, a door-to-door transport service, with qualified and experienced local drivers willing to take you to places like the beautiful Perfume Pagoda.

Stretched Limousine
Feel like having a private and intimate party after enjoying the night view at Hoan Kiem Lake? Book a private limousine and get discounts for transportation.

Bus
Our bus service can be hired for the most sightseeing places in Hanoi and take you to an Eco Tour to Hoa Lu and Tam Coc.
HAN airport terminals
Noi Bai International Airport is located in Vietnam's capital city, Hanoi. Not sure where to go in this bustling airport? We can help. Check out the terminal map below and make getting to your flight so much easier.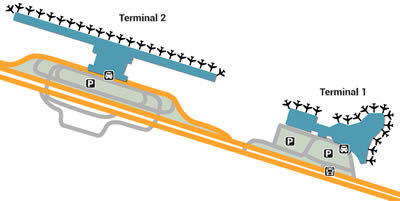 Hanoi Airport Shuttles

You can reserve a hotel in Hanoi or you can make discount airport transportation reservations.

The cab companies you can be sure to give you a fair deal are: Hanoi Taxi, Taxi CP, and Mai Linh. The shuttle bus from the airport is about VND 40,000 ($2 USD). The bus is the cheapest method and usually will cost you VND 5,000 (25 cents USD); they won't take your luggage without an additional fee standard is VND 3,000 (14 cents). Scooter Taxis are also a popular way to get around, but you need to make sure they provide you with a helmet for your safety. You can expect to pay VND 10,000 to 15,000 (50 to 75 cents USD).

About Hanoi Airport
Hanoi, Vietnam airport abbreviated HAN is located in Hanoi the capital of Vietnam. Hanoi is located on the banks of the Red River and as of 2010 the city is 1000 years old. During the summer you can expect hot humid weather, during the fall the weather is very pleasant, the winter is cold and humid and spring brings rain. Most people in Hanoi only speak a little English, so hiring an English speaking guide maybe necessary.

Hotels near HAN
If you're doing Hanoi on the cheap stay at Especen Hotel which has really good service or Hanoi Backpackers' Hotel a Aussie-run hostel. If you can afford to spend a little more stay at the Hanooi Elegance Emerald or the InterContinental Hanoi Westlake.

Things to Do in Hanoi
There is a lot to see and do here even if by foot. The old Quarter's streets are lined with souvenir and and snack shops. You can check out the night market on Friday's and Saturday's after 7pm. Other popular activities include the Ho Chi Minh Mausoleum, the Hoa Lo Prision, and the Thang Long Water Puppet Theater. If you want to tour the city catch one of the "green" carts and electric cart you can hire to take your tour. There are Internet cafes all over the city if you need a quick connection. In Hanoi they love their beer and coffee. Most places take cash only, but that's ok because ATMs are everywhere.

Hanoi Restaurants
A lot of people write about eating cobra blood wine and dog meat, but these are very rare and even most of the local don't eat them. A trip to Hanoi is not complete without a bowl of pho. You can order chicken (ga) and beef (bo). If you've eaten pho before you'll note that in Hanoi it differs; the noodles are larger and the brother is sweeter. Your vegetables may even differ from what you are used to.