Trusted service since 2003

Flight Delayed? We wait.

24/7 Customer Service

Hamburg HAM Airport Shuttle

Book reservations for airport shuttle, taxis, sedans and limousine service to and from the airport.

HAM Airport Transfers

Find other destinations that offer GO Airport Shuttle or search for other transportation providers at Hamburg (HAM) airport.

Airport Ride Service

Looking for airport shuttle rides? Learn how you can get connected to the best shared ride van providers, sedans and private vans and view our airport transfer locations.
Hamburg Airport Shuttle Services
In Hamburg Airport (HAM) there are available airport shuttle services and you can book most taxicabs or airport shuttle service before you land. These companies provide easier, faster and cost effective in booking certain ground transportation from the main airport. Professional drivers are provided in which they will take every passenger to their desired destinations. It can be from your neighborhood or even to the local airports as well as to the hotels where you are staying.
The service could also take to different tourist destinations including Alsterpark, Alster, Stadtpark, Planetarium, Home of Mila and a lot more. These airport shuttle services are indeed helpful and convenient for every passenger or tourists coming to the place Hamburg. Hamburg Airport is indeed an international airport complete with every single thing you need while you are traveling around the world.
Private Sedan
No trip to Hamburg is complete without a visit to Alster, an important landmark in the city. Make this possible as you use our private sedan. Rent a private sedan for an intimate trip, and set your sights on places like Binnenalster or the Harbor to see the beauty of both land and sea in Hamburg. 

Private SUV
Travel to attractions in and out of the city in our private SUV. Make sure you use it to visit Tierpark Hagenbecks located less than 4 miles from the airport. Drive through Hamburg in the comfort of one of our rented private SUVs, perfect for driving through the city streets looking for adventures like the Harbor Piers with others in your group.

Stretched Limousine
There is no better way to tour Hamburg than to use our stretched limousine as you visit Stadtpark. There is nothing like a limo to add a touch of class to your visit. Take a limo tour around Hamburg, seeing the many sights like Hamburg's St. Michael's Cathedral.

Bus
A few hours spent in Hamburg will make you realize why it's a favorite among many travelers. Hop into our bus and enjoy the view in Sternschanzenpark. A bus is a great way to enjoy the many sightseeing opportunities of Hamburg. Take a bus and see the city's grand theaters, welcoming cafés, and awe-inspiring historical buildings.  

Shared van ride
Book your own preferred set of wheels today as you travel with our shared van ride and go to Beyond Beers, a place popular with foodies. Hamburg, Germany has a rich heritage, and you can see quite a bit of it with a shared ride van. Hop on one at the airport upon arrival or schedule one throughout the city at your convenience, allowing yourself to see some of the historical must-sees like Minutar Wunderland, Park Planten un Blomen, and the famous warehouse district.

Local Personal Driver
Don't miss on the tons of top sights to view in Hamburg. Our local personal driver will help make your dream trip a reality in Bikram Yoga Studio as you climb up and down the stairs at an affordable fee. Have the insider's treatment with a local personal driver. Get the insight into which museums and entertainment is going on for the night. You might even catch a renowned performance of The Phantom of the Opera, currently playing in Hamburg.

Taxi Cab
Drive independently in Hamburg using our taxicab to IKEA Einrichtungshaus Hamburg Schnelsen for amazing furniture collection. Transportation around Hamburg includes taxis, which you can easily rent right from the airport, or are charted from all over the city.

Private Van
Get in touch with the way of life in Hamburg by visiting Schwanenwikbrucke. Our private van will get you there before you say "cheese". Determine the path of your party on your own with a private van rental. With plenty of room, you can easily make your way to places such as Satdpark with your friends and family.
HAM airport terminals
The International Airport in Hamburg is located in Germany's second busiest city and is a bustling airport full of busy travelers. It helps to have a map of HAM's terminals so that you can find what you need.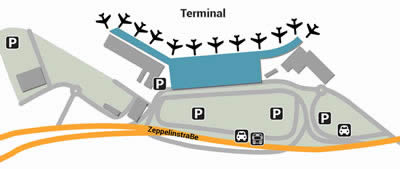 Germany is one of the top most visited country all throughout the world because of its stunning and amazing attractions, tourists will definitely enjoy. At HAM airport you can book an airport service such as a shared ride or private sedan to get to your destination once you land.

 

But before you see these places, the first thing you will experience is their airports. Actually, airports in Germany are truly exquisite, reliable and have the capacity of handling enormous number of passengers each day. One of these is the Hamburg Airport.

Hamburg Airport (HAM) is one of Germany's busiest airports because of thousands of tourists going in from all over the world. It is basically situated five miles near the city center of Hamburg, Germany's northern part. The airport is considered as a world- class type of airport known for its modern facilities and good ambiance.

It is stated a while a while ago that Hamburg Airport is capable of handling thousands of passengers each day. And for the local passengers or tourists to get convenience from long traveling period, the airport has seen to it, all of them will be provided with the facilities they need as they touch down Hamburg. These include the following:

There are monetary facilities situated inside the airport's terminal such as banks, ATMs and bureau de change or money exchange for those who are struggling of exchanging their foreign moneys. When it comes to communication, telephones as well as access to "paid-for" Wi-Fi Internet are made available wherever you are in the terminal. If you are looking for food the airport has an array of different restaurants catering German food and other foreign delicacies. There are also cafes and even bars found inside the airport.

For those who like to go shopping, there are available shops located inside such as souvenir retailers, bookshops and fashion boutiques. The airport provides other facilities such as business and conference facilities. For disabled travelers, Hamburg airport is complete with wheelchairs and accessible toilets scattered in its premises. The disabled are also provided with parking spaces, transfer service and proper assistance.

The HVV bus services has routes from the airport to central Hamburg and other destinations in and around the city. Taxicabs are available from just outside the arrival halls of both terminals and they will transport you to your destination.

For a more private option, the airport transportation providers that are licensed by the airport are highly rated and recommended for safety, efficiency and comfort. You can book luxury limos, vans and sedans too if that is your preferred method to get to or from the airport.

Located just 8.5 km from Hamburg, Germany is Hamburg Airport. It is one of the busiest Airports in Germany. The airport code is (HAM) and it serves as a hub for both domestic and international flights and is a hub for Condor, Easy Je, Germanwings and TUIfly. As the fifth largest airport in Germany, HAM handles an estimated 15 million passengers annually and was recently refurbished to accommodate larger aircraft like the Boeing 747-8 and the Airbus A380. Hamburg Airport consists of two terminals, Terminal 1 and 2.

As modern facility located in one of Deutschland's industrial hubs, HAM boasts numerous facilities and amenities to make life easier for travelers. Both terminals consist of ATMs, bureau de change, a bank as well as telephones and Wi-Fi Internet access. Numerous restaurants are scattered across both terminals as well as bars and cafes. Duty free shops are also available for non EU travelers, and the business facility offers a range of services like typing, photocopying and fax.

Disability facilities are also available on both terminals as well as plenty parking lots just outside arrival halls. Rental cars, taxis and shuttles can be found just near the exit point of both terminals.

Hamburg Hotel Shuttles
Guests arriving at Hamburg Airport will be pleased to know that there are several hotel options on-site or within proximity to their airport. Guests can choose their choice of accommodation based on preference, budget, ratings and location.

Radisson Blu Hamburg Airport connects to both terminals, and it offers easy access to a variety of services. This hotel also includes some on-site facilities like a bar, restaurant and gymnasium.

Courtyard Hamburg Airport, located just 600 meters from the airport is another up-market hotel establishment that is linked to the airport via a shuttle. The hotel also features a fitness center, high speed Internet connectivity, conference space and restaurant and bar.

Mercure Hamburg Airport is a 4 star establishment located a short 2km from the airport, and it offers easy connection to the airport using a complementary shuttle service. The hotel has facilities which include a restaurant, a gymnasium and free parking. There's just a lot visitors and residents can get up to when flying through Hamburg Airport.

When you are in Hamburg, you are provided with a wide range of hotel choices which are basically near the airport. These include the following: 

The Radisson Blue Hamburg Airport is linked directly to the terminals of the airports giving you access to variety of facilities including restaurants, cars, cafes as well as a fitness center.

Leonardo Airport Hotel is a newly-renovated facility with Hamburg hotel shuttle transfers for its guests going to or from the airport's terminals.

Courtyard Hamburg Airport is linked with Hamburg Airport with a shuttle service. The hotel also provides "on- site" restaurants catering delectable German cuisines, a fitness center, space for event and meetings as well as giving access to high- speed Internet for free.

HAM Contact Information
Hamburg Airport
Flughafenstr. 1-3, 22335
Hamburg, Germany
Airport Code: HAM