Hamburg pick up and drop off at HAM airport
Ground transportation to Hamburg Airport
Located on the north side of the city, Hamburg Airport offers two terminals dubbed Terminal 1 and Terminal 2. Designed by Gerkan, Marg & Partners, the wing-shaped facility is revered for its eco-friendly design and specialized works from regional artists. The terminals are connected by a third building called Airport Plaza, which provides a shopping mall and food court along the lower levels of each terminal. All buildings offer four floors, with Level 0 home to arrivals and Level 1 reserved for departures. Ground transportation includes on-site access to the Hamburg Airport Station, which provides rapid transit rides to downtown via the S-Bahn (S1), as well as a few taxiways and car rental services on the arrivals level.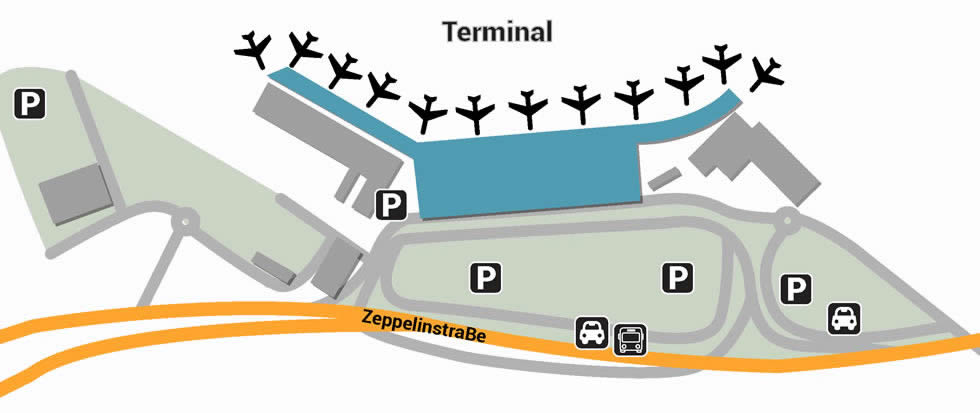 Parking
There are at least seven parking garages located throughout the property. The P1 Terminal Smart Lot offers covered spots along Level 0 of Terminal 1, while the P1 Holiday Smart Lot offers Levels 1 – 5 of the same garage. Even closer to Terminal 1 is the P2 Holiday Smart Lot, which provides nine levels of bargain spots that quickly fill up. The P4 Terminals Lot is equidistant to Terminals 1 & 2 as well as the Airport Plaza building, providing three levels of moderately priced spots in a moderately placed location. For closer access to Terminal 2, stay at the P5 Holiday Lot for eight levels of spaces directly in front of the terminal. There are two other Holiday Lots dubbed P8-9 that offer seven levels about 1.5 km (<1 mile) from Terminal 2 – shuttles are offered as a courtesy.
Services
Various services are located throughout the airport, from helpful information desks on almost every level of both terminals to specialty business perks that include conference facilities at two separate lounges as well as the on-site Radisson Blu Hotel. Family accommodations are also abundant, ranging from expansive children's play areas to healthy eats at Edeka Supermarket. There is also a laundromat on Level 0 of Terminal 1 as well as various massage & acupuncture treatments. Other unique services include showers at Airport Plaza and Vegas-inspired delights at The Spiel-In Casino, not to mention uplifting artifacts and exhibits at Airport Model Exhibition, which features a 1:500 replica of Hamburg Airport.
Retail
One of the best ways to unwind at Hamburg Airport is through its many unique shops and retail stores. Look forward to exclusive fashion trends from stores like Ray-Ban, Montblanc and Hugo Boss, afterward complimenting your outfit with specialty cosmetics at either MICA Beauty or Metropolitan Pharmacy. One can also pick up a fresh bouquet from either Bloomery or Flying Flowers, as well as specialty souvenirs at Moleskine. Other in-flight necessities can be found at Heinemann Duty Free as well as a handful of Press & Books locations. And for those interested in an all-in-one shopping experience, head over to the attached Edeka grocery store for the best prices and convenience.
Restaurants
No matter what time of day it is, it's always easy to be satisfied with Hamburg Airport eats. Choose from various welcoming breakfast spots that range from Marché Bakery to Mövenpick Cafe, or look forward to the familiar scenery of either Starbucks or McCafe. The airport is also known for its worldly cuisine that includes Japanese from Sashimi Sushi as well as Italian at Filini Bar and Restaurant, not to mention classic American options at Cindy's Diner. Those wanting to treat themselves with a special dinner have a diverse pallet of upscale delicacies as well, including oysters at Gosch Salt and panoramic views of the tarmac at Point 53/09, while speedy take-away eateries include pre-made sandwiches at CUCCIS and diverse vegan options from Scoom.