Trusted service since 2003

Flight Delayed? We wait.

24/7 Customer Service

Hamad International DOH Airport Shuttle

Located east of the capital of Qatar, Hamad International is an ultra modern airport is known for its unique view of the Persian Gulf as well as upscale amenities perfect for enjoying the day. Look forward to it all by reserving a ride that can make each turn something to look forward to, either going with a private sedan for a quaint tour of the famed peninsula's beaches or by booking a casual meet-and-greet for convenient pick-ups and timely drop-offs.

DOH Airport Transfers

Find other destinations that offer GO Airport Shuttle or search for other transportation providers at Hamad (DOH) airport.

Airport Ride Service

Looking for airport shuttle rides? Learn how you can get connected to the best shared ride van providers, sedans and private vans and view our airport transfer locations.
Doha Airport Shuttle Service
Banana Island Doha Resort provides five star luxury services to make your comfortable and satisfied during your stay. This place is located on Banana Island which is 20 minutes away from Doha using luxury ferry ride. Practically part of downtown Doha, Hamad International Airport offers easy access to most parts of town via bus lines that run along Al Matar Street. Book a shuttle to skip the hassle of following a schedule, going through either local shuttle companies or transportation providers for easy drop-offs to your hotel's front doorstep.

The island holds 800 metre private beach, nine dining options, lagoon pool and Anantara Spa. For guest entertainment, you can access their cinema theatre as well. The Doha International Airport is just 5 kilometers away from the Island. Guest can visit Souq Waqif and Corniche promenade which is 20 minutes away from the island using ferry.
Private Sedan
Doha has a blend of new and old attractions. Use our private sedan to get to Alkhor. Take advantage of Qatar's many quiet corners by booking a private sedan through are providers, moving from the stunning sunrise views waiting along the Corniche Promenade to tranquil paths at Aspire Park, all at the ease of being your own chauffeur.

Private SUV
Waste no time in viewing the spectacular 7 kilometer long Corniche Bay. Let our private SUV help you get there in time to enjoy the scenic beauty. A solid ride for carrying up to six passengers, private SUVs are the best route for getting to family-friendly locales, from the waterslides & pools at Aqua Park Qatar to the relaxing beachfront gardens and flowerbeds of Al Wakrah Park just south of town.

Stretched Limousine
Have our stretched limousine take you to Al Bida Park which has various shops, food outlets and sporting activities. Find your way through downtown Qatar's finer things by reserving a stretched limousine from private companies, tasting renowned cuisine at the Zaffran Dining Experience as well as looking forward to the plush beds and on-site cocktails from The Torch Doha.

Chartered Bus
Turn up the fun at Doha Fort. Use our bus to see traditional paintings and various artworks that will mesmerize you. Take care of over a dozen passengers by booking a chartered bus, looking forward to the simplicity of getting anywhere you want without splitting up, whether it's for beach-hopping along the Al Dafna strip or walking through the decadent interior of Villaggio Mall.

Shared Ride Van
Don't waste your precious time in Doha by visiting Ethnographic Museum aka Wind Tower House. Use our shared van ride and view the exhibitions representing the evolution of life in Doha and Qatar in general. Book a shared ride van from local companies for one-time rides to all-in-one destinations, whether you're heading to the 5-star Doha Marriott Hotel located on the edge of the water or interested in the opulence of Crowne Plaza Doha at The Business Park.

Local Personal Driver
Prepare your taste buds for scrumptious foods and drinks in and around Doha by being driven around with our local personal driver. Find an intimate corner with a ride that can showcase the beauty of Qatar one-on-one, reserving a local personal driver for the best hidden tips, tricks, and secrets to seeing Qatar the right way, whether that means where to grab a business lunch or which hidden beach offers the most serenity.

Taxi Cab
With our taxicab, we allow you to choose areas of interest and see areas on your own terms. Shahaniya is a favorite for camel races with a purpose-built camel racetrack. Make sure you get to the Doha Exhibition and Convention Center without the hassle of traffic and parking, saving tons of time with a taxi as your handy drop-off and pick-up, also utilizing the 24-hour convenience to make flights at odd hours.

Private Van
Pick up the keys to our private van and visit Madinat Al-Shamal located in the north coastal villages. Those in need of a lift that can carry up to a dozen passengers should look forward to the simplicity of a private van, going through shuttle provider to see Qatar's best and brightest, from the ancient alleys of Souq Waqif to the modern glitz at Mall of Qatar.
DOH Airport Terminals
DOH Airport is a single-terminal facility with two levels of modern luxuries and vibrant pop art that makes landing an experience like no other.
- Level 1: Large atrium-lit plaza with sleek design and bizarre teddy bear art installation at its center. Services include a currency exchange, security, VIP lounges, information desk, pharmacy, telephones, restaurants, shops, ATMs, beauty salon, hotel & spa, quiet room, smoking room, prayer room, a play area, and several escalators/elevators to Level 2.
- Level 2: Smaller area with access to the airport's indoor indoor train as well as services that include restaurants, shops, an information desk, telephone, prayer room, play area, smoking room, and a quiet room.
DOH airport terminals
At DOH airport it helps to know where you are going before you get there. Our handy terminal map will show you the layout of the airport so that your trip will be the easiest one yet.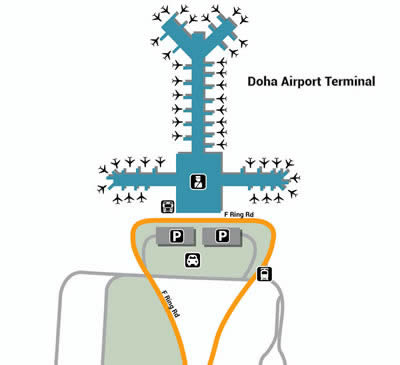 The international airport for Doha, Qatar is Hamad International Airport (DOH). For passengers who are looking for ATM machines, this can be found at "Bus Pavilion" outside the arrival area.

Hamad International Airport Shuttles
Practically at the heart of downtown, Hamad International showcases the country's everyday admiration of opulence the moment you arrive, something easy to see if you've got a chauffeur to show you the view. Make things simple by booking a shuttle either through shuttle or transfer service companies, enjoying one-time lifts to seaside resorts and popular all-in-one neighborhoods at the ease of hopping aboard a ride that's already waiting for you.

Choose between the coolest neighborhoods when it comes to relaxing in Doha, whether you're wanting to stay close to the best seafood on Doha Port or desire the breadth of Al Hitme's diverse museum district. Just north of downtown is Al Dafna, a popular seaside district that offers scenic promenades and parks looking out on downtown skyline, not to mention close access to the Doha Exhibition and Convention Center, while even further north lies the most exorbitant of all sides of town, The Pearl Qatar, a quaint collection of man-made islands perfect for ritzy getaways.

Make sure you stay ahead of the curve by getting your shuttle reservations in order, starting with a quick print-out of your confirmation email. Keep a travel journal to write any important last-minute information down as well, whether it's emergency contact information or must-see addresses. Best to keep scans of your personal documentation as an extra precaution, getting copies of your driver's license, passport, and necessary prescriptions.

About Hamad International Airport
Home to its own mini-mall and hotel, Hamad International Airport knows how to go the extra mile when it comes to first impressions. Enjoy the wide variety of services and amenities as well less than 9 miles from downtown by booking a hotel shuttle at Doha airport. The closest option is the on-site Oryx Airport Hotel, a stylish spot with a bar, restaurant, and spa, while Doha Marriott Hotel offers 5-star perks between Doha Airport and Doha Port. A unique way to stay close while enjoying the quietude of the gulf is by staying at the Banana Island Resort Doha, a luxury site just off the coast of Hamad Airport offering an entire island of attractions.

Whether you're spending the night or just hanging out for a couple hours, Hamad International Airport makes the most out of on-site convenience. Enjoy a bite to eat from the south plaza, choosing between the cafeteria-style eats of Yum Cha to the savory cafe sweets of Soho Coffee Co. Shops in the south plaza include the upscale Swarovski Jewelry, signature Coach products, and comfy fly gear courtesy of Victoria's Secret. There are also quiet rooms, prayer rooms, and cozy play areas perfect for a moment's peace. The north plaza is smaller and includes duty-free shops, electronics, as well as casual eats at RED.

Located on the east side of Doha, finding something fun to do if you're staying close to the airport isn't difficult. Just in front of the airport is Cycle Path, a stretch of greenery along the water perfect for stretching your legs. Do some shopping afterward at B Square Mall, a large complex of shops ranging from upscale to local along F Ring Road. Another quick getaway is Airport Park, open 24 hours for visitors in search of a quick stroll walking-distance from the terminal, while the nearby Public Nurseries Park is about the same size but offering community gardens and walking paths.

Qatar Destinations
As the capital of the acclaimed peninsula-nation of Qatar, Doha is a hyper modern city filled with waterside dining and upscale resorts. Enjoy an afternoon along the man-made islands of The Pearl, taking a romantic boat tour of the gorgeous canal-side homes while looking forward to dinner across vivid promenades, finally checking out incredible crystal blue beaches for sunset. Explore the region's love of shopping afterward, the most popular hotspots being the amusement park rides of Villaggio Mall, downtown ambiance of City Center, and the waterside modernity of Lagoona Mall. You can also spend the evening shopping at the city's most beloved hotspot, Souq Waqif, an ancient neighborhood home to maze-like alleys of shops, cafes, and bars.

A region filled with national importance and pride, walking through local history can give a good backdrop to the fun, whether it's the meditative work inside The Museum of Islamic Art or the Qatar heritage showcased across four buildings at The Msheireb Museums. Also popular is the Imam Muhammad Ibn Abd al-Wahhab Mosque, which serves as the national mosque of Qatar. Don't forget to enjoy the region's eclectic restaurants, choosing between casual eats at Turkey Central Restaurant or ritzy views from L'wzaar Seafood Restaurant.

Lounges at Hamad Airport
There are 2 known VIP lounges in Hamad Airport.

- The Oryx Lounge: Located in the South Plaza, Level 1. Perks include free Wifi, lockers, quiet rooms, game room, conference facilities, and food & beverages.

- Al Maha Transit Lounge: Located in the North Plaza, Level 2. Perks include free Wi-Fi, TVs, reading material, drinks, showers, and a flight information monitor.

While 4 "Bureau de Change" are available, each two for arrivals and departures. There are public telephones in the airport too that utilize prepaid cards. These are situated all throughout Hamad International Airport terminal. Furthermore, Wi-Fi connection is made available and is accessed anywhere in the airport along with free Internet Kiosks which can be seen in various locations.

Doha Hotel Shuttles
The Airport Hotel: for those who like to recharge, refresh and relax while waiting for their flight; this airport provides rejuvenation and tranquility. The hotel provides premium hospitality. And, they offer various types of accommodation including superior room, deluxe room, executive room, executive suite and presidential suite.

Furthermore, they also hold wellness centre where you can able to relax with their facial and massage service. You can also avail of their gym, swimming pool, two squash courts and a lot more.

The Oryx Rotana can be located at the ground of Doha International Airport. The hotel features spa that provide massage treatments and an outdoor pool. You can get pleasure from live jazz music and refined cuisine at their club.

The Sharq Village and Spa Hotel area is composed of 350-metres coastline property which features 1,400m extensive wellness centre and infinity pool. Rooms offered features wooden ornaments, canopied beds and oriental décor. This comes with private balcony which overlooks the Doha bay or the resort village. Their marble bathroom also holds rain shower and deep soaking bath. Hamad International Airport is just a five minute drive that provides free parking space as well.

Attractions in Doha
Corniche is the Islamic Arts Museum in Doha that features artificial Island called Corniche. You can explore their precious materials, local artifacts and manuscripts which show off their historical Islamic culture.

Katara Cultural Village is where you can find beach activities, operas, concerts, and restaurants which features global cuisine.

For those who adore shopping, looking for home restaurants, local art galleries, traditional stores which sell handicrafts, local garments, handicrafts and spices, Souq Waqif is perfect for you. This is 20 minutes drive from W-Doha, accessible and near.

Local Area Gallery includes Third Line Art Gallery, Islamic Culture Center, Qatar National Aquarium and Museum, and Mathaf Arab Museum of Modern Art.

DOH Contact Information
Hamad International Airport
Doha, Qatar
Airport Code: DOH