Doha pick up and drop off at DOH airport
Ground transportation to Hamad International Airport
Travelers landing at Hamad International Airport can discover why the city is a marvel renowned for its hyper modern architecture inspired by the waves of the Persian Gulf. Broken into four modern levels of shops, art installations and upscale eateries across five inter-connected concourses, the airport is the perfect way to get a taste of Qatar's everyday luxury. All concourses are connected to a central Duty Free Plaza, which is an expansive mall that offers the opportunity to pose in front of the iconic Lamp Bear statue, among other luxuries that include VIP lounges, a hotel and business facilities. Be sure to get through the massive terminal by utilizing the automated people movers as well, also considering the rapid inter-terminal shuttles awed for their glass-roofed design.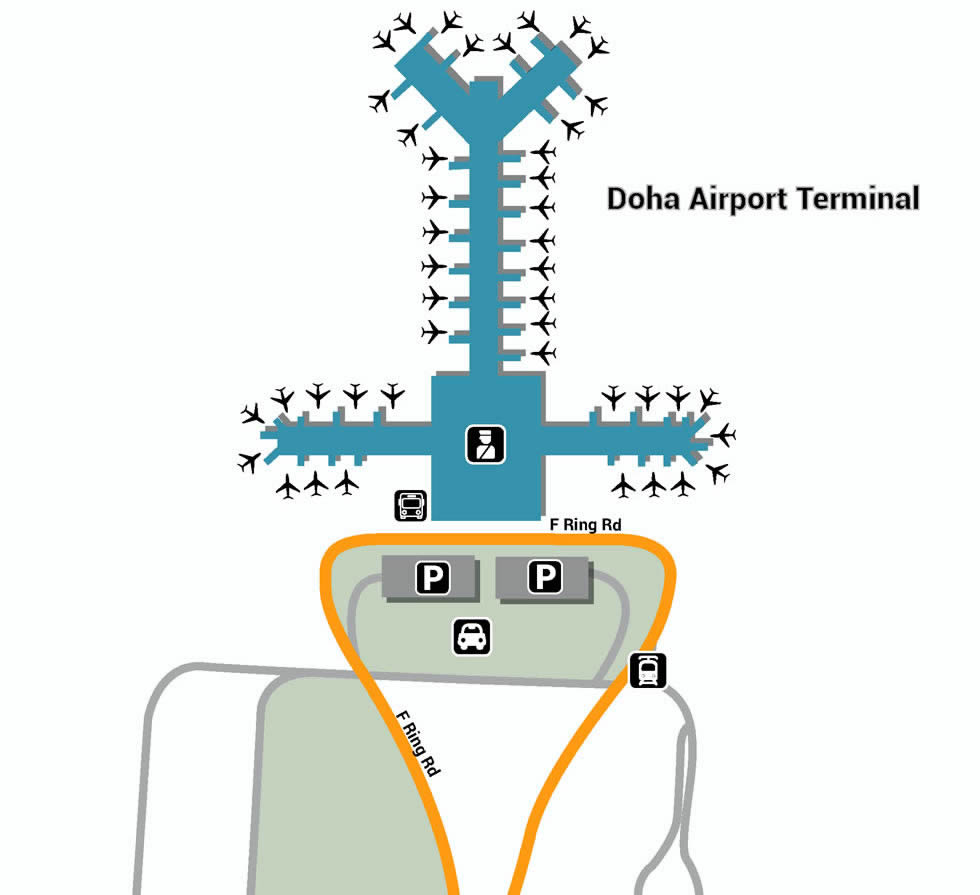 Parking
Short-term parking is available 24 hours a day at the HIA Short-Term Car Park - the multi-level car park offers the first 10 minutes free and is accessible across three levels; the Lower Level, Ground Level, and Level 1. The short-term lot is also home to a car wash at Lower Level East. Long-term parking is available at the Long-Term Car Park, which is located on the southern end of the main terminal - long-term parking includes covered and secured parking for up to 60 days as well as complimentary shuttles every 15 minutes. Additional transportation is located on Ground Level, which includes at least five bus routes, a taxi pavilion and car rental counters. For questions on valet contact 337 22601.
Services
With plans to expand on existing concourses, Hamad Airport is working overtime to make flyers comfy. Among typical facilities like phone booths, smoking rooms and currency exchanges, passengers can choose from dozens of rooms at the attached Oryx Airport Hotel, which offers deluxe suites perfect for overnight stays as well as simple 5-hour nap rooms. You can also kick back at at least 9 VIP lounges fully equipped with conference facilities and buffets, or unwind with complimentary perks ranging from quiet rooms hidden throughout the terminal to free Wi-Fi and internet/desk kiosks great for getting work done on-the-fly. For something really special, pay a little extra at The Vitality Wellbeing & Fitness Centre for exclusive access to a hydrotherapy tub, gym and swimming pool overlooking the passenger terminal.
Retail
The Duty Free Plaza of Hamad Airport is a massive shopping mall equipped with three floors of various shops. At the center of the shopping plaza is the iconic Lamp Bear, a Swiss-designed statue renowned for its striking strangeness. Enjoy cosmetics and comfy flight gear at Victoria's Secret or Esquire, afterward considering spending time finding the perfect accessory from upscale boutiques like COACH, Giorgio Armani, and Ralph Lauren. Even more luxury can be found through the gold watches and jewelry of Rolex, Swarovski and Omega as well, while those in search of the perfect gift can choose from a variety of gift shops that include In-Q Gift Shop and The Bumble Tree, not to mention basic conveniences at a couple WHSmiths.
Restaurants
Make a long delay a long lunch by choosing from a diverse pallet of global cuisine that ranges from the familiarity of fast food chains like Burger King and Starbucks, to healthy eats at Harvest Market and Eat Street. Those in the mood for American without the grease should sit down for a meal at either The Burger Federation or Del Monte F&B Store, while more European options include a relaxed lunch menu at Jamocha Café as well as posh breakfast at Le Grand Comptoir, not to mention a handful of Italian joints that include Negroni, Soprano and Spizzico. If it's closer to dinnertime, unwind with fresh Doha catches at Caviar House & Prunier, or go casual with the family-friendly menu at Red, finally topping it all off with something sweet at Farggi, a landmark Barcelona-based dessert shop known for its ice cream and cakes.