Frankfurt International FRA Airport Shuttle
Just southwest of downtown, Frankfurt Airport is a large facility perfect for those looking to explore the unique Germany city for the first time. Offering an on-site train station as well as several city shuttles, finding easy transportation is simple if you give yourself the chance. Get a free lift by booking at a hotel close to the terminal, whether it's courtesy of Hotel NH or the just-as-close Hilton Garden Inn. Get a little more freedom by choosing between a wide variety of private options, from executive rides perfect for wooing business partners to quiet sedans that offer intimate views of the countryside.
Search for FRA airport rides
AirportShuttles.com response to COVID-19 concerns and important updates for customers with upcoming bookings.

Trusted service since 2003

Flight Delayed? We wait.

24/7 Customer Service


Frankfurt Airport Transportation

Get the most out of the region by knowing what lies ahead, a task extra easy to do if you get a ride that can express your sense of adventure. Hop inside a stretched limousine to get a tour of the region's opulence, from the classic German dishes at Restaurant Klosterhof to authentic Japanese at Iwase, or utilize the intimacy of a sedan to explore the outskirts of Gunthers Bergpark. For families looking to explore the region's love of museums, reserve a ride big enough to hold all the wonderment, whether it's an SUV lift on the way to Palmengarten or a chartered bus to check out the darkened tours of Dialog Museum. If all you need is a simple trip to the Congress Center Messe Frankfurt, take advantage of a meet-and-greet services ranging from knowledgeable local personal drivers to speedee taxis.

FRA Airport Transfers

Find other destinations that offer GO Airport Shuttle or search for other transportation providers at Frankfurt (FRA) airport.

Airport Ride Service

Looking for airport shuttle rides? Learn how you can get connected to the best shared ride van providers, sedans and private vans and view our airport transfer locations.
Frankfurt Airport Shuttle Service
To get around Frankfurt the best option is to take the UBahn the tram and bus system that runs above and below ground. 
Shared Ride Van
Choose to share a ride, save up and just enjoy our vans, starting from your airport transportation to places like Wertheim Village, just for you to have fun shopping.

Private Van
You can make the most of your trip relaxing with ground transportation like our private van, able to take you and your family, or friends, to the historical center of Heidelberg known for its palace and the oldest university of Germany.

Private Sedan
Why not pamper yourself with a luxury sedan?  We can pick you up at the airport, take you directly to your hotel and wait for you while getting ready to drop you off at the famous Goethe House.

Local Personal Drivers
If you want to enjoy the night pub, crawl through Alt-Sachsenhausen, you can rely on our personal drivers who can also be hired upon your arrival until your departure.

Private SUV
Our private SUVs are reliable and responsible, being always on time in the airport transfer and ready to take you for a culinary tour in Frankfurt, or just wait for you while taking a sightseeing cruise, watching Frankfurt's towering skyline from the water.

Taxi Cab
You can visit many amazing places with high-qualified ground transportation, booking a taxicab that can take you to ancient and modern spots of the city. Discover the Old City Wall and the highest skyscrapers in Europe.

Stretched Limousine
Another luxurious transport is our elegant limousine with high-quality chauffeurs, just waiting for your call to transport you wherever you may choose, if you want to admire the Gothic and Renaissance buildings.

Chartered Bus
Why not organize with your family a day trip down the Rhine River? You just have to book our bus service; we're able to satisfy any travel need you may have.
FRA airport terminals
Finding the best parking, restaurants, and coffee shops at FRA airport can be tough, so let us help guide you through the airport terminals.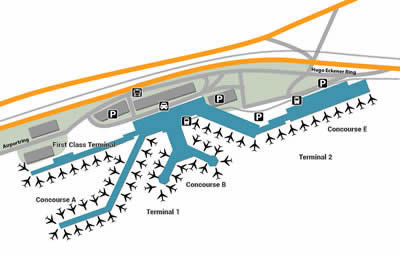 Frankfurt Airport Shuttles

Frankfurt is the 5th largest city in Germany and apart of the Frankfurt Rhine-Main Metropolitan Region and the Frankfurt Airport are among the most traveled international airports in the world.

You have to have a ticket to get on; tickets are purchased from the ticket machine. The machines speak in German and English. You'll need to press your destination in for each ticket you purchase. For a single trip into the city expect to pay little. If you don't want to be on the bus, there are taxis all around the city, but fares tend to be expensive.

Human powered bike taxis tend to cost less, and you can find them all around tourist destinations; they carry one or two passengers. If you want to rent a car it may prove to be difficult during the weekends. Parking will be limited which will mean you'll need to use a parking garage. Typically parking garages will charge you low rates per day. Taking a bike is also an option but finding a bike rental location may prove difficult.

Hotels near FRA
The city has a host of hotel shuttles in Frankfurt ranging from cheap to luxury style hotels. Make sure you plan well in advance because during major festivals and fairs hotel rates can get extremely high. At a hostel prepare to pay low prices for a single dorm. Some hostels have Wi-Fi, free breakfast or dinner, and laundry facilities. There are a large number of international chain hotels like Radisson, Sheraton, and Westin.

About Frankfurt Airport
Flughafen Frankfurt Airport abbreviated FRA is located in the fifth largest city in Germany, Frankfurt. The airport handles about 65 million passengers each year. FRA is ranked the 3rd busiest airport that is located in Europe and the 12th worldwide. Frankfurt itself is considered the largest financial sector in Europe. Frankfurt has an oceanic climate; with warm summers and moderate winter weather. Frankfurt is divided into 188 city boroughs that are apart of 46 city districts.

Frankfurt Restaurants
There are various restaurants all over Frankfurt, one particular area to concentrate your search for great cuisine – Fressgass, located on Grosse Bockenheimer Strasse Street. If you're looking to splurge try restaurants like: Surf-n-Turf Steakhouse, Orfeo's Erben, Aquapazza, Nizza, and Taj Mahal.

Things to do in Frankfurt
There are museums in Frankfurt, if you go on Mondays they are closed and some public holidays. The museum district called Museumsufer, has a ticket that gives you admission to all museums for 2 consecutive days.

There are many places to see when you are in Frankfurt. Some noticeable landmarks include The Goethe Tower, which is 43-metre high and is made out of wood from top to bottom. Sachsenhausen is an area near the riverbank, which has an amazing 10 museums to visit such as the Deutsches Architekturmuseum, which is an Architecture Museum of German structures.

If you are looking for performing arts you can drop by the Oper Frankfurt, which is among the most famous opera houses in all of Europe. For those wanting simple family entertainment there are events such as the Museumsuferfest, Waldchestag and the Luminale also known as the festival of light, which is held every 2 years, which the buildings are illuminated attracting over 100,000 visitors.

While you are visiting if you need a ride to or from the airport search our discount rates to find pricing and book airport shuttle reservations today. Check shared ride shuttle rates if you'll be traveling in small groups or private vans if you have a large group. If you feel like splurging then check out our rates for private car service or limousines.

FRA Contact Information
Frankfurt Airport
60547 Frankfurt, Germany
Airport Code: FRA