Frankfurt pick up and drop off at FRA airport
Ground transportation to Frankfurt Airport
Home to a combination of WWII history and modern delights, Frankfurt Airport is a major international facility that's become one of Germany's busiest. The airport's layout contains three terminals. Terminal 1 offers access to four concourses and three levels as well as an underground train station and parking garage, while the newer Terminal 2 offers a more modern look with two concourses and two levels. The terminals are connected by the SkyLine walkway, with access to the walkway being at Terminal 1C and Terminal 2D. A very small third terminal called the First Class Terminal also exists, and is exclusively used for Lufthansa flights. The various buildings surrounding the airport are referred to as Airport City due to the abundance of office headquarters, conference rooms, hotels and shopping malls. Fixtures of Airport City include Airport City Mall, The Squaire and Gateway Gardens.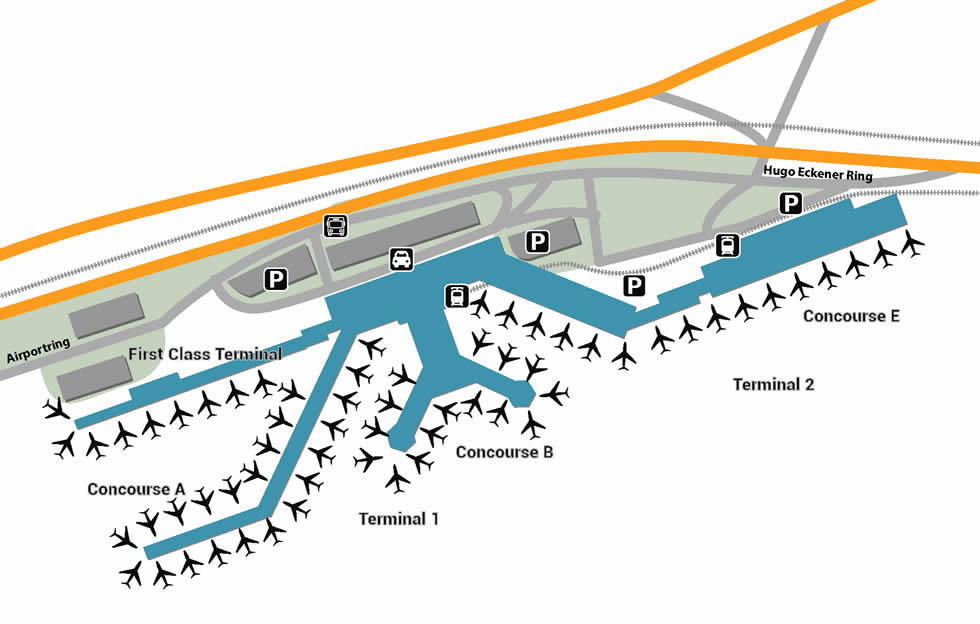 Parking
With over 15,000 spots available across nine separate parking lots, parking at Frankfurt Airport is beyond simple. Four short-term lots are available on the north side of both Terminals 1 and 2, with the first 10 minutes free of charge. Those in search of business parking should head to P4, located north of Terminal 1 and offering premium services that include high security, car washes and complimentary transfers. There are four additional lots directly underneath Terminal 2 as well as north of Terminal 1, each offering a combination of short-term and corporate parking across multiple levels. Long-term spaces can also be found at the Holiday Parking Lot (online reservations only), while those in need of close access to the bus station should stay at P36 in between the two terminals.
Services
Various services are available throughout the airport, including a handful of basic accommodations like free Wi-Fi, luggage storage and various disability services that include wheelchair rentals and assisted guides via the FraCare Services Office. High-tech services have also been added such as the digital EasyPASS border check and the downloadable Frankfurt Airport App, which makes logistics especially easy. Additional business perks include showers fully stocked with towels and hair dryers, as well as a handful of public work spaces and tucked-away luxury VIP lounges. Unwind with various forms of on-site entertainment as well, sitting down for a classic blockbuster at Movie World, or considering free-of-charge round of games at Gaming World. Also popular is the expansive informational exhibit at Entertainment Gate, which showcases fun airport facts across a giant curved screen.
Retail
Spend some time relaxing with what Airport City Mall has to offer, located on the underground level of Terminal 1 and home to various shops and services. Spend some getting your hair done at Essanelle, afterward looking forward to the right accessory at either Picard's or Hunkemoller. Be sure to pick up something fun for the kids at Faux Toys as well, also considering duty-free goods from a few Relay shops. Terminal 2 is also home to an attached mall dubbed 'Shopping Plaza' – Shopping Plaza is home to various fashion stores that include Sunglasses by Pfendt Airport Optic as well as The Collection Frankfurt, not to mention unique gifts and media at the Virgin Store and Quicker's. Those not from Germany qualify for tax refunds, which can be dispersed at various Tax Refund Stands and Currency Exchanges, so be sure to get your tax exemption form at check-out.
Restaurants
If shopping doesn't do the trick, unwind with some satisfying grub at either terminal. Various cafés can be found at Terminal 1's Airport City Mall, including Kamps German Bakery and Wiener Feinbäcker, as well as a few sit-down spots like Ciao Italia and Nordsee. More diversity can be found at each of Terminal 1's concourses, while the upper level offers an open-air deck and various bars & restaurants including Kuffler & Bucher Restaurant, Cosi Asiate and a McDonald's. Terminal 2 is also home to an upper level food court dubbed 'Food Plaza', which provides sweeping views of the tarmac from Visitor's Terrace as well as food from Vito & Ludwigs and a McDonald's.