Dubai pick up and drop off at DXB airport
Ground transportation to Dubai International Airport
renowned for holding world records that include busiest airport, Dubai International Airport is a massive facility that doubles as a testament to man's ability to design and build. The ever-growing airport offers three terminals dubbed Terminals 1, 2 and 3. Both Terminals 1 and 3 are inter-connected and home to the same design, with departures located on the upper level and arrivals located on the lower level. Terminal 2 is on the opposite end of the airport property and offers an expansive single-level floor plan that includes a duty-free shopping mall and Arabian-themed art, not to mention shuttles to the other terminals. Ground transportation includes the Dubai Metro's Red Line and Green Line – the Red Line picks up at Terminals 1 and 3, and the Green Line picks up near Terminal 2's Airport Free Zone.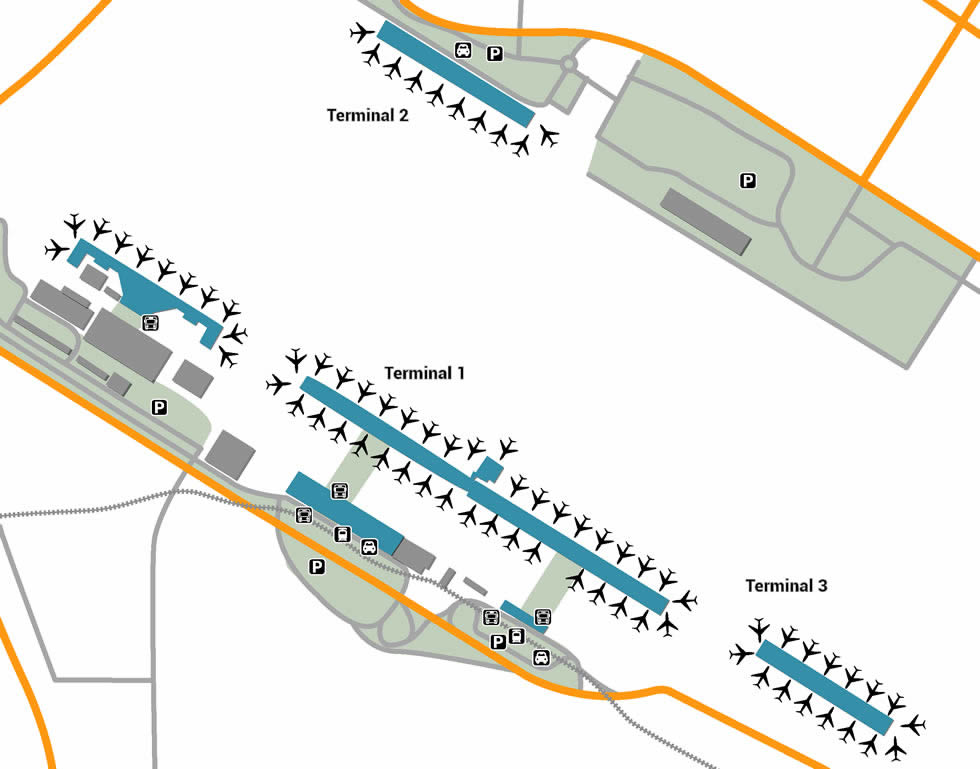 Parking
There are three main car parks throughout the airport. Car Park A is a premium garage available for Terminals 1 and 2, offering undercover shade as well as high security. Car Park B is an economy lot that offers the best rate for those leaving for holiday as well as a 10-minute walk to both Terminals 1 and 2. Terminal 3 is home to its own multi-level garage that offers a quick 2-minute walk to the terminal as well as the same rates as Car Park A. Additional services include a VIP car park for long-term travelers near Terminal 2 as well as the first two hours free-of-charge for disabled travelers.
Services
Services at Dubai Airport range from the basic to the accommodating, offering just about everything for just about everybody. Business travelers will find ease through complimentary Wi-Fi as well as Dubai International Hotel's sleek on-site business center, while families are left with the relief of Baby Care Rooms as well as the large 'Kids Zone' play area. Unique services include two open-air gardens, Muslim prayer rooms near the car park areas and smoke lounges in each terminal, not to mention free showers on the departures level of Terminal 3. Special services are also provided for the disabled, from helpful works ready to guide lost passengers to electric carts that offer free 24-hour rides across the facility. For emergencies, contact +971 (0)4 504 5000.
Retail
Kick back with countless shops while you wait, choosing between pocketed outlets along each departures level or the expansive duty-free shopping mall in Terminal 2. Get fashionable items from upscale brands like Gucci, Emporio Armani and Chanel, also considering the eclectic collection at Ishkala Fashion World. For simple in-flight necessities, look toward various duty-free shops that include Dubai Duty Free Pharmacy and DDF Shopping. And don't forget to get a memorable gift before you leave, whether it be sweets from Candylicious or local handicrafts courtesy of Gifts from Dubai. Other unique stores include Le Clos' luxury spirits and wines as well as the pampering services of O2 Spa & Salon.
Restaurants
In addition to great shopping, the airport also provides great grub ranging from worldly cuisine to quick-serve chains. Enjoy a fresh croissant in the early morning at Café Nero, or look forward to quick brews from various Costa locations. For a healthy lunch, try out the specialty sandwiches of Delizie as well as classic Asian cuisine from either Thai Express or Chowking Orient Restaurant. Other international cuisine includes American at Charley's Grill & Sub, Indian from The Rupee Room Express and fresh Mexican at Taqado. Westerners looking to enjoy familiar fast food chains also have a wide diversity that includes Shake Shack, McDonald's and Subway, not to mention classic southern chains like Church's Chicken and Marrybrown.