Dubai International DXB Airport Shuttle
A posh facility with modern amenities, Dubai International is a high-tech facility that looks out on the Persian Gulf. renowned for its ability to wow as much as offer convenience, the airport is snugly placed between the cities of Dubai and Sharjah. Surrounded by a slew of low-key airport hotels ranging from Premier Inn to Dubai International, you'll be sure to find a ride as convenient as it is helpful. Get around with total freedom by going with a private ride instead, whether you're a business traveler looking for a quick drop-off or a family in need of a lot of room.
Search for DXB airport rides
AirportShuttles.com response to COVID-19 concerns and important updates for customers with upcoming bookings.

Trusted service since 2003

Flight Delayed? We wait.

24/7 Customer Service


Dubai Airport Transportation

Home to a ton of unique opportunities, the city of Dubai is one you'll want a private ride to get through, not only to see everything there is to see but get out when needed. Book a private sedan to make each ride intimate, spending some time at the opulent Souk Madinat Jumeirah shopping mall while looking forward to a scenic drive along Al Khaleej Road. For families trying to make sure everyone stays happy, rent an SUV to get through the most serene landmarks, whether it's a day at Wild Wadi Waterpark or an evening at the iconic Lost Chambers Aquarium. If you're in need of a quick trip to the ritzy Riyadh Convention Center, reserve a local personal driver to offer advice on where to woo clientele afterward, or do it immediately with a suave limousine sure to impress.

DXB Airport Transfers

Find other destinations that offer GO Airport Shuttle or search for other transportation providers at Dubai (DXB) airport.

Shuttle Locations

Looking for airport shuttle rides? Learn how you can get connected to the best shared ride van providers, sedans and private vans and view our airport transfer locations.
Dubai Airport Shuttle Service
The RTA or public transportation system in Dubai runs trains, buses, park and rides, and a monorail. Price range by zone and fare tickets and cards can be purchased or a one-day ticket that allows unlimited rides in any zone. Arabian Dreams offers bus rental for large groups and there are many taxis. If all this seems too complicated than you can always hire a car.
Shared Ride Van
Experience a moment of free transportation by sharing in our shared ride van. Book our shared ride van for a reservation while touring Dubai Fountains.

Private Van
Our private van provides you an amazing experience of luxury and comfort. Hire to visit beautiful places such as the Burj Khalifa and Dubai Metro.

Private Sedan
We offer high-class door-to-door services with our private sedan. Hire to enjoy a quick and safe spin to the Dubai Desert Conservation reserve. Call and one of our drivers will attend to you shortly.

Local Personal Drivers
Meet our professional drivers who will provide a high class and quick spin to your destination.  Just one call is enough for one of our drivers to attend to your needs.

Private SUV
When you arrive in Dubai you can be dropped off at the Aquaventure Waterpark on time and safely.  We have a first class private SUV, which provides all the comfort you need on the road. Hire to touch this great experience.

Taxi Cab
Hire our private taxi for door-to-door services and airport transfers. One of our expert drivers will be available to pick you and drop you to your point of destination. Call for a drop off at the Wild Wadi Water Park.

Stretched Limousine
Our high class private limousine is all you need for a luxurious spin to the Dubai International Airport. Hire and enjoy great discounts for airport transfers and ground transportation.

Bus
We have classic shuttles that will provide you high-class services. Arrival and departure at the shuttle terminal is scheduled for hourly interval.
DXB airport terminals
Dubai International Airport is a busy airport and can be very confusing the first time you visit there. Upon arriving at DXB, use our terminal map to find your way around.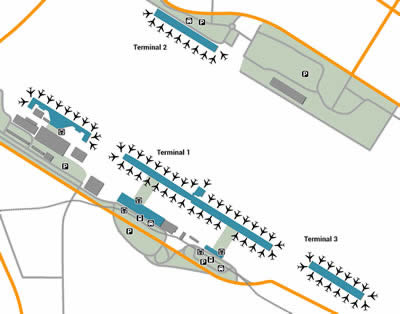 Dubai Airport Shuttles

Dubai is apart of the United Arab Emirates or UAE is one of the most visited cities in the world which has an economy built around the oil industry along with tourism and real estate. Find hotel shuttles to Dubai airport from most locations within the city or nearby neighborhoods.

Hotels near DXB
The Armani hotel, opened by legendary Giorgio Armani in 2010, its part residence and part hotel; premium rooms have balconies and overlook the Dubai Fountain. The Fairmont Dubai in the financial district features amenities like the Willow Stream Spa, two rooftop swimming pools and even a sushi café. There are more familiar chains like the Hyatt Regency, the Ritz Carlton and the Sheraton.

Dubai Restaurants
Legendary Gordon Ramsay and Gary Rhodes have restaurants located in both the Grosvenor House Hotel and Hilton Dubai Creek, which offers their signature Michelin star-courting cuisine. Food there will cost you about $140 USD AED 500 per person. If that price is just too much for your trip there are more economical places to eat on Al Dhiyafah Road. This is Dubai's take on fast food. The restaurants allow you the opportunity to people watch while eating.

About Dubai Airport
Dubai, United Arab Emirates airport abbreviated DXB airport is located in Dubai, the second largest emirate in the United Arab Emirates. It is on the southeast coast of the Persian Gulf. There is a hot desert climate year round that is marked by extreme heat and humid weather. Home to over 2 million people visiting Dubai has become increasingly popular. It is a safe destination and a modern infrastructure.

Things to do in Dubai
While there is nothing spectacular per se about the shopping malls in Dubai that would make it any different from going to your local mall and picking up something. Not even the prices are all that spectacular, but what is intriguing is the venue. Take for instance the Souk Madinat located inside Madinat Jumeirah hotel, which transports its customers on its own waterway. You can ski in the Mall of the Emirates;and the Mall of Arabia features a real-life Jurassic Park. Don't forget to visit the man-made island of Palm Jumeirah shaped like a palm tree, Jebel Ali, Deira and the World, which is shaped like a miniature world map. Although there are plenty of beaches in Dubai, there is only one public beach, Al Mamzar it's located in Sharjah. If you aren't staying in a Jumeirah beach hotel you can pay admission to get on the beach.

When visiting Dubai you can many historic landmarks such as the Al Fahidi Fort, which was built in 1799. It is considered the oldest building in Dubai, which is currently part of the Dubai Museum. One of the most visited landmarks is the Burj al Arab which is a luxury hotel built to resemble the sail of a boat. While you are in the city you will find an enormous amount of shops. Dubai is commonly known as the "shopping capital of the Middle East" with over seventy shopping malls and the world's largest called the Dubai Mall.