Trusted service since 2003

Flight Delayed? We wait.

24/7 Customer Service

Durban International DUR Airport Shuttle

Just north of Durban, a coastal city on the east end of South Africa, King Shaka International Airport offers easy access to hidden beaches along the North Coast as well as quiet suburban surroundings that make escaping the airport easy. Reserve the right lift to take you along the water's edge, booking a private sedan, SUV, or van for the most intimacy and comfort, also considering a casual meet-and-greet service for all the convenience in the world, from speedy taxis to striking stretched limousine.

DUR Airport Transfers

Find other destinations that offer GO Airport Shuttle or search for other transportation providers at Durban (DUR) airport.

Airport Ride Service

Looking for airport shuttle rides? Learn how you can get connected to the best shared ride van providers, sedans and private vans and view our airport transfer locations.
Durban Airport Shuttle Service
Ground transportation is provided by King Shaka Shuttle Services which has consistent, insured, and reasonably priced service, 7 days a week. The same company also rents cars for independent transportation. Ground transportation at DUR Airport includes a few taxis and car rental services, plus a railway line that intersects with the adjacent R102 highway. A high-speed monorail is currently in the works for the 2020s. Avoid public transportation by getting a personal shuttle instead, booking through either area sedan or private SUV companies for instant pick-ups and wide windows perfect for seeing the North Coast.
Shared Ride van
We have a discount transportation offers with our shared ride van. Grab the opportunity by booking our shared ride van for reservation and enjoy a comfortable spin on the North Beach.Home to urban ports and beaches, getting a one-time lift to the perfect downtown destination is best done with the help of a shared ride van. Reserve with area airport transportation shuttle providers to make the day special, looking forward to deluxe seaside views at Belaire Suites Hotel as well as western-friendly opulence at the 5-star Hilton Durban.
Private Van
Our private van provides classic traveling services both for ground transportation and door-to-door services. Hire and experience the great moment of comfort while visiting the Gateway Theatre of Shopping. Find the best part of the day by getting a ride that can take care of everyone's needs, reserving a private van from local ground transportation shuttle companies for easy lifts alongside the freedom to take your time, whether it's through the many landscapes of Kenneth Stainbank Nature Preserve or the colorful plumage inside Umgeni River Bird Park.
Private Sedan
Our first class private sedan will offer you the best door-to-door services. Call for a pickup by one of our professional drivers while traveling to Mitchell Park Zoo. Remember your time in Durban with a ride that offers endless moments, booking a private sedan with local sedan companies for intimate escapes into the quiet, choosing between Earth-centric exhibits at the Durban Natural Science Museum as well as hidden beaches and markets sprawled across Durban North.
Local Personal Drivers
Have an encounter with one of our professional drivers who will drop you off at your destination within a very short time. Our professional drivers are always prepared and willing to assist you arrive safely. Get into the underbelly of what makes Durban such a special city by getting the local's tour with a local personal driver, finding quaint restaurants with tastes of grandeur as well as low-key clubs perfect for falling into the rhythm of South Africa's music scene, all at the ease of asking.
Private SUV
Hire our private SUV for a spin to the Durban Botanic Gardens and the Umgeni River Bird Park. You will experience the comfort and luxury it will provide you. Keep everyone safe and comfy by reserving a private SUV with area companies, fitting up to six passengers for family-friendly fun ranging from the acclaimed shows at uShaka Marine World to the modest-sized mammals and on-site tea garden at Mitchell Park Zoo.
Taxi Cab
Come and experience the amazement of luxury in our private taxi. Hire and call one of our professional drivers to pick you while in need of transfers to your hotel. Business travelers arriving to an event at either Durban ICC or Olive Convention Centre should reserve a taxi to avoid the hassle of traffic, getting dropped off right in front, afterward taking as long as you want in the city's coastal charms with 24-hour access to a ride that has your back.
Stretched Limousine
We have a first class private limousine for ground transportation and Airport transfers. Hire for a pickup and enjoy the comfortable transfer to Virginia Airport. Find the finer side of Durban with a stretched limousine as your gilded lift, booking with local limo providers for elegant drop-offs to the tablecloth eats of 9th Avenue Bistro as well as elegant arrivals at The Playhouse Company, a renowned local stage known for its musicals and vivid stories on local culture.
Chartered Bus
We offer classic shuttle services. Pick up and drop off is at your convenient shuttle terminal. Those with over a dozen passengers to carry across great distances should get a chartered bus to make each moment worthwhile, finding getaways big enough for everyone to get lost, whether it's at the many exotics of Durban Botanic Garden or along the boardwalk trails of Beachwood Mangroves Nature Reserve.
DUR Airport Terminals
DUR Airport is a single-terminal facility with two levels of shops, restaurants, and business-friendly amenities.
- Level 1: arrivals, check-in, luggage carts, baggage claim, banks, ATMs, shops, restaurants, car rental services, and ground transportation.
- Level 2: departures, drop-off zone, shops, restaurants, additional lounges, work desk areas, VIP lounges, and airport offices.
DUR airport terminals
When you are traveling to Dublin, finding your way through DUR may be difficult the first time you are there. This terminal map will help you find out where your terminal is and so much more so you can enjoy your trip.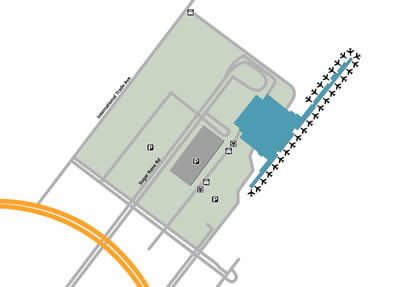 Durban Airport Shuttles

You can reserve a hotel shuttle at Durban airport or you can make discount airport transportation reservations. According to historical records, in 1951, Louis Botha Airport opened in Durban South Africa, only to be renamed in 1994 as Durban International Airport. 

The location of this airport has good road access to hi-ways, although most of the roads are toll roads. Bus service is available by a company called Bus Transportation which departs from the airport every 45 minutes. Taxi service is provided by Rikki Cabs. Rail link, a train system, is being constructed to connect directly to the airport. The Rail Link currently runs from Durban, along the ocean to the north.

King Shaka International Airport Transfers
Located 21 miles away from downtown Durban, the long but scenic trip from the airport to the city can take a while. Make time go by smoothly with a stress-shuttle, booking either through local shuttle or taxi cab companies for the convenience of immediate departures as well as vivid views of North Durban's beaches.

Have fun wherever you go by taking advantage of the many neighborhoods and small towns scattered across Durban, either looking forward to the simplicity of the outskirts, which includes small towns like Pinetown, Chatsworth, and Hillcrest, all of which offer secluded resorts and unique German-inspired architecture, or delve into downtown's busy core through trendy areas like Glenwood, home to the city's theater district, Grey Street, which offers many bars and restaurants, and Morningside, known for its family-friendly attractions at Mitchell Park Zoo.

Let the day run smoothly by not only reserving your shuttle, but by keeping up with your shuttle reservations. Print out your confirmation email the moment it arrives, also keeping track of important bookings, whether it's through downtown's Segway Tours starting Moses Mabhida Stadium or exotic views via Zulu Safaris. Stay organized by keeping all physical and digital documents in one place as well, placing passports, prescriptions, and identification in a travel journal for easy storage as well as scanning and storing the digital image of each document on a flash or cloud drive in case of an emergency.

About King Shaka International Airport
Located several miles north of downtown, the trip from King Shaka International to Durban Central takes over half an hour. A good way to cut this commute time down is by staying close to the airport or around the Durban North area. In the suburb of La Mercy, located east of the airport, several hotels rest along the shore including La Mercy Beach Hotel, Umdloti Resort, and Sibaya Casino and Entertainment Kingdom. For something special, go with the De Charmoy Estate Guest House in Mount Moreland instead, also considering options near La Lucia and Umhlanga, from The Square Boutique Hotel to Chartwell Guest House.

Those planning to stay at the airport for a long duration of time have a lot to indulge in, from shops to restaurants. Grab some savory breakfast as well as Western-style lunches and dinners at Wimpy, or get a simple pick-me-up alongside filling pasta dishes at Fego Café. Also available are a wide variety of duty-free shops, as well as sweets from Cosmic Candy, business attire at the Tie Shop, and relaxing reads at Exclusive Books. Shops located in pre-security include brand-name gear at Nike and Jeep, plus sugar cravings satisfied at Sweet Shop.

Stay close to cool hangouts around the airport as well, looking forward to the simplicity of nearby destinations, from Tongaat Beaches pristine views of the bay to Umdloti sandy hideaways at South Beach. If you happen to be on the north side of the airport, look forward to beloved local eats at Danny's House of Curries, afterward looking forward to an afternoon in Ballito, a popular shopping hub home to quaint shops at The Quarter Boutique Shopping Center as well as name-brand designers and restaurants at the multi-tiered Ballito Lifestyle Centre.

Durban Destinations
Known for its blend of African and British-colonial influences, Durban is a coastal getaway that's become one of South Africa's brightest beacons not only for tourism but local culture. Start the day by exploring the most-visited attractions, moving through the subtropical climate in Durban Botanic Gardens, famous for being the continent's oldest botanical garden, while the vivid wonders ranging from aquarium shows to water slides await at the family-friendly uShaka Marine World. Another kid-friendly locale is Mini Town, which provides a scaled-down version of the city, plus walking-distance to the promenades at Durban Beach Front, home to several snack stands, old gazebos, and concrete pathways along the water.

Experience the ambiance of the region by also getting lost in the museum scene as well, moving from the exciting geo-science exhibits at Durban Natural Science Museum to the local history showcased at Kwa Muhle Museum. Experience quirky attractions by also checking out one-of-a-kind locales like Big Rush, the world's tallest swing that offers the experience to leap off the roof of Moses Mabhida Stadium, afterward experiencing shrouded trails and waterfalls at Paradise Valley, a gorgeous destination in Pinetown, located west of the city and surrounded by other rural nature preserves.

Lounges at King Shaka Airport
- Bidvest Premier Lounge: Located on upper level. Perks include free Wi-Fi, TVs, telephones, showers, food, drinks, and reading material, plus disability access and flight information monitors.
- Umphafa Lounge: Located on upper level. Perks include free Wi-Fi, TVs, showers, reading material, and drinks, plus disability access and flight information monitors.

DUR Area Hotels 
Hotels range from the 5-star range and includes Hilton Durban, Endless Horizons, and Three Cities Auberge Hollandaise; to less extravagant, but good accommodations like, The Albany Hotel, The Blue Waters Hotel or Jay and Bee Guest House.

King Shaka International offers Wi-Fi, many interesting retail shops, and a variety of restaurants for lay-over waiting. In 2012, it opened new passenger "pick-up" parking lots, and on-line booking for vehicle parking is available. The address of DUR is King Shaka Dr., La Mercy, 4405, South Africa.

About Durban International Airport
Durban International Airport no longer supports commercial air traffic and is listed as a temporary military airport for the South African Air Force, and can handle "overflow" air traffic if needed. Now, 37 miles / 60 k to the west is King Shaka International Airport, which still retains the original international code, DUR and is located in La Mercy since 2010.

On the south end of the King Shaka International Airport is a two-level passenger terminal. Departures are found on the upper level, while arrivals use the lower level. The airport is sufficient in size to handle over seven million passengers each year. On the upper floor, almost 75 check-in counters accommodate travelers. Airbus A380s, Airbus A320s or Boeing 737s are accommodated by more than 30 bays at King Shaka International Airport.

Once arriving in Durban, the demographics represent a diverse population with Zulu people, people from India and the United Kingdom constituting the main ethnicities in the area. Just over a third of the population represents youths and adolescents. Although Johannesburg is the largest manufacturing region in South Africa, Durban ranks as the second largest. In addition to its industrial strength (3rd richest city in South Africa), Durban offers numerous, charming beaches and a warm climate which attracts many tourists, worldwide.