Dublin DUB Airport Shuttle
Offering 2 runways and a few transportation options, Dublin Airport is Ireland's chief transportation hub that makes the beauty of arriving that much more stoic. Offering inter-city as well as suburban routes through the Irish Rail system as well as a diverse network of bus and coach routes, you'll be able to get out of the busy facility with ease. Cut costs by getting a free lift courtesy of a nearby hotel, choosing between the on-site convenience of Maldron Hotel to the business-friendly perks offered by Radisson Blu across the street. Explore the region with true freedom by getting a private ride instead, taking each road slow and scenic.
Search for DUB airport rides

Trusted service since 2003

Flight Delayed? We wait.

24/7 Customer Service

Dublin Airport Transportation

Get a tour of the region by booking a local personal driver to show you the diversity, from views of the Royal Canal in Drumcondra to the stoic university and church grounds surrounding Rathmines. For families trying to stay close as much as break free, reserve a private SUV to do all your traveling, checking out cool museums like the National Museum of Ireland during the day while ending it at Phoenix Park in the evening. For total intimacy, reserve a sedan to enjoy classic Victorian getaways, whether it's the common bloom of St. Stephen's Garden or the 18th-century mansion that houses the Dublin Writers Museum. Business travelers looking forward to the riverfront views from The Convention Centre Dublin should get there with a taxi drop-off, or take in the view with a stretched limousine perfect for feeling the breeze of the Liffey.

DUB Airport Transfers

Find other destinations that offer GO Airport Shuttle or search for other transportation providers at Dublin (DUB) airport.

Airport Ride Service

Looking for airport shuttle rides? Learn how you can get connected to the best shared ride van providers, sedans and private vans and view our airport transfer locations.
Dublin Airport Shuttle Service
The shuttles that service Dublin International are renowned for their dependability, and customer service. AirportShuttles.com, GO Airport Shuttle, and Carmel Car and Limo are excellent providers of transportation.
Shared Ride Van
Share your ride in our shared ride van. Enjoy this service by booking our shared ride van for reservation.
Private Van
Hire our private van to enjoy the best door-to-door services and ground transportation services. Enjoy the ideal spin to the Guinness Storehouse.
Private Sedan
Our private sedan will provide you ideal ground transportation. Hire for a special tour to the Old Jameson Distillery and the beautiful Dublin Zoo. For instant pickup, call and one of our professional drivers will be there in good time.
Local Personal Drivers
Experience the high-class transportation services to our professional drivers will provide you. You will be assured safety on the road and quick arrival.
Private SUV
Our private SUV is very ideal for travelers moving to the St Patrick's Cathedral or the National Museum of Ireland. Hire for a drop off in a short while.
Taxi Cab
Our private taxi will provide the comfort and luxury when touring the beautiful National Museum of Ireland. Hire our private taxi for a quick spin. It is also ideal for airport transfers and door-to-door services.
Stretched Limousine
Our first class private Limousine is a proof of our value for you. Hire and enjoy the great discounts. You will experience the comfort and luxury when transferring to Dublin Airport.
Bus
Our shuttle operations are 24/7 making them so reliable. Board our shuttle and feel the great services we offer. Arrival and departure at the terminal is in an hour intervals.
DUB airport terminals
Dublin Airport is your gateway to this famous Irish city. You won't need the luck of the Irish to find your way through the airport though, we can assist you with that. This DUB terminal map will help you locate all of the amenities the airport has to offer.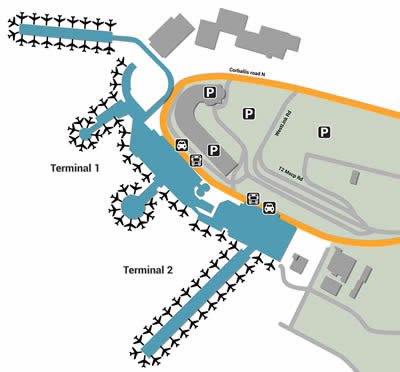 Dublin Airport Shuttles

You can reserve a hotel in Dublin or you can make discount airport transportation reservations.

The Dublin Bus is an excellent way to get around town from the airport and to see the views of the city, if you are on a budget. Cab Force is a local taxi service with bilingual cab drivers as well as offering either Sedan or SUV vehicles, for your luggage or family convenience.

 

History Is Made In Dublin
Dublin International Airport is an international hotspot for tourists and travelers alike. The airport claims the code of (DUB) and is located approximately six miles north of Dublin, Ireland in Fingal County. This airport is home to short haul and long haul international flights.

Since Dublin International is just North of Dublin, and close to Swords, Ireland, it is strategically placed for tourist's convenience. This airport received so much traffic that it was finally required to build a second terminal to host all of the passengers making their way into Ireland.

Over twenty million passengers flew into Dublin International in 2013, ranking as the 27th busiest airport in the world. With the addition of the second terminal, Dublin Airport is able to host thirty-five million passengers, and is looking at continued growth to meet the demands of the customers flying.

With multiple maps and signage, both terminals bring much aid to travelers as they land. Terminal 1 is used mainly for short haul travels, although two long haul airlines are known to dock there. Terminal 2, which was built recently in 2010, is strictly for long haul flights, most of which come from the United States and Canada. Customer service and language interpretation is offered to those in need, and several stores and restaurants throughout each terminal help to bypass time.

Hotels near DUB
The Carlton Hotel Dublin Airport is located less than five blocks from the airport, easy to get to for those layovers. With free Internet and parking, access to a fitness center, and the use of shuttle services, this 4-star hotel is ideal for short visits to this beautiful city.

The town boasts about their plethora of hotel accommodations, including from chains such as Best Western International, Travelodge, Four Seasons, and Hilton international. However, the best hotels in the city, the really nice 5-star hotels, are those that are native to Dublin, such as The Merchant House, The Shelbourne Dublin, and Maldron Hotel &Leisure Club Cardiff Lane.

Dublin International Airport is a historical monument in itself, allowing passing time in the history surrounding you. With free parking and Wi-Fi, any extended stay can be made easier with these at your leisure.