Dublin pick up and drop off at DUB airport
Ground transportation to Dublin Airport
Servicing the capital of Ireland, Dublin Airport is a massive airport that's become one of the busiest in Europe. Providing various modern amenities as well as some old-world charm through local restaurants & shops, the facility knows how to relax its guests. The airport is home to two separate terminals; Terminal 1 and Terminal 2. Terminal 1 handles both domestic & international flights across two levels, with arrivals along Ground Level and departures along the upper. Terminal 2 is a single-level building that mainly focuses on domestic flights handled by Aer Lingus Airlines. Ground transportation includes Dublin Bus' Express Routes 747 and 757 as well as a few taxiways and car rental services that drop off downtown.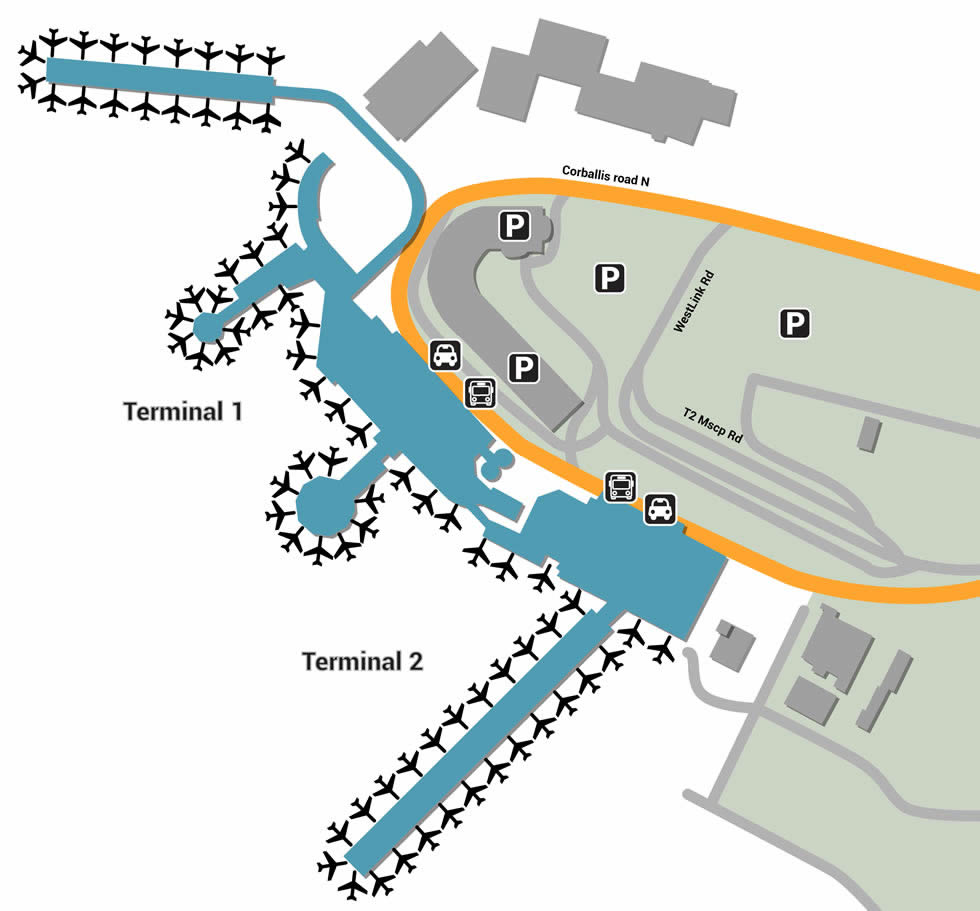 Parking
There are seven main areas to park at Dublin Airport, which include long-term and short-term parking. Short-term parking includes a few hundred spaces at Car Park A, which is equidistant from both terminals. Especially close access to Terminal 1 can be found through Car Park C, while close access to Terminal 2 can be found through both the Multi-Level Garage and the Terminal 2 Surface Car Park. Long-term Parking is available at both the Express Red and Green Car Parks, both of which are ideal for business & leisure stays - also available is the Blue Car Park, which provides the lowest rates as well as free 24-hour shuttles to either terminal. Additional parking perks include valet services and reserved spaces for the disabled. For more information, contact the Dublin Airport Parking Office at +353 1 944 0440.
Services
Services at Dublin Airport are varied and include simple perks as well as relaxing entertainment perfect for making time pass. Basic financial services include ATMs and currency exchanges at both terminals, while help for the disabled includes free baggage trolleys, a pharmacy and loaner wheelchairs. Perks for families are also set in place to make things easier, from baby care products at Terminal 1's Boots to rentable wheelchairs and cradles at The Stork Exchange located in both terminals - there is also a children's play area at McDonald's as well as a spacious supermarket. And for business travelers looking to unwind, guests can relax at either of three VIP lounges or the on-site Maldron Hotel Dublin Airport. Other unique services include showers at one of the lounges as well as 24-hour chapels.
Retail
Do all your shopping while you wait, looking forward to expansive on-site shopping malls inside both Terminals 1 and 2. Terminal 1's shops include a few fashion boutiques like Hour Passion and Sunglass Hut, while cutting-edge streetwear can be found at Superdry. Last-minute conveniences are also available at WHSmith and Dixons Travel, while Dublin-centric looks are available at House of Ireland. Terminal 2's shopping includes pharmaceutical goods at Pure Pharmacy as well as designer looks from both Spectrum and Avoca. Also available are specialty brews from Guinness Export House and luxury jewelry at Tipperary Crystal. And located in both terminals is the extra popular collection of name-brand fashion, Irish whiskies and souvenirs at The Loop.
Restaurants
Look forward to specialty bites in the morning, afternoon and night while you wait. Most eateries are found in the departures area of each terminal, with Terminal 1 offering over two-dozen options that include coffee at both Leopold and AMT Coffee as well as fast food from McDonald's and Burger King - also available are Gate Clock Bar Irish pub ambiance and healthy grab-n-go from Marquette. Terminal 2 is home to fewer eateries, with exclusive eats available in the form of gourmet burgers at GBK as well as authentic Bangkok recipes from Diep Noodle Bar. Other unique eats can be found at Oak Cafe & Bar's relaxed sit-down setting as well as locally-sourced eats from Harvest Market. And don't forget to top it all off with sweets from Butlers Chocolate Cafe, available in both terminals.