Cape Town pick up and drop off at CPT airport
Ground transportation to Cape Town International Airport
A modern space just east of Cape Town's seaside beauty, Cape Town International Airport is one of the busiest facilities not only in South Africa but the entire continent. The building is home to a unique split-level design that includes two terminals; the International Terminal and the Domestic Terminal, as well as a spacious Central Terminal that connects the two terminals with retail, food & lounges. The International Terminal is located on the north side of the airport, while the Domestic Terminal is located on the south side. The upper levels of each terminal are designated to departures, while the lower levels offer arrivals and various ground transportation services. Ground transportation services include metered taxis, car rental kiosks at the Car Rental Office and rapid-transit buses from MyCiTi.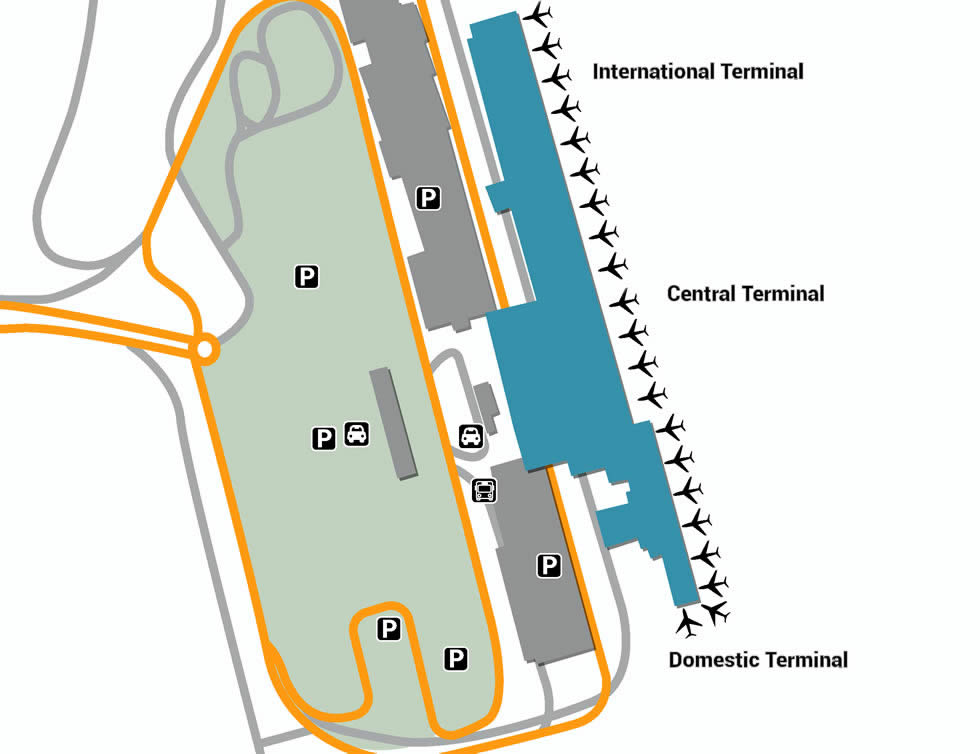 Parking
There are five car parks located throughout the facility. P1 is a multi-story garage located adjacent to the International Terminal, while P2 provides just as many spaces across from the Domestic Terminal. Free 24-hour shuttles are available to those who stay in P3 or P4 – P3 is a shaded parking lot behind P1 and offers close access to Car Rental Offices, while P4 is located behind P2 with equal access to the office. Those planning to leave on holiday should head over to P5, a limited-space lot located behind P4 and also enjoyed by business travelers due to its close access to two airport hotels. For more information, contact the Airport Parking Management Company at +27 (0)21 936 3600.
Services
Various services are available for guests at Cape Town Airport, from expected accommodations like luggage wrapping, shoe shines and a post office, to specialty executive perks that range from the luxurious Bidvest Premier Lounge (located both terminals) to custom repairs courtesy of Barksole. There are also two on-site hotels, which include the 2-star simplicity of Road Lodge Cape Town and the award-winning ambiance of Hotel Verde Cape Town Airport, also dubbed the 'greenest hotel' in Africa – Hotel Verde is located a bit further from the terminal but offers shuttles at restricted hours. There are also rentable conference rooms, prayer rooms and a wide variety of duty-free shops & restaurants.
Retail
Most of the retail shops at the airport are located on the departures level of the Central Terminal (Level 3) as well as the International Terminal Duty-Free Mall. Look forward to a wide variety of stores that include artsy gifts & souvenirs at Africa Eco, Out of Africa and Cape Farm & Wine Emporium, also considering interesting reads from either Exclusive Books or CNA @ Airports. Fashion opportunities include local statements from Ocean Africa and Cellini as well as beauty & cosmetics courtesy of Gloss and Yemaya Nail Bar. And for the perfect accessory, choose between the colorful accents at American Swiss or trendy additions at Accessorize. Simple goods can also be picked up at two separate Big 5 Duty Frees as well as a Woolworths.
Restaurants
A good way to make the most out of lost time at Cape Town Airport is through its many cafés and restaurants sprawled across Level 3's Central Terminal and Mezzanine. Enjoy an early morning with coffee at either Primi Café or Mugg & Bean, also considering various lunch spots that include fast-food eateries like KFC, Steers and Barcelos as well as casual environs at both Dili Deli and Wimpey. Get a truly memorable experience with the elevated views of Spur for dinner, the airport's signature restaurant located along the mezzanine, or trot over to Ocean Basket next door to immersive seafood and African-inspired charm. Top it all off with sweets from various locations that include Cosmic Candy and Montagu Dried Fruit & Nuts.