Cape Town International CPT Airport Shuttle

Book reservations for airport shuttle, taxis, sedans and limousine service to and from the airport.

CPT Airport Transfers

Find other destinations that offer GO Airport Shuttle or search for other transportation providers at Cape Town (CPT) airport.

Shuttle Locations

Looking for airport shuttle rides? Learn how you can get connected to the best shared ride van providers, sedans and private vans and view our airport transfer locations.
Cape Town Airport Shuttle Services
There is a large parking lot with roughly 1,400 spaces available near the central terminal. There is also a multi-level parking garage located next to the main parking lot that offers nearly 2,000 spaces.
Shared Ride Van
Nothing is more enjoyable in Cape Town than moving around in Robben Island and Table Mountain under the comfort of our Shared Ride Van. Book our services online, and get access to an easy pickup and drop off here.
Private Van
Undoubtedly, hiring a private van is a best thing to do in the city in order to obtain easy access to our door-to-door service.
Private Sedan
You are in safe hands of our Private Sedan service providers in Cape Town if you are here for holiday. Travel around Boulders Beach, Cape of Good Hope and Lion's Head for a delightful trip by considering our services.
Local Personal Drivers
Whether it's a personal travel, or a corporate trip, our Local personal drivers are knowledgeable and cordial friends for offering a relaxed and refreshing feeling. Hire one for an enjoyable ride to Cape Peninsula and Table Bay.
Private SUV
Our Private SUV services offer a hassle free and convenient travel for all passengers. Cozy and comfortable, the private SUV transport is exactly what you need in order to have a great time exploring Signal Hill and Constantia.
Taxi Cab
Taxi Cab Leasing in Cape Town is an incredibly attractive option, considering that tourism is a market that requires a great deal of individual support. Our taxi service seeks to give the best spot pickup and door-to-door services.
Stretched Limousine
Cape Town has several historical places for you to visit, and traveling around those places in a stretched Limousine can increase the pleasure of your travel.
Bus
From arrival to departure in the city, Cape Town's bus services ensure on-time services for reaching the airport at the right hour.
CPT airport terminals
The CPT airport can be tricky, but you'll be prepared with this handy terminal map. You'll be able to find your way around in no time flat, and be able to get on with your trip.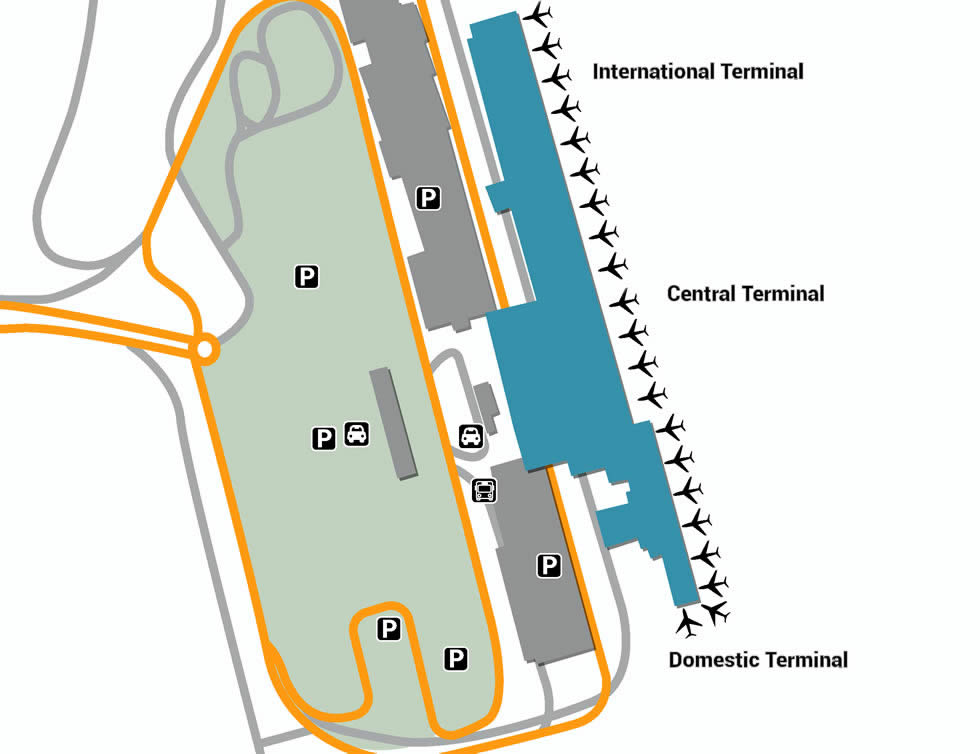 Cape Town Airport Shuttles

Tourists come to Cape Town to experience Africa also known as the Mother City in South Africa. One of the most popular landmarks is The Castle of Good Hope which is the oldest surviving building in South Africa from the mid-1600's.

You can find CPT airport shuttles to hotels and valet parking that is available for long and short term parking as well as in the garage. There are no parking lot shuttles available at this time handicapped services are available upon request and reservation.

The MyCitiBus is the local busing transit and provides shuttle services from the central terminal to the center of town where the bus depot is. Bus stops are clearly marked in the front of the terminal. Buses run roughly every 20 minutes. Metered taxis are available in the taxi rank the airport asks that you please only hire taxis in that parking lot for your safety as they are contracted with the airport. There is no rail way system connected or associated with the airport at this time. There are no rental cars available on site.

Cape Town is the second largest city in South Africa and has many varieties of music and art from different cultures. Visitors enjoy going to Kirstenbosch Botanical Gardens and also taking a cable car up to the top of Table Mountain. If you are looking for great shopping then you may want to visit the Victoria and Alfred Waterfront where you will find many unique items in the market. If you enjoy fine wines then you can take a tour of the Constantia Valley wine estates and experience a great wine if you have tried or a new taste if you have never experienced it.

About Cape Town International Airport
Built in 1954, Cape Town International Airport lies roughly twelve miles from the center of the city and serves as the primary airport for Cape Town. It is the third busiest commercial international airport in Africa. The airport sees an average of 8 million passengers annually on an average of 100,000 flights per year. More than 20 airlines are serviced, including Condor, British Airlines and Air France Airlines. There is one international terminal, one domestic terminal and a central terminal for checking in both domestic and international travelers. Both side terminals offer the same amenities.

CPT Airport Terminals
Like many other airport, Cape Town International Airport offers free wireless Internet services. Terminals are split into two levels with arrivals on the lower level and departures on the upper level. There are 120 check in desks and 20 self-service check in desks in the central terminal. Baggage claim is located in the central terminal and luggage carts are available for use. The terminals each have a bookstore, a small grocery store, newspaper stands and currency exchange stations. There are small local souvenir outlets available in several locations inside the terminals. All restaurants (including Spur, a full service restaurant and bar) are located on the third floor of each terminal. A medical station is located inside the central terminal. Comfort stations are spacious, clean and well maintained.

Cape Town International Airport Area Hotels
Airport recommended hotels include the Road Lodge Cape Town International Airport , which is located a half mile from the airport, offers shuttle services to the airport and nightly fares. For those needing more luxurious accommodations, the airport recommends the Hotel Verde, located a quarter mile up the road, and it offers complimentary breakfast and shuttle services with an average nightly rate that is great for many budgets. Cape Town International Airport is located at Cape Town, 7525, South Africa and uses airport flight code CPT.