Copenhagen pick up and drop off at CPH airport
Ground transportation to Copenhagen Airport
Serving Denmark's capital,Copenhagen Airport is a historic facility acclaimed for being the largest in the Nordic region as well as one of the most modern in the world. The facility is composed of two massive terminals; Terminal 2 and Terminal 3, with each terminal offering multiple floors of luxury facilities like VIP lounges, on-site lodging and world renowned restaurants. Ground transportation includes a bus line that stops at all terminals & parking lots, as well as Kastrup Station, which is located beneath Terminal 3 and offers trips to the city via the Øresund Railway Line. The airport is also home to Line M2 of the Copenhagen Metro, which is located two floors above Kastrup Station.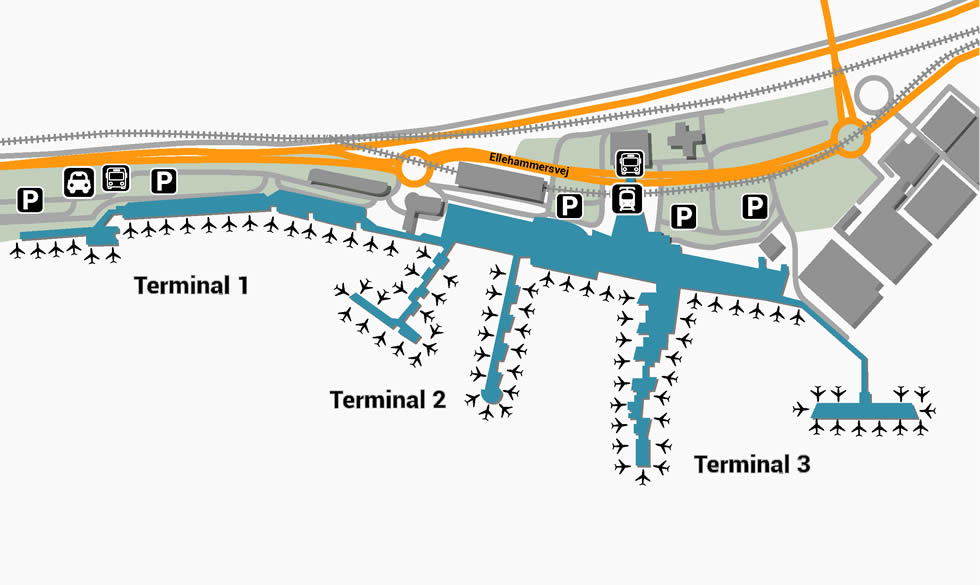 Parking
Copenhagen Airport is home to several parking lots that offer short-term and long-term where you need it. P4 is a multi-story garage adjacent to Terminal 2, offering covered parking s well as the closest convenience to the Car Rental Centre, while P5 provides cheaper uncovered parking behind P4. Between Terminals 2 and 3 are P6, home to covered parking as well as a 5-minute walk to either terminal – P6 also offers valet through its We Park You Fly program. Spots closer to Terminal 3 include various indoor garages P7 – P12, with the exclusion of P11's outdoor lot. Long-term options are limited to three budget lots east of Terminal 3, including spaces at P15, P17 and P19 – a shuttle also picks up at each lot every 15 minutes. Specialty services includes The Kiss & Fly Zone, which is a two-lane system that allows you to momentarily stop your car for a proper send-off, as well as electric car spaces reserved at P8, Level 2.
Services
Copenhagen Airport is home to various services that range from the basic to the amazing, whether you're in need of wheelchair rentals at the Assistance Center or help with transfers via electric carts throughout Terminal 2. Relax at the Ni'mat Spa & Wellness Center when you get the chance, enjoying the steam room, skin treatments and a cozy lounge with drinks & snacks, also considering an appointment with the airport's on-site physiotherapist, beloved by business travelers in need of a quick realignment before starting the day. Additional business perks include various public workspaces and lounges, some of which are located within Terminal 3's Clarion Hotel. Other freebies include complimentary Wi-Fi in each terminal as well as various duty-free shops that provide cheap necessities on the fly.
Retail
Unwind with some retail therapy when you get the chance, looking forward to 100+ shops scattered throughout both terminals – start with what's in the central plaza between Terminals 2 and 3, looking forward to fashion trends at Bottega Veneta, Burberry and Gucci, not to mention specialty gifts at Georg Jensen as well as a sizeable duty-free mall near the Customer Service Center. Exclusive hotspots in Terminal 2 include upscale threads from A Pair, as well as family-friendly shops ranging from H&M Kids to the toys at LEGO. Terminal 3 provides just as much variety with comfy clothes at JD Sports and Kauffman, as well as basic needs provided by a couple WHSmiths and a 7-Eleven. And for those in need of in-flight goodies to keep occupied, pick up a cool gadget at various Capi locations as well as a B&O Play in the central plaza.
Restaurants
Kick up your energy with a solid bite while you wait, starting with what's at Terminal 2 – grab breakfast with coffee at Starbucks, or try out some fresh pastries at Lagkagehuset Bakery. To-go eateries include Steff's Place and organic choices at Retreat, while sit-down eateries offer a multitude of choices that range from the festive ambiance of Pate Pate Winebar & Tapas to the colorful bites from YO! Sushi, not to mention upscale delights at Caviar House & Prunier. For those hanging out in Terminal 3, one-of-a-kind brews await at Baresso Coffee in the morning, as well as the immersive ambiance of Le Sommelier Bar & Bistro perfect for escaping the noise. And don't forget to try out unique confectionaries at various pop-up stands that include Terminal 2's Delicious by Nordic as well as Terminal 3's Peter Beier Chokolade.