Copenhagen CPH Airport Shuttle
As the most popular transportation hub in Denmark, Copenhagen Airport is a busy facility known for its helpful staff and surreal views of the bay. With instant connections to the Oresund Railway Line as well as a slew of private ride options, you'll be able to get to the fun sooner than later by having a game plan ready. Make the most out of each turn by booking with a nearby hotel for a free lift, whether it's courtesy of Clarion Hotel or the business-friendly Crowne Plaza Copenhagen Towers. Whatever you're visiting the famous Denmark capital for, know that you've got a lot ahead by simply looking to the sky.
Search for CPH airport rides

Trusted service since 2003

Flight Delayed? We wait.

24/7 Customer Service

Copenhagen Airport Transportation

Get a feel for historic moments by getting a local personal driver who knows the coolest ones, from the 17th-century observation deck at The Round Tower to the royal interior of Christiansborg Palace. For business travelers looking to impress, arrive to Bella Center both on-time and in-style with the help of a stretched limousine. Discover new things by reserving a private sedan to see the diversity up-close and personal, whether it's for a romantic stroll across Eremitageslottet or free-of-charge access to the enormous Botanisk Have Botanical Garden. Families looking to enjoy the area's old world charm should reserve either an SUV or chartered bus to check out iconic landmarks like The Little Mermaid sculpture and massive King's Garden downtown.

CPH Airport Transfers

Find other destinations that offer GO Airport Shuttle or search for other transportation providers at Copenhagen (CPH) airport.

Airport Ride Service

Looking for airport shuttle rides? Learn how you can get connected to the best shared ride van providers, sedans and private vans and view our airport transfer locations.
Copenhagen Airport Shuttle Services
Taxicabs, shuttle buses and high-speed trains are available from the airport to the city as well as other surrounding areas including parts of Sweden. They have a fleet of luxury sedans, limos and mini vans. AirportAndGo is another top shuttle service provider to hotels and different parts of the Danish capital.
For communication, you can find post office among Terminals Two and Three. You can have an access on wireless Internet throughout the entire terminals. If you're looking for Internet kiosk which is self service, this can be seen in transit areas of the Terminals Two and Three. For shopping opportunities, you can find several shops in all terminals including designer boutiques, Duty free shops, newsagents and more.
Private Sedan
Nyhavn is probably the most toured destination in Copenhagen. It offers magnificent views of the city and has a great atmosphere to relax. Let us drive you to this destination in our Private Sedan. If a relaxing vacation is what you are looking for hop into our private sedan and visit the Little Mermaid as you learn about one of the world's most famous fairy tales.
Private SUV
Most nature enthusiast will find Tivoli Gardens a perfect place to visit. This is a perfect place for family tours. Our private SUV will pick you in the evening as scheduled. You can't be able to see all the attractions in Copenhagen with just public transportation so our private SUV can be the perfect solution to that.
Stretched Limousine
All you want is comfort and class for your family. It is for this reason that we introduce you to our stretched limousine to drive you to the Church of savior. Travel around Copenhagen with ease and class in our stretched limousine and get to witness the Changing of the Guard (at noon) as the Royal Guard and Band march from Rosenborg slot through the city.
Taxi Cab
Rosenborg has an amazing castle that includes a nicely maintained lawn. Let our taxicab drop you off and spend some quality outdoor time. Whether traveling with your kids or your work mates our taxicab will be convenient as you find your way to Louisiana Museum for Modern Art located about 9 miles North of Copenhagen.
Local Personal Drivers
Our local personal drivers are friendly and highly skilled. Experience a difference as they drive you to the NY Carlberg Glycoptotek. Enjoy your trip to the fullest on your next gate away to Copenhagen with our local personal driver as you visit the city's first fortress, the Supreme Court.
Shared Van Ride
Get an insight of the History of this beautiful city and its natives by driving to the National Museum of Denmark. Our shared van ride is readily available to transport you. Make your holiday gate away what it is supposed to be; fun by using our shared van ride and experience the thrill of visiting Royal Reception Chambers.
Private Van
The David Collection includes a wide variety of collections of fascinating artwork that you cannot afford to miss. On your next trip to Copenhagen, reserve our private van as you travel to New Carlsberg Sculpture Collection to you experience a variety of musical events.
Bus
If you want to know about the fashion of the city, take our bus to Rundetaan. The next time you plan on a trip to Copenhagen join the fun with our bus as you pay visit to Christiansborg Slot (Christiansborg castle).
CPH airport terminals
CPH airport terminals can be tough to find your way through. This map will make life easier on your next trip through here. Whether you are looking for parking, where to meet your ride, or where to make your connecting flight you'll find its easier when you know where you're headed.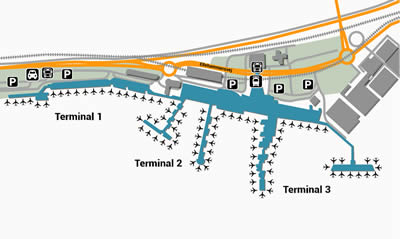 Copenhagen Airport Shuttles
Copenhagen Airport is the main airport that serves the city of Copenhagen and other surrounding areas in Denmark. Copenhagen Airport is the "main International Airport" serving Denmark, Zealand, Copenhagen, Oresund Region and the large area of Southern-Sweden (not mainly Scania).

When it comes to financial transaction in the airport, there are banks situated in Terminal Two; all terminals hold ATM machines, too. For those individuals who are looking for currency exchange, they can utilize "Bureaux de Change" in Terminals Two and Three.

For communication, you can find post office among Terminals Two and Three. You can have an access on wireless Internet throughout the entire terminals. If you're looking for Internet kiosk, which is self-service, this can be seen in transit areas of the Terminals Two and Three. For shopping opportunities, you can find several shops in all terminals including designer boutiques, Duty free shops, newsagents and more.

Because of its location, the airport has become the main airport for Scandinavia by providing transfers between many Scandinavian cities and airports to the south of the Baltic sea, and connections to different parts of the world. The airport code is (CPH), and according to Skytrax the airport has the best customer service in Europe. Other agencies have rated it as the most efficient airport in Europe, while some has stated that it's the best low-cost airport.

Copenhagen is located 8km from the CBD of Copenhagen and can be accessed using motorway E20. High-speed trains take only 12 minutes from the airport to the main station in the city. It is also 20 minutes away from Malmoe, Sweden. CPH has three terminals; Terminal 1,2 and 3.

Through its three lengthy runways, CPH serves about 24 million passengers annually and is one the hubs for Scandinavian Airline System, Norwegian Air Shuttle, Thomas Cook Scandinavia and Cimber Sterling. Many other European carriers offering domestic and international connections to different parts of the world also use it.

Hilton Copenhagen Airport is located within the airport premises, making a perfect resting spot for passengers in transit. The hotel is in proximity to the Metro Station, and recently received the Leading Business Hotel in Denmark award.

Copenhagen Hotel Shuttles
Passengers intending to spend the night or find hotel shuttles for CPH airport will be pleased to know that many hotels are located within short distance from the airport. You can choose your choice of accommodation based on preference, budget, reviews or star ratings.

Crowne Plaza Copenhagen Towers is located just 3km from the airport and offers a shuttle service. The hotel has conference centers, Wi-Fi access, a gymnasium, an onsite restaurant and business services.

Park Inn By Radisson Copenhagen Airport is located a short 3km from the airport. It is an ideal choice for anyone, including families, couples, lone travelers and business people. The hotel boasts an indoor pool, business services, sauna and Wi-Fi in very room. A fitness center and onsite restaurant are also available. And it is a few minutes' walk to the Metro station.

The Hilton Copenhagen Airport Hotel is situated in the airport, which can be accessed through covered alley from Terminal Three. They provide a variety of fitness, business and dining facilities. There are 29 meeting rooms, which can be utilized by guest and non-guests.  

For those individuals who are looking for affordable hotel, the Park-Inn Copenhagen Airport Hotel is best for you. This is 1mile away from the airport and guest can access their parking area for free. Even the indoor swimming pool, fitness center and beach nearby can be use and explored. They also offer meeting place that is available for hire.

The Quality Hotel Dan offers fitness and dining facilities, along Wi-Fi Internet connection for free. The hotel is 1 mile away from the airport and it offers gracious shuttle services from and to the Copenhagen airport for the guest.

The Crowne Plaza Copenhagen Towers is recognized as eco-sustainable hotel, which offers electric bicycle and car rentals, spacious designer room with flat screen TV and free airport transfer using their shuttle. Tivoli Gardens and Copenhagen city is just 7 minutes away via train.

The AC Hotel is located next to the Copenhagen Bella Center. The hotel features modern and distinctive architecture and 23rd floor sky bar. The rooms are soundproof with coffee/tea makers, floor to ceiling windows and flat screen TVs. Airport shuttle rides are offered for free.

Copenhagen Restaurants
The Food Market is open from 4:30 to 22:00, which offers pre-cooked salads, sandwiches and wraps. Located after international departure security area and domestic departure area too.

Cia is open from 7:00 to 21:00. This restaurant offers healthy self-service fast-food place, which can be located prior security area in the Terminal.

The Horizon All Day Restaurant: Open from 5:30 to 22:30 during weekdays while 6:00 to 22:30 during weekends. This is a buffet restaurant, which offers international and Danish dishes, which can be located at the adjacent area of Hilton Hotel.

Copenhagen Attractions
Tivoli Garden enchants and amuses local citizens and travelers globally because of its small fairytale village, which is very captivating. Copenhagen Zoo is not just adored by children but adults as well. They offer wide variety of animals along with several environments like nocturnal, tropical, South American pampas and African savannah.

CPH Contact Information
Copenhagen Airport
Lufthavnsboulevarden 6, 2770
Kastrup, Denmark
Airport Code: CPH