Trusted service since 2003

Flight Delayed? We wait.

24/7 Customer Service

Bonn Cologne CGN Airport Shuttle

Book reservations for airport shuttle, taxis, sedans and limousine service to and from the airport.

CGN Airport Transfers

Find other destinations that offer GO Airport Shuttle or search for other transportation providers at Cologne (CGN) airport.

Airport Ride Service

Looking for airport shuttle rides? Learn how you can get connected to the best shared ride van providers, sedans and private vans and view our airport transfer locations.
Cologne Airport Shuttle Service
Cologne Bonn offers a unique parking system that makes in and out parking simple and quick and with more than 12,000 spaces, you are sure to find a spot.
Shared Ride Van
Whether you visit the town of Cologne in a train or an airplane, hiring a shared van is a must to reach your destination. In fact, it is an ideal way to discover the stunning beauty of Cologne Cathedral and Museum Ludwig.
Private Van
Explore the Cologne Zoological Garden and aroma of Fragrance Museum by hiring our topmost private van services. These are the comfortable mode of transport, for convenient transfers from one landmark to another.<br>
Private Sedan
Need a luxurious ride straight from the airport to your hotel? Get online access to our Private Sedan services, and also visit the beautiful Lanxess Arena in a short while.
Local Personal Drivers
Our Local personal Drivers operate a different kind of vehicles and can take you for a ride to discover Schnutgen Museum and St. Maria im Kapitol, in your favorite car.
Private SUV
All those people who are fond of SUVs can fulfill their dream by renting a Private SUV in Cologne, to discover the history of the Shrine of the Three Kings and Cologne Tower.
Taxi Cab
Our Taxi cab provides several services, including airport transfers, door-to-door services, service to downtown Cologne and pickup and drop off services. Exploring Colonius and EL-DE Haus becomes easier by hiring a cab here.
Stretched Limousine
Whether you came to Cologne by traveling through air transportation or ground transportation, scouting around Cologne Opera and Gloria theater can be so much fun by renting a stretched Limousine car.
Bus
Our shuttle buses are equipped with a music system, air conditioners, and TV screens and are just perfect to be your travel partner when hailing around Cologne.
CGN airport terminals
Breeze your way through CGN with this terminal map and make your layover the best part of your trip. You can find out where to meet your connection or where to grab a quick bite, whatever you need you'll find it here.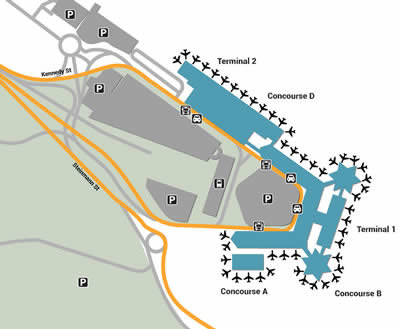 Cologne Airport Shuttles

Cologne is the 4th largest city in Germany and has many attractions for the whole family. Apart of Rhineland it has some great art scenery and contains over thirty museums that visitors can visit with 100's of galleries to view.

There are digital displays that let you know if lots are full and will direct you to open spaces in each lot. There are four lots, three for regular long and short term parking, and a lot for oversized vehicle parking.

There is a railway station located across the loop from the airport. Long distance trains run every half hour in each direction. Terminal 2 offers a covered walkway between the airport and train station. Tickets for the train can be purchased at Terminal 1. There is a bus stop located at the terminal. Bus 161 is the route to downtown and runs every half hour to hour.

Avis, Hertz and Sixt are all available at the rental agency counter located inside Terminal 2 at Concourse D Departures. The rental car lot is located outside Terminal 2 to the left. There are more than 50 taxis on site at the airport throughout the day if there are none on site, wait time is usually less than five minutes . Rates are posted on cab doors. Cologne Bonn is located at Kennedystrasse 51147 Köln Germany and uses airport flight code CGN.

Hotels near CGN
Hotel by The New Yorker is the highest rated hotel 4.3 stars near the airport less than five miles that offers complimentary shuttle service to the airport and has an average nightly rate of $75 USD 58.6 Euro. For those who want something closer to the airport, consider the Mercure Hotel Koeln less than 1 miles from the airport and averages a nightly rate of $59 USD 36 Euro.

It's So Simple at Bonn Cologne Airport
Built in 1913, Cologne Bonn Airport is a beautiful international airport located nine miles from the southeastern part of the city of Cologne and 10 miles from the city of Bonn. It is the fourth largest airport and lies in the fourth largest city of Germany. More than 9 million passengers travel through the airport annually on more than 30 airlines, including Austrian Airlines and SunExpress Airlines, as well as several seasonal only airlines. There are two main terminals with two terminals. Terminal 1 houses Concourse B and C, while Terminal 2 houses Concourse D. Fed-Ex, UPS Airlines and USPS International are also serviced at Cologne Bonn Airport.

CGN Airport Terminals
Information stands are located inside the front entrance to each terminal. There are ATMs throughout both terminals past security checks. Duty Free gift shops, including a Haribo and a Hugo Boss, are located past security. Reinse Bank (the only banking company available) offers currency exchange for most currencies. Wireless Internet is available for all passengers. Comfort stations are spacious and well maintained. Dining fares include Burger King, Food of Asia, McDonalds, Starbucks, Subway and several grab and go stations for quick food. There is also the Sion, which offers a full service bar and sit down dining fare.

Each year The Cologne Trade Fair hosts numerous trade shows such as the Photokina, Art Cologne and Gamescom. Located on each side of the Rhine River Cologne has many popular landmarks but one of the most popular is the Cologne Cathedral or Kölner Dom where the Catholic Archbishop of Cologne resides.