Cologne Bonn pick up and drop off at CGN airport
Ground transportation to Cologne Bonn Airport
A historic facility that serves as a major international airport for West Germany, Cologne Bonn Airport is one of the country's busiest facilities and growing. Just a few miles southeast of the city of Cologne, the airport is shrouded from urban noises by the oases of Wahner Heide Nature Reserve. There are two inter-connected terminals; Terminal 1 and Terminal 1. Terminal 1 is home to various unique designs that include a u-shaped shopping mall as well as two piers in the shape of Stars of David, while Terminal 1 is located north of Terminal 1 and home to a modern rectangular design. Ground transportation includes various bus lines as well as access to the Cologne/Bonn Airport Station, which features 4 different tracks serviced by ICE Trains and the S-Bahn (Line S13).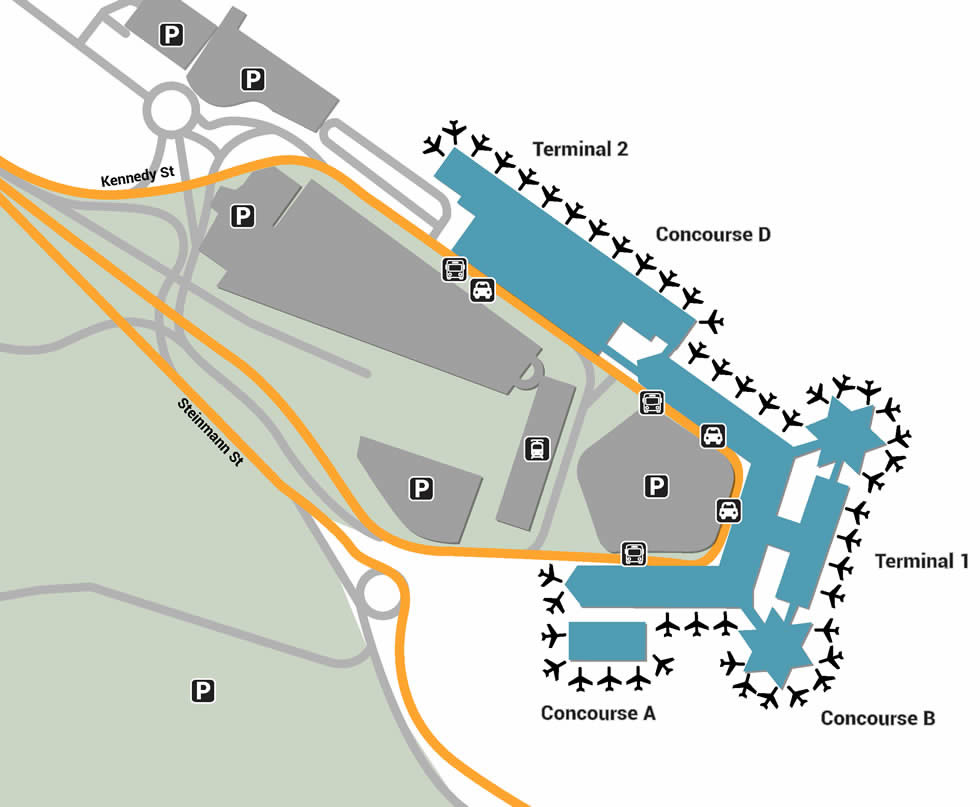 Parking
There are three main parking lots throughout the airport offering short-term, long-term and executive parking options. Car Park 1 is a two-level short-term lot located adjacent to Terminal 1 and is ideal for dropping off a family member either to the terminal or the nearby railway station. Car Park 2 is another short-term lot with slightly better rates as well as six levels of spaces to choose from, while Car Park 3 is the furthest garage from the terminal, offering six levels of budget parking for stays past 1 day. Smaller low-key car parks include P20, which offers easy access to Terminal 1's arrivals level, as well as P32 and PN (Car Park 'Nord'), which provide easy access to Terminal 1's arrivals. Specialty perks include handicap parking at each lot as well as promotional discounts for those who reserve online.
Services
Services at Cologne/Bonn Airport are varied, ranging from basic necessities like free Wi-Fi and currency exchanges as well as convenient medical services that include a pharmacy, dental suite and massage parlor. Business services include The Wöllhaf Conference and Banquet Center along Level 3 of Terminal 1 as well as specialty suites at the Leonardo Hotel, which is just a five-minute walk from the terminal. There are also two business lounges; The Lufthansa Business Lounge in Terminal 1 and the simply named Business Lounge in Terminal 2. Family services include a large supermarket, night tours of the airport as well as a few visitor's terraces in Terminal 1 that offer views of the runway. Other unique accommodations include a casino game room in Terminal 2 as well as a large shopping mall in Terminal 1.
Retail
The airport is home to a handful of shops, most of which are located in Terminal 1's U-Shaped shopping mall. Look forward to various clothing brands that include Esprit, Gant and Hallhuber, as well as supermarket goods from REWE City Market. Those in search of specialty souvenirs or in-flight necessities should also find what they need at various duty-free shops that include several Heinemann and Kirschner locations as well as tobacco goods from Tabak & Co. And don't forget to pick something up for the little ones, whether it be a fun toy from Kirschner Kids or colorful sweets at Haribo. Other unique shops include electronics from Phone Office as well as confectionary chocolates at Coppeneur Chocolatier.
Restaurants
Choose from over a dozen eateries while you kick back, looking forward to incredible eats that range from simple bites to full experiences. Wake up to fresh-baked muffins and coffee at either Kamps Bakery or Cafetiero, also considering the familiar menu of Starbucks. Other fast food joints include McDonald's and Burger King, not to mention the German delights at Die Ess-Bahn. Takeaway favorites include pre-made salads and snacks from Cafe Bistro Leysieffer as well as quick-serve from Snackbar Blue. And don't forget to top it all off with a special sit down from various night-time hangouts, whether it be the relaxed cocktails at both B_Bar and Rendezvous, or unique dishes that include classic German at StäV as well as fresh Italian from Goodman & Filippo.