Cleveland Hopkins International CLE Airport Shuttle
Bordering Lake Erie, Cleveland is home to Cleveland Hopkins International Airport, where travelers can book airport shuttle transfers to nearby locations at the Huntington Convention Center of Cleveland or downtown hotels. Available rides for driver pick up include the popular shared ride van for those looking to keep more money in their pocket with a little more driving time. Taxi cab pickup is another quick way to get around the city and can be cheaper than most options. You can also get service the moment after you pick up your luggage from the baggage claim with our meet and greet service which you can get when you make reservations for limos and sedans.
Search for CLE airport rides

Trusted service since 2003

Flight Delayed? We wait.

24/7 Customer Service

Cleveland Airport Transportation

The CLE airport is conveniently located in the heart of Cleveland and is a very short distance to the Cleveland Convention Center. Taxis are available with professional drivers who can transfer you to most places in the city. You can also get to many nearby resorts such as Cedar Point attractions and historical points through local shuttle and airport limo providers.

CLE Shuttle Transfers

Find shuttle transportation or Zumu private black car rides from AirportShuttles.com to the Rock and Roll Hall of Fame or other notable landmarks in the area.

Airport Pick Up

Find competitive rates and friendly drivers from American Limousine who can pick you up in shuttles, clean stretched limos and for smaller groups a luxury sedan throughout downtown Cleveland such as The West Side Market.
Cleveland Airport Shuttle Service
CLE airport cab and shuttle bus rides can get you to your hotel or destination at cost effective prices.
Shared Ride Van
Make the most of your trip with our shared vans; share a ride and save on traveling to great tourist places like the Playhouse square.

Private Van
Best in the business door-to-door private van service, providing highly dependable rides in Cleveland from your doorstep to your destination.

Private Sedan
We have professional drivers at our employ that will get you there in no time at all; preferred destinations in Cleveland include the Cleveland Metroparks Zoo and the Great Lakes Science Center.

Local Personal Drivers
If you want to gamble away at the Horseshoe Casino or admire art at the Cleveland Museum of Art, we have reliable drivers waiting to take you there on time.

Private SUV
If you want to catch a football match at the FirstEnergy Stadium – home of the Cleveland Browns – with your buddies, then you can book our SUVs with lots of seating space and professional chauffeurs.

Taxi Cab
High quality taxis for hire, as you seek to visit every notable place in Cleveland, ranging from the West Side Market to the Greater Cleveland Museum.

Stretched Limousine
Elegance and class all combined into one smooth ride! Book our private limousines and get new discounts for transportation in Cleveland.

Chartered Bus
Want to rock the house down? Our bus-for-hire service will take you and your group to the greatest tourist attraction in Cleveland: The Rock and Roll Hall of Fame.
CLE airport terminals
Cleveland Hopkins International Airport has so much to offer to travelers. Make the most of your airport visit by knowing where all of the amenities are located.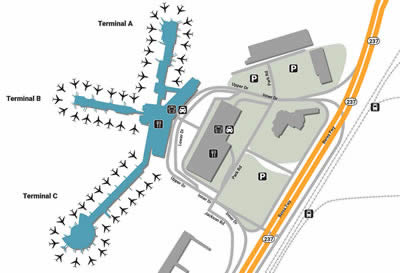 Cleveland Airport Shuttles
CLE airport is offers shared ride vans and taxis, which is near the coastline of Lake Erie at the upper northeastern part of the state of Ohio. In 1925 Cleveland International Airport introduced the nation's first municipal airport and has been growing since its inception.

The airport lies less than fifteen miles from downtown Cleveland and offers shuttle services, public transit, direct rail, rental cars and taxis to help you with all your transportation needs. The direct rail has a quick twenty-minute commute to downtown Cleveland. The taxi service of Cleveland Hopkins International, unlike many others, manages a rate system that is based off of zones rather than metered rides.

The Best of It All at Cleveland Airport
Cleveland Hopkins International offers more than twenty Cleveland hotel accommodations that are close to the airport and the heart of the city. Many of the hotels located a few miles away offer easy access to airport shuttle stops. One of the best ranked and recommended hotels near the airport include the Cleveland Marriott and Crowne Plaza Hotel Independence. If you need to get a ride to The International Exposition Center I-X Center then we offer groups rates with plenty of luggage room for you to be picked up and dropped off quickly to surrounding Cleveland neighborhoods.

Amenities at CLE Airport
Cleveland Hopkins International offers many unique ways of dining at their establishments including more than fifteen specialty item stores, newsstands and an information center for those needing additional information. There is free parking for more than seven thousand vehicles or you can book car rentals from staff that can help you with all your needs. 

While visiting downtown Cleveland you can enjoy the Cleveland Museum of Natural History and the Rock and Roll Hall of Fame. In addition you join in the celebration each season at the Cleveland International Film Festival and the Winterfest.

CLE Contact Information
Cleveland Hopkins International Airport
5300 Riverside Drive
Cleveland, Ohio 44135
Airport Code: CLE
Transfer to area locations in Cleveland

You can travel throughout the city of Cleveland and find many places you can visit from local events to museums around the downtown area. Travelers can always find something new to do when they come to visit.