Christchurch pick up and drop off at CHC airport
Ground transportation to Christchurch Airport
Just northwest of New Zealand's seaside city of Christchurch, Christchurch International Airport is the second-busiest airport in the country and an important transportation hub for the South Island. The airport is home to a single terminal with two floors, the lower level offering arrivals for domestic & international travelers and the upper level providing gates for departures. Ground transportation includes the 24-hour Airport Hopper shuttle, which picks up at the EconoPark every half hour, as well as three Metro Red Bus routes that drop off into the city, including The Purple Line as well as Numbers 29 and 125.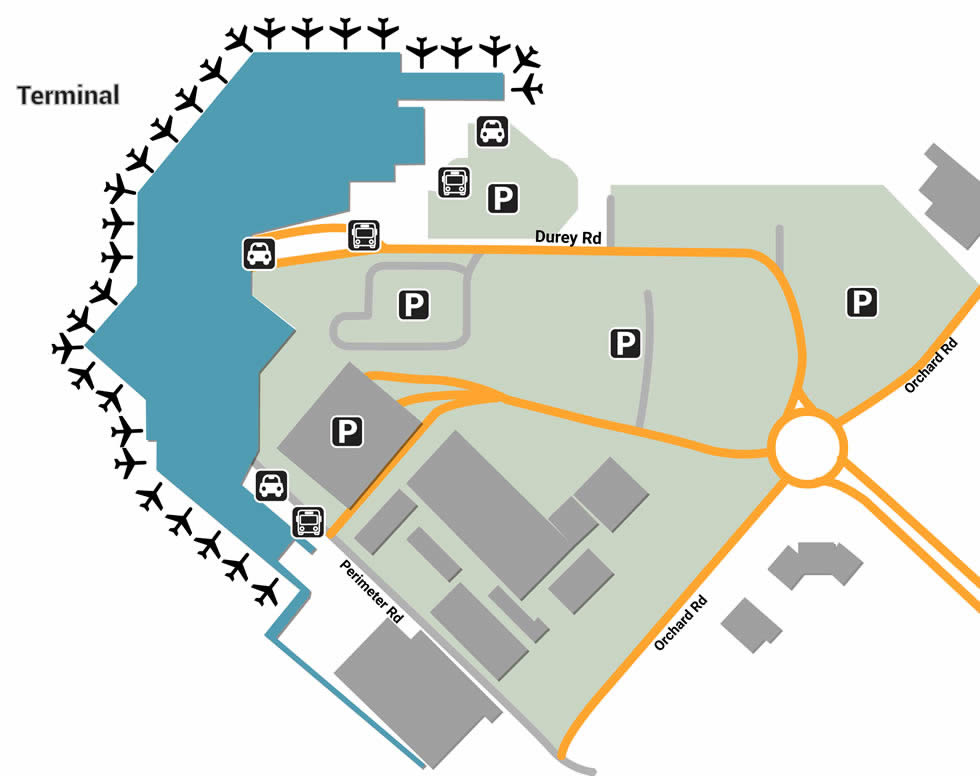 Parking
Christchurch International is home to five main parking areas that provide both short-term and long-term spaces as well as specialty services for the disabled and executive travelers. Short-term parking is available at the Short Stay Lot, which provides uncovered spots as well as a convenient 3-minute walk to the terminal. Long-term parking is available in two forms; the Long Stay Lot and the Craddocks Lot. The Long Stay Lot is home to uncovered spots about 5 minutes walking-distance from the terminal, while the slightly further Craddocks Lot provides a much lower rate as well as airport shuttles that depart every 15 minutes. Those looking to drop a passenger off can choose between the speedy drop-off zone at The Loop near arrivals or the Orchard Road Car Park cheap hourly rates that includes the first 30 minutes free of charge. Other parking perks include mobility ramps, valet services for select airlines and online reservations.
Services
Kick back with services that make things simple as well as entertaining, looking forward to basic necessities like ATMs, luggage carts and currency exchanges as well as unique attractions perfect for making delays fly by. Family services include various Parent Rooms in both international and domestic departures as well as a large children's play area that includes games and entertainment at Time Zone, Time Out and KidZone. For executive travelers, on-site luxuries can be discovered at three separate VIP lounges as well as the on-site Sudima Hotel Christchurch Airport, which provides free 24-hour shuttles to the airport and comfy business suites. Other unique services include free showers (soap & towels cost money) as well as a simulated cruise through ice & snow at the International Antarctic Centre – get there by following the blue footprints.
Retail
Home to 30+ retailers, Christchurch International provides a modest shopping experience through its on-site Spitfire Square, a sizeable shopping mall located at the entrance of the airport. Enjoy fashionable accessories from Sunglass Hut and MAC Cosmetics, also considering New Zealand-based threads from Roam Clothing + Design Store. You can also pick up a specialty souvenir from a handful of gift shops that include Antarctica's ice-themed gifts and Global Culture's New Zealand-made merinos perfect for any occasion. Last-minute necessities can also be found through a few Relay hops as well as a JR Duty Free, while tech and tech-accessories can be found at Tech2Go.
Restaurants
Most eateries at Christchurch International are located along the arrivals hall food court, though various unique restaurants are also located near departures. Enjoy over a dozen relaxed atmospheres that include morning delights from Underground Coffee Company and The Coffee Club, as well as take away delights ranging from fresh smoothies at Tank to bite-sized meals at Healthy Habits. Lunch spots include western-style fast food from Burger King as well as family-friendly options at South Bar & Café, while those more interested in a sleek dining experience should sit down for bento boxes at Sakura Sushi Bar, or indulge in modern New Zealand cuisine at Number Eight. Other unique eateries include make-your-own soups from Noodle and 24-hour dining at Long White Café.