Soekarno-Hatta pick up and drop off at CGK airport
Ground transportation to Jakarta Airport
Just west of the Indonesian capital city of Jakarta, Soekarno-Hatta International Airport rests on the island of Java and offers a wide variety of services and amenities across four terminals. Terminal 1 is located on the south end of the airport and offers three concourses labeled A, B and C – Terminal 2 is on the northwest side and provides connections to concourses D, E and F. Terminal 3 is on the northeast side of the facility and provides a thoughtful eco-design, while Terminal 4 is built in the same fashion but on the far north end. All terminals are connected by a Skytrain people mover as well as shuttle buses, while general ground transportation includes access to downtown Jakarta via the Soekarno-Hatta Airport Rail Link.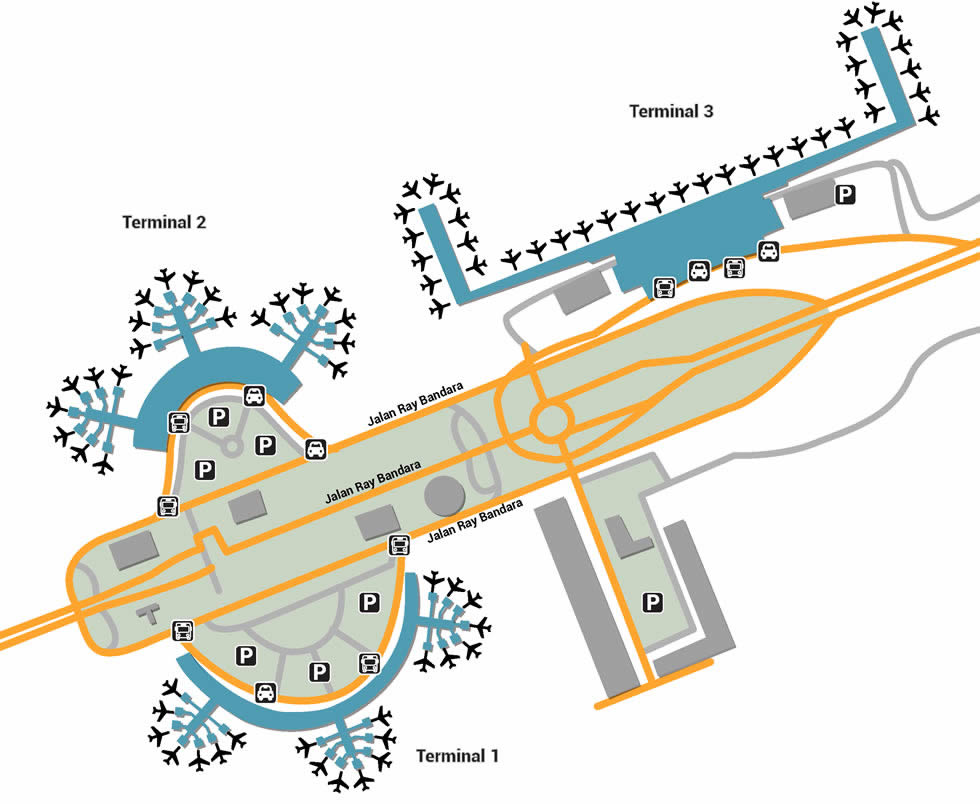 Parking
Soekarno–Hatta International Airport offers both short-term and long-term parking for all terminals. Short-term parking includes over 2,000 spaces in a surface lot near Terminal 1 as well as a multi-level garage near Terminal 2's F Concourse. Short-term parking for Terminal 3 can be found at the multi-level garage dubbed the Terminal 3 Domestic & International Parking Building. The first 30 minutes at each short-term parking lot is free of charge for those dropping off. Overnight parking can be found near Terminals 1 & 2 as well as beside the Air Traffic Control Tower, while long-term parking is exclusively located near Terminals 2 & 3. Additional perks include valet services as well as shuttle buses between terminals and long-term lots.
Services
Jakarta Airport services are varied, including expected accommodations like free Wi-Fi, ATMs and currency exchanges as well as specialty care for family & business travelers. Family perks include five nurseries across all three terminals as well as seven play areas dubbed 'Kid Zones'. Services for the disabled are also provided through close parking spots, on-site pharmacies and rentable wheelchairs. For executive travelers, enjoy the convenience of seven VIP lounges that come fully equipped with conference rooms, showers and smoking lounges, also looking forward to cozy nap rooms at the on-site Jakarta Airport Hotel. Other unique services include relaxing spa treatments at Tao Reflexology as well as an expansive shopping arcade in Terminal 1's Concourse C.
Retail
Each terminal is home to its own shopping area, the most expansive being the Shopping Arcade in Terminal 1's Concourse C. Look forward to a wide variety of fashions that range from local hotspots like Aero Boutique and Spring Time to upscale looks courtesy of Polo, Guess and Coach. If you're looking for a souvenir, be sure to pick up something local at either Keris Department Store or Opalindo Handicraft Center. And don't forget to get something for the kids, choosing between memorable dolls and games at Toys Shop or various clothing & accessories items at Cool Kids. Other conveniences can get picked up at various all-in-one retailers, whether it's the snacks and drinks from Alfamart or the last-minute necessities courtesy of Family Mart.
Restaurants
Another great way to pass the time at Jakarta Airport is through its unique eateries that celebrate local flavors as much as international. Wake up to early-morning eats from various hotspots that include the traditional recipes of Baranusa Café, spacious seating & indoor smoking at JJ Royal Coffee as well as full-service sit downs at Warung Kopi Batavia. If you're more in the mood for lunch, you'll have various options that include fast food from A&W, BIM Burger and KFC as well as favorite meatball & noodle joints like at Bakmi GM and Dapoer Mie. Other specialty restaurants include 24-hour Indonesian from Selera Resto and Mini Park Corner as well as baked goods at Crispy Puffs and Holland Bakery.