Soekarno–Hatta International CGK Airport Shuttle
Located on the coffee-growing island of Java, Soekarno-Hatta international is located just west of Jakarta as well as north of the city of Tangerang. A busy airport often surrounded by traffic, the region is one you'll want to get out of immediately. Use the help of a shuttle from Swiss-Belinn Airport, or stay close to your terminal by staying at the on-site Jakarta Airport Hotel. See even more of the region by getting a private ride for an afternoon of exploring, looking forward to the rough terrain of the outskirts as much as sunsets along the bay of North Jakarta.
Search for CGK airport rides

Trusted service since 2003

Flight Delayed? We wait.

24/7 Customer Service

Soekarno–Hatta Airport Transportation

Make everything easier by having something to look forward to, a task made easy with so much to do. Reserve a sedan to get through narrow streets as easy as wide ones, exploring folksy landmarks ranging from Wayang Museum's puppets & dolls to the Museum of National Awakening spiritual installations. For families looking to have an old-fashioned time, book an SUV to have all the freedom in the world, spending hours in the rainforest-backdrop of Ragunan Zoo while spending the evening at Taman Impian Jaya Ancol amusement park. Business travelers in need of a simple drop-off should make arrangements with a meet-and-greet service, deciding whether they want to stop by Jakarta Convention Center with a quick taxi or take advantage of neighboring eateries with the luxury of a limousine.

Choose from our list of transfer options to explore Indonesia's island of Java, looking forward to an especially energizing day in the world's coffee capital. Zip through town at espresso speed with a taxi, or look forward to a more decaf transfer via relaxed meet-and-greet services ranging from limousines to local personal drivers. Wherever the day takes you, we've got you covered.

CGK Airport Transfers

Find other destinations that offer GO Airport Shuttle or search for other transportation providers at Banten (CGK) airport.

Shuttle Locations

Looking for airport shuttle rides? Learn how you can get connected to the best shared ride van providers, sedans and private vans and view our airport transfer locations.
Banten Airport Shuttle Service
There are many shuttle services available just outside the arrival halls at CGK and these will take you to different destinations and hotels in and around Jakarta. The following shuttle services have been rated for efficiency. GO Airport Shuttle, Carmel Shuttle and AirportShuttles.com. These provide luxury sedans and vans to your preferred destination.
Perfect for simple one-ways to your resort, a shuttle is one of the most efficient ways to get either to or from the airport, whether it be for a fun vacay or bustling island business trip.
Shared ride van
Anyone who is out to have some wonderful time should try out a shared ride van and you can travel to the Ujung Kulon National Park. The vans are capacious and rather comfy. Move steadily through Java at the island's pace with a shared ride van, the ideal transfer for those with a slower pace of life and zero expectations.
Private van
Another promising destination in this region is the Tangerang. With a flawless travel, you are highly likely to love this spot. There is no better way of getting to this destination than in our private van. Larger groups in search of tropical adventures can stick together with a private van, the ideal choice for carrying up to a dozen passengers with intimate grace.
Private sedan 
If for anyone who would like to travel to the port of Merak, there is the private sedan to take care of your every need. Our chauffeurs are highly experienced and they guarantee you a great time. For smaller groups of up to four, a private sedan should do the trick – book today for the chance to visit world-famous beaches and go on lush road trips across the island at your own pace.
Local personal driver
The Soekarno-Hatta International Airport gets busy quite a lot and you will need highly reliable transport services, something that is offered by our local personal drivers. Those unfamiliar with the terrain can benefit a lot from a local personal driver, not only in terms of saving time but discovering otherwise unseen hangouts.
Private SUV
Teluknaga works pretty well for anyone looking for some fun time. It is especially exciting when you hire a private SUV. Families planning a beachside getaway should consider a private SUV as their set of wheels, enjoying enough room to carry six people with safety and ease.
Taxi Cab
If you are in these parts of the world, you should find it interesting to visit Cilegon. A taxicab will certainly treat you to the experience you long for. The best way to accompany the island's fast-paced buzz is through a taxi for airport pick-ups. Enjoy rides into town, or to your hotel, commitment-free.
Stretched limousine
Rangkasbitung is another great travel destination. a stylish visit can be facilitated by a stretched limousine. Reserve a stretched limousine to make grand arrivals to wherever. A city known for its priceless beach vistas, there's no reason luxury can't be stirred into the mix.
Bus
If you are headed for the Pandeglang regency, you should probably give a shot at one of our buses. Spacious enough to carry dozens, a bus can save a lot in time, whether it be for a badminton field trip or sizable work convoy on the way to nearby convention centers.
CGK airport terminals
Once you land at CGK you might think to yourself, where do I go now? This terminal map will help you get to where you need to go. Find all the restaurants, shops, and coffee shops you could wish for.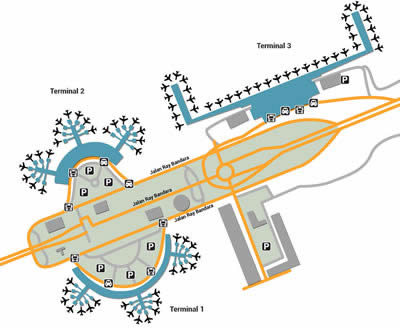 Soekarno-Hatta International Airport or CGK is one of two airports serving the island of Java, Indonesia. It was named in honor of the country's first president, Soekarno, and vice-president, Mohammad Hatta.

Enjoy a shared ride van, taking it to places such as Peucang Island, where you can enjoy the beautiful view of water. Pick-ups can also be scheduled. If you want to go somewhere with a larger group, consider booking one of our private vans. Easily make your way from the shopping center at Summarecon Mal Serpong to other places around.

Head out to sights like Sawarna Beach with your spouse or significant other in one of our private sedans. This is the perfectly sized car for intimacy and friendship as you make your way around. See Banten through the eyes of one of our local drivers, seeing sights like Inner Baduy or the Museum Benteng Heritage.

Take a Private SUV out to see the Indonesia Convention Exhibition, which houses some great opportunities for learning, shopping, and adventure. Get picked up or dropped off by one of our many reliable taxicab services at the Banten Airport.

Have some fun in style by taking a stretched limo to Scientia Square Park, where there is a lot of adventure and fun to be had throughout the Park. If you're a group of high-adrenaline adventures, take a bus out on a volcano tour. There's plenty of room for all the gear you'll need and one of our bus drivers can safely transport you from there and back again.

Taxis notably Bekasi, Gambir and Deepak are available from outside the arrivals hall, you may need to wait for one before it comes along. The DAMRI shuttle bus runs from all terminals to different areas of the city.

shuttle services are available between terminals. A new shuttle service is expected to open to the public by 2015 to help with the added airport traffic. There are also many rental and public transit opportunities for travelers. The airport also has a bus service available.

At a Glance
Also known as 'Jakarta Airport', Soekarno-Hatta International is a three-terminal, two-floor building. The airport is designed in the shape of a flower. The top half of this flower is Terminal 1 – it is also the oldest part of the facility. The bottom half of the flower is Terminal 2. Each of these terminals are decorated in traditional Indonesian art, and are used for domestic flights only, with the exception of some international budget airlines. Terminal 3 is a smaller building located separately. Designed in futuristic fashion, it is solely focused on international flights.

Meet-Up Locations & Ground Transportation
There are several meet-up spots for those awaiting a driver. For Terminal 1, the best spot is by the taxi line, which is located outside Concourses 1C and 1B. For Terminal 2, the best spot is the information desk, located between the two baggage claim belts. And for Terminal 3, a good spot is by the SkyTrain Station, after you leave the building. Ground transportation includes a free shuttle bus that connects to terminals every ten minutes. The Soekarno-Hatta Railway Station (SkyTrain) is located outside every terminal, and takes about 40 minutes to reach downtown Jakarta. The long distance between the airport and Jakarta make having solid transportation that much more important – you can avoid public transfers by booking a meet-and-greet with us ahead of time, whether it be a modest local personal driver who can show you the ropes, or a chauffeured limousine waiting to carry you in style.

CGK Hotels
There are several interconnected hotels for each terminal. The main hotel for Terminal 1 is d'primahotel Airport Jakarta, located by the 1A Concourse. They offer hourly rates that include curtained-off sleeper couches ideal for layovers, plus basic rooms for overnight stays. An attached bistro & coffee bar also makes things cozy. Jakarta Airport Hotel by Topotels is the mainstay for Terminal 2. It offers casual 3-star amenities that include a bistro with tarmac views and parquet flooring. Fully furnished rooms with desks and couches make for great business trips. It should be noted that this hotel does not have an elevator, which may be a deal breaker for those with a lot of luggage. The last on-site choice is Digital Airport Hotel, a 1-star option located within Terminal 3. Guests are greeted by a friendly robot on their way to futuristic sleeping pods. Lastly, Bandara International Hotel by Accor is the closest off-site option. Located just a minute away and especially close to Terminal 3, they offer 5-star amenities through a lavish rooftop pool and patio, in addition to a fitness center and billiard hall.

What's Near the Airport?
There's a lot to do practically on-site at the airport, most of which is located just south of Terminal 3. The Cengkareng Golf Club is home to a massive golf course and relaxation zone connected to the Jakarta Golf Club, each offering hours of opportunity to network. Known for their great margaritas and tranquil massages at the attached Delta Spa, this is a great spot to chill out before flights. Another great locale is the Soewarna Foodhall, also located south of Terminal 3. The location offers traditional Indonesian food in an outdoor scenery, so expect a lot of heat in the summertime. Many say the ribs are especially worth trying. Those in search of a walk through nature should consider Taman Wisata Alam Mangrove, a wildlife sanctuary just 14 minutes from the airport. The vast park offers beautiful strolls through Indonesia's famous mangrove forests, with views of monkeys and tropical birds.

Hotels near CGK
Located near the airport are the Sheraton Hotel and Jakarta Hotel. The Sheraton Hotel, located just off exit road from the airport, hosts 220 guest rooms. The Jakarta Hotel is located on airport premises on the upper floor of Terminal 2. These two hotels provide the accommodations essential to weary travelers such as comfortable beds, AC, cable television, and more.

The Jakarta Hotel is an on-site at the Soekarno Hatta . A number of other hotels are available nearby and passengers can inquire at the visitor desk for information regarding other hotels in Central Jakarta.

Sheraton Bandara is an upscale hotel located in close-proximity to the airport. A shuttle service is available for guests to and from the airport. The hotel has an indoor fitness center and spa. Among many intriguing features, free parking, Wi-Fi and breakfast and dining options are available.

Pullman Jakarta Indonesia is another highly rated hotel located a few minutes' drive from the airport. The hotel offers a complimentary shuttle to and from CGK and among many amenities it there are various local and international cuisines.

About Banten Airport
The airport hosts two paved runways, three terminals, and are equipped with 180 check-in counters that serve as your gateway to 45 gates. A third runway has been planned for 2015 to prepare for the increased traffic in the years to come. Despite operating beyond capacity, Jakarta Airport was deemed safe by the Airport Council International (ACI).

Travelers can navigate the airport very well based on the visual aids located throughout the airport. There are many kiosks with knowledgeable staff and maps located in many convenient locations. Signs above corridors also guide passengers to their appropriate terminals and gates. Multiple languages are available.

Indonesian inspired architecture and art decorates the corridors of the airport. Hatta International has many tropical plants located throughout the airport corridors. Those who are departing and arriving can pick up local gifts or even grab a gadget or two from the Duty-free shop. The airport is also equipped with many eateries both local and international. Free Wi-Fi is available in most areas of the airport; full accessibility in all terminals for passengers is expected by year-end 2014.

Jakarta Soekarno-Hatta International Airport is now the world's 8th busiest airport in the world and the number one most busy airport in the southern hemisphere. 62 million travelers made their way through CGK in 2014.

Soekarno–Hatta International Airport is currently equipped with three terminals. Terminal 1 is for domestic flights only and is located on the south side of the airport. The second terminal has dual functions as an international and domestic terminal on the north side. Terminal 3, the newest terminal, serves international and domestic flights as well, but has different airlines than Terminal 2. Terminal 3 is located on the eastern side of the airport and has a more modern design than terminals 1 and 2. The airport is also equipped with a freight terminal that is currently located on the east side of terminal 1. Almost 50 airline companies provide service through Jakarta.

Soekarno Hatta Airport is Indonesia's major airport and one of the busiest in Southeast Asia after Singapore's Changi Airport and Malaysia's Kuala Lumpur International Airport. The airport serves as the prime gateway to Indonesia's archipelago, which is comprised by over 14,000 islands. The airport code is (CGK) and it is located some 12 miles from the capital city Jakarta.

CGK is a popular destination for travelers coming to visit Indonesia's island and endless beauty. Places like Bali, Sumatra and Java, the main island in which Jakarta lies receive millions of visitors who come to enjoy the country's sunny beaches, cool seas and an abundance of bird and wildlife species.

CGK Airport Terminals
CGK has three terminals of which terminal 1 serves domestic flights, while terminal 2 and 3 cater for international flights. Garuda Airlines is the main carrier stationed at the airport while other international carriers include; Singapore Airlines, Eva Air, KLM Royal Dutch Airlines, Emirates, Air Asia and Qatar Airways all offering flights to destinations to cities like Singapore, Dubai, Doha, Taipei, Tokyo and Amsterdam.

The airport offers numerous amenities and facilities for shopping, dining and drinking. ATM's are available in terminals 1 and 2. There's also a conference facility, Wi-Fi, disability facilities and more to keep passengers entertained and busy. An on-site hotel is within the airport as well as plenty of parking, car rental and taxi options. Private shuttles are also available as well as a shuttle that connects terminal 1 and 2.

CGK Contact Information
Soekarno-Hatta International Airport
Jakarta, Tangerang
Banten 19120, Indonesia
Airport Code: CGK