Brisbane BNE Airport Shuttle

Book reservations for airport shuttle, taxis, sedans and limousine service to and from the airport.

BNE Airport Transfers

Find other destinations that offer GO Airport Shuttle or search for other transportation providers at Brisbane (BNE) airport.

Shuttle Locations

Looking for airport shuttle rides? Learn how you can get connected to the best shared ride van providers, sedans and private vans and view our airport transfer locations.
Brisbane Airport Shuttle Service
The following shuttle services have been evaluated and highly rated for safety. GO Airport Shuttle and AirportShuttles.com provide world class vans and shuttle services to your destination of choice.
Shared Ride Van
Book for reservation our shared ride van and reduce the cost of transport when moving to Museum of Brisbane.

Private Van
You can't continue worrying how you will arrive at the Gallery of Modern Art and the Brisbane River. We have provided our private van for this service. Hire for door-to-door services.

Private Sedan
Start your amazing tour of the Dreamtime Caravan Park with a luxurious spin in our private sedan. Hire at low cost and enjoy the discount.

Private SUV
Hire our private and one of our professional drivers will pick you up and drop you off at the Queensland Air Museum. Ground transportation in our private SUV is also available.

Local Personal Drivers
Have you been wondering where you can find a professional driver who will pick you at whichever point you are? Call our professional drivers who will offer you better services and assure you a quick and safe arrival.

Taxi Cab
Hire our private taxi when you quickly want to access financial institutions such as Bendigo Bank and Suncorp Bank Brisbane. Our taxi is also suitable for door-to-door services.

Stretched limousine
Spin to the Brisbane International Airport in our private Limousine and touch the first class experience of luxury and comfort. You will also enjoy great discounts.

Bus
Share with others our reliable and ever available bus shuttle services. Arrival and departure are in hourly intervals. Our bus will pick you and drop you off at your most convenient point.
BNE airport terminals
You'll breeze through the terminals at BNE with ease by knowing where all the dining options are along with all of the airport's facilities.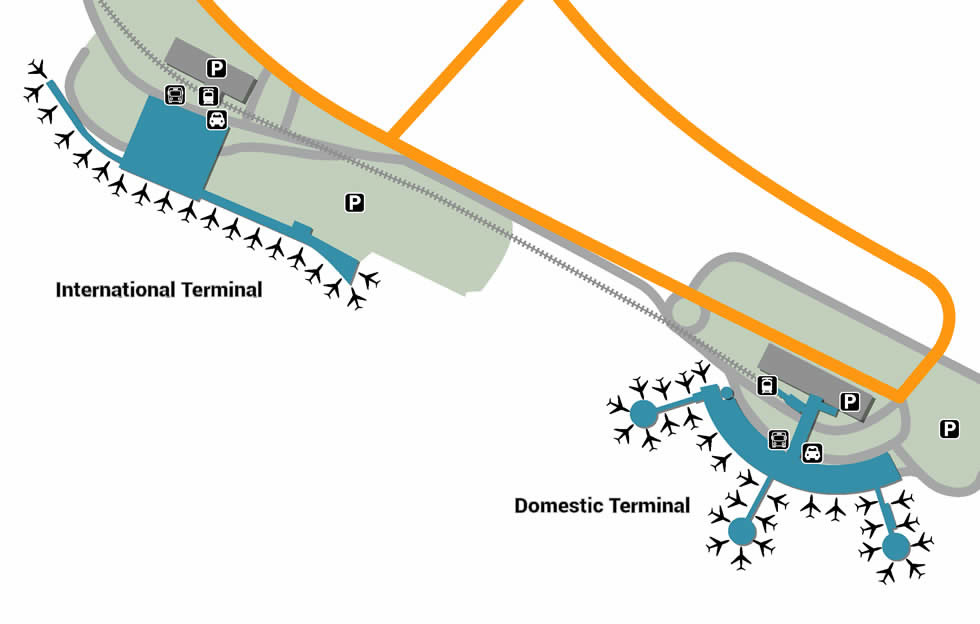 Brisbane Airport Shuttles

Queensland's capital is Brisbane which is one of the most exciting cities to visit while you are in Australia. You can view Koala Bears sanctuaries, kangaroos and tour the Austrailian historical sites to learn about how this great country started.

Brisbane Shuttle Service is another reputable service that transports passengers to and from their locations. Sun Air Shuttle Bus offers a daily service from the airport and it does door-to-door delivery.

Taxis are available just outside both terminals. One is just in front of the Domestic Arrival Hall and International passengers can find them outside the International Terminal on the northern end. Yellow Cabs and Black & White Cabs are recommended. BNE is located at Banksia Place, Brisbane, Queensland QLD, 4007, Australia.

About Brisbane Airport
Brisbane Airport is situated on the east coast of Australia, and it serves as a major gateway for Brisbane, the capital of Queensland and popular holiday destinations of the Sunshine Coast and the Gold Coast. Travelers arriving at hotels near BNE airport can discover a mix of vehicle types ranging from sedans to private vans to limo to get around.

Brisbane Airport is one of Australia's busiest airports, serving well over 18 million passengers annually and approximately 50,000 each day as the figures continue to soar. To cope with the rapid demand for air travel from BNE, major expansions of the international terminal are currently underway. The facility has three terminals, International, Domestic and Cargo terminals.

Brisbane Airport offers a variety of amenities for passengers which include dozens of shopping and dining opportunities, business, family, disabled and currency facilities. Long and short-term parking is available as well as valet and underground parking.

Popular domestic destinations connected from Brisbane Airport are Sydney, Adelaide, Gladstone, Melbourne, Townsville, Canberra and Perth. International favorites are Singapore, London, Auckland, Los Angeles, Hong Kong, Tokyo, Wellington and Dubai.

Located in proximity to Brisbane Airport is world-renowned Gold Coast and Sunshine Coast, all coupled with stunning golden beaches and extraordinary surfing facilities, notably at the Surfers Paradise zone.

Hotels near BNE
Hotel Novotel is ideally located as the only hotel available within the Brisbane airport area. The hotel features hotel rooms and suites designed to be soundproof so travelers can have a restful sleep. The hotel has a swimming pool, restaurant and bar as well as an impeccable atrium. The hotel operates an airport shuttle to and from the airport.

Alternatively if you would like to explore the lights and fantasies of Brisbane, there are dozens of other hotels located within minutes from the airport. You can narrow your options based on preference, reviews or star ratings.

Econo Lodge City Star Brisbane is located near the airport, and it offers free parking, Wi-Fi and it's adjacent to a park and minutes' drive from Gabba Cricket Ground, Kangaroo Point Cliffs and Shefton University. Paramount Motel and Serviced Apartments, and Wellington Apartment Hotel are also located near the airport.

Mt Coot-tha is the tallest mountain which travelers can go up and dine in a restaurant with an incredible view of Brisbane. While you are in Brisbane you can visit the largest Koala sanctuary called the Lone Pine Koala Sanctuary or the most historical landmark at Brisbane City Hall and King George Square.

If you are looking for a good hotel room in Brisbane some of the better hotels are Marriott Hotel, Hotel Grand Chancellor and Limes Hotel which has a theatre and a bar on the roof so you can kick back from a day of fun.